| Family Room |
Welcome to Family Room!
| January 9, 2020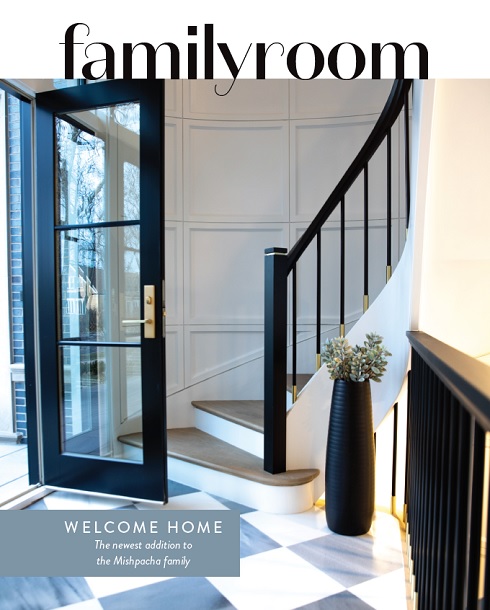 T
here are friends, and then there is your close friend. She invites you into her orbit, discussing current events, personal growth, and truisms. As the connection grows, the familiarity becomes a dependable staple in an otherwise unpredictable week.Her presence becomes rooted in your routine like couch time on Friday night, and she invites you into her home — through the front door, down the hallway, into the kitchen, onto the sectional in the family room where life is strewn about all over the carpet: toys, puzzles, worksheets, family.
Welcome to Mishpacha's Family Room, a decor and lifestyle section appearing once a month in these pages. Here, we capitalize on the familiarity we've built with Family First and Family Table to trade ideas and inspire,redefining what it means to cultivate, beautify, simplify, organize,elevate our spaces — while using our creativity as a means of connection.
Like anyone who knocks on the door, we begin our journey in the entryway— the vestibule, the foyer, the "Please-don't-leave-your-schoolbag-on-the-bench" hallway. We want to use this forum to discuss accessible yet innovative ways to declutter, to work with a home's natural space to enhance brightness and livability, and to welcome you into our Family Room.
Allow me to introduce myself. You may know me as a contributor to Family Table, or as the copy writer of the same section. Maybe I'm an unfamiliar guest in your home, but my goal is to change that. I am a former interior decorator who has diversified her love of English literature and healthy living to become a food writer for this publication and others.
To me, the marriage of decor and Mishpacha is an obvious union: while you may view us as a team with limitless ingenuity, recognize us as devotees of tradition, keepers of nostalgia. And in this space, you can expect a wide array of both: cutting-edge concepts, but with the equilibrium that comes with the knowledge that some trends were made to be discarded, alongside the classics that are foundational. Maybe we'll pen a column that features a "before" and "after"; but it will be with the keen understanding that sometimes, the before is more than good enough.

In each issue, I'll be sharing pieces that have caught my eye and styles that I want to highlight. For our debut issue, I want to share some vestibule accessories that are filling me with that creative rush, without adding to the clutter of life in motion.
Come on in — and be a dear, in Toronto we take our shoes off.
Make yourself at home,
Rivki Rabinowitz
Oops! We could not locate your form.
>