| Family Living |
Gather the Gear 
| August 3, 2021
The kids are playing outside and they've got equipment — lots of it. Bikes, scooters, helmets, bats, balls of every shape and size, knee and elbow pads, mitts…. Here are some easy tips to organize all that sports gear.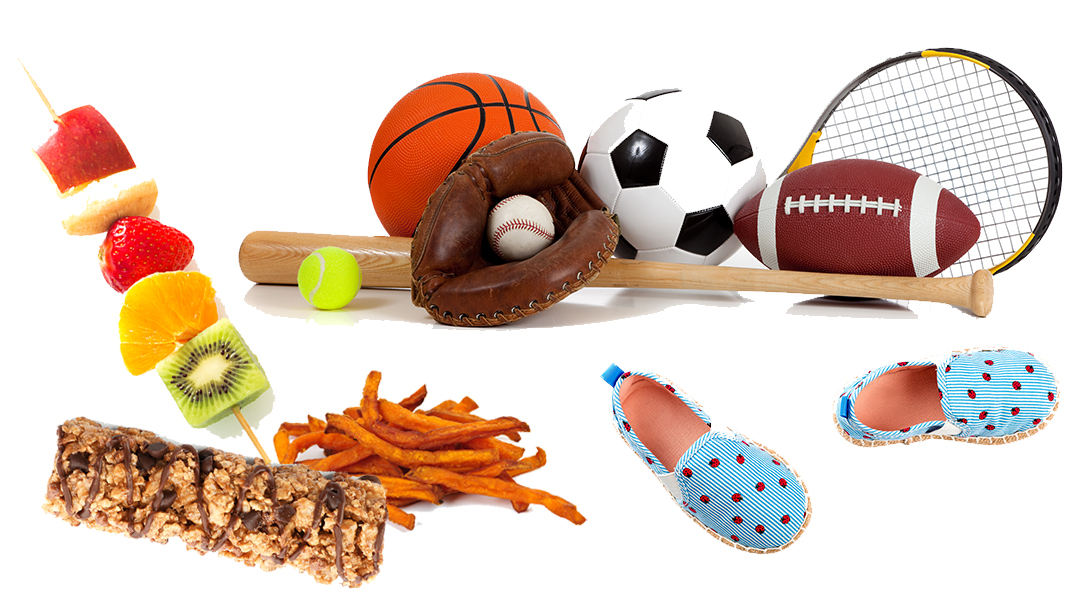 In the Garage
Step 1: Sort your gear. Go through all the equipment and break it down by category. The more specific and categorized you make the system, the easier it will be to maintain. Purge or give away anything outgrown, broken, or unsafe.
Step 2: Create an all-in-one sports station. You can designate shelves with labeled bins or purchase a heavy-duty sports storage rack. These storage racks have separate compartments and open spaces for the hockey sticks, bats, tennis rackets, etc. Also consider a pegboard — these large, wall-mounted boards have holes drilled into them at regular intervals, so you can add hooks for helmets, baskets for smaller balls, and a pallet bar stand for bats. Amazon sells baseball bat racks that are inexpensive and can hold a large variety of bats and sticks. Large laundry baskets are a great way to store all your balls in one place.
Step 3: Get everything off the floor. Purchasing specialty wall racks or hanging mesh bags will ease the clutter, and they can hold everything from skateboards to sticks and helmets.
Step 4: Invest in a bike rack. It will keep bikes lined up neatly and comes with spaces for helmets, bags, and other accessories.
In the Mudroom
Use hooks! Whether your son is part of a baseball league or your daughter is running to gymnastics, they'll need a gym bag. Hooks in a mudroom or designated area are key. The kids can hang up their own bags at appropriate heights and smaller gear can be stored in the bags. No more frantically running around and searching for that lone ballet slipper or favorite baseball.
Label, label, label! No matter the space, whether indoor or outdoor, this is the key to short- and long-term maintenance. Even if your children know where each item belongs, they're more likely to put it back if it has a designated, labeled spot. For children who are too young to read, print pictures of each item. The more eye-catching and colorful the system, the more likely kids will be to respond and cooperate. (This works on husbands, too.)
While it may seem overwhelming to tackle all the out-of-control sports gear, these simple steps will help restore order and organization to your home. Once the systems are in place, tripping over sports gear will be a thing of the past.
Yocheved Werther is a personal organizer in Brooklyn, NY. She can organize any size space and assist you with all your organizing, packing, and/or moving needs. She can be contacted through Family First. 

That's Sweet!
Kids like treats. We like serving healthy food. Can the twain ever meet?
We asked readers about the naturally sweetened snacks they offer their families. Here are their tried-and-true picks:
Sweet potatoes with or without peel, sliced thinly, spray with pam, sprinkle minimally with salt and pepper, and roast in the oven.
Cortland or Rome apples peeled, cored and halved, then baked with a coating of water in the pan and a spray of pam, a sprinkle of cinnamon, covered in the oven until soft.
Slice off the ends, and cut away the rind of a whole pineapple, slice thinly, bake on 200° F (93° C) on a lined cookie sheet for a few hours until dried out.
Freeze grapes (not a good idea for young children).
Freeze any bottled smoothie 100% juice (Golden Flow has three gorgeous flavors) in ice pop molds or popsicle bags.
Cubed fresh fruit on a skewer.
Tricolor diced apple salad with crunch.
—Shifi B. 
Cut up apples with a spoonful of peanut butter on the side, craisin boxes, fruit cups, applesauce cups or pouches
—Esti S. 
That's It fruit bars from Costco
—Shani F. 
Kind Bars
—C.W.
If your kids like fruit, hurray! Fruit can be put on skewers, cut in different shapes, and even made into a "cake." (Remember those watermelon cakes from a few years back?)
Children are usually more likely to try food they have been involved in preparing, so make healthy cooking a family activity.
I make my applesauce with pure apple, no water or sugar. Peel, core, and slice apples (Cortland are my personal favorite), place in a wide pot on the smallest flame, and allow to simmer, mixing occasionally until apples have completely fallen apart.
Bartlett pears are delicious peeled, cored (using a melon baller makes this so easy), and baked in a sweet red wine. Place halved pears, center side down, in disposable pans, or line your baking sheets with parchment paper to reduce mess. Pour half an inch of wine into pan. Bake at 350° F (176° C) for approximately an hour. For disposable pans, bake at 375° F (190° C) and allow more time to reach desired softness.
—Shternie Rosenberg, Personal Chef

Shoe Straight
I love this trick for helping preschoolers get their shoes on the right feet every time: Cut a large sticker in half. Stick each half in a shoe, positioned so that when you line them up correctly, you can see the full picture. (You could also draw on the insole using a laundry marker, or try duct tape cut into any shape.) Teach kids to "make a smiley" or "set up a star" before putting on their shoes, and voila — independent dressing!

Fave Gadget
Got a picky kid who won't drink tap water? Instead of stocking up on bottled water, check out Brita's water bottle ($19.94 on Amazon). Unlike the old-fashioned pitchers, these bottles filter while you drink, so there's no waiting to drink after each fill. Filters last 3 months, so you're good to go for the whole summer, and yes, the water really does taste better.
Do you have a hack, tip, or product the world should know about? Are you a professional with information to share? Reach out to us!
familyliving@mishpacha.com
(Originally featured in Family First, Issue 754)
Oops! We could not locate your form.
>