| Family Room |
Beyond a Coat of Paint
| August 23, 2022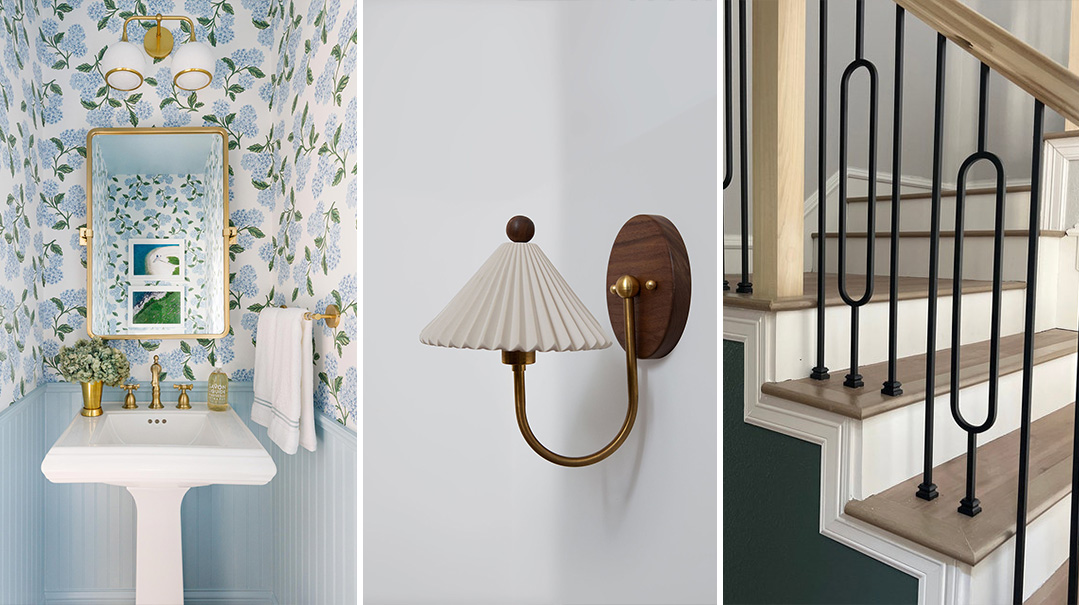 Congratulations, you've just moved into, or possibly have been living for a while, in a beautiful older home. You would like to make some upgrades but don't know where to start. What can you do beyond the obvious coat of paint? Let's break down some fundamental ideas that can enhance your home without restructuring any spaces.
First things first: Stay true to the bones of the home. One thing to always keep in mind is to maintain the actual structural style while making changes. For example, a Tudor-style house should generally not have a modern glass staircase. You don't have to strictly stick to one style, but always remember to make sure all the elements flow cohesively.
Architectural Considerations
Look at your actual architecture. If there are any outdated decorative beams or architectural elements that are not structural, you may be surprised at the cost of their removal.
Prior to making adjustments, though, be wary if they are structural, as a contractor recently told me that he had to make rapid amendments in a scenario where a second floor started caving in. In that case, instead of removing the beams or other structural forms entirely, you can also add new elements that can bring the space more up to date, such as moldings and arch doorways. Keep in mind that some truly historic homes have beautiful architectural elements that should not be removed, as they bring true character and life to the space.
Lighting
Lighting updates should be completed even before a new paint job.
At the very least, aim to change the lightbulbs — the best range is either from 2700–3000k for a warm glow, and 3000–4100k for a cool glow. It's best not to mix the two different tones, as two opposing tones together will create an alien glow that just causes headaches.
Beautiful light fixtures will also completely change the ambiance of the home. You can add additional light fixtures, such as sconces, that add purpose and decorative elements. Adding spotlights should be done minimally, as historic homes can use a warmer ambiance and too many spotlights will add unnecessary shadows.
When updating lighting, consider the outdoor lighting as well.
Flooring
Changing the flooring can also drastically change the whole mood of the home. This can be accomplished either by staining wood, changing up tile, or completely renovating the flooring.
For an historic home, I recommend going for either a weathered white oak color or a dark walnut.
For staining red oak wood flooring, keep in mind that if stained a lighter color, it may still have some red tones. Carpenters seem to have two different mindsets on this. Some say that you can't really see any red, some have a special method involving adding blue, and some say to just keep to a dark color, or redo the flooring because red oak will be red and adding blue will make the floor look blue.
While doing the flooring, keep in mind the easy update of changing the banister and balusters on your staircase.
I am loving metal mixed with brass right now. I think it would be a perfect way to bring in some modernity yet still tie in to the historic feel.
Kitchen
Moving on to the kitchen area, even if a full-gut kitchen job is not in the budget, pricing on painting cabinets can be affordable. I've had scenarios in which guests assumed the whole kitchen was new just because the cabinets had been painted and some new hardware was used. Even though the flooring was not changed, the kitchen looked completely new. However, be aware that painted cabinets are not a long-term solution.
Powder Baths
Powder baths can be a place to keep some of the historic charm. The tile may just need some regrouting, and the addition of whimsical wallpaper can bring the room up to date. You may simply need to freshen the vanity and call it a day.
Exteriors
Now, as for exteriors, removing shutters and painting brick or stucco may not be as big a job as you thought. You can also redo actual siding to bring out a more modern appeal and aesthetic. Updating the front door will also change the whole appearance of the exterior. I am gravitating towards a French glass pane exterior door. Redoing windows can also do wonders. If budget allows, consider making some windows larger.
Remember to enjoy the process and take things slowly. Rome wasn't built in a day. Taking a beautiful historic or older home and updating it can be the perfect opportunity to make your home into what you have always dreamed of.
In her spare time, Miri Lichtman is an interior decorator with an emphasis on affordable yet unique design. To ask any questions, email her at mirilichtman@gmail.com.
(Originally featured in Family Room, Issue 31)
Oops! We could not locate your form.
>