| Family Room |
Designed to Elevate
| August 23, 2022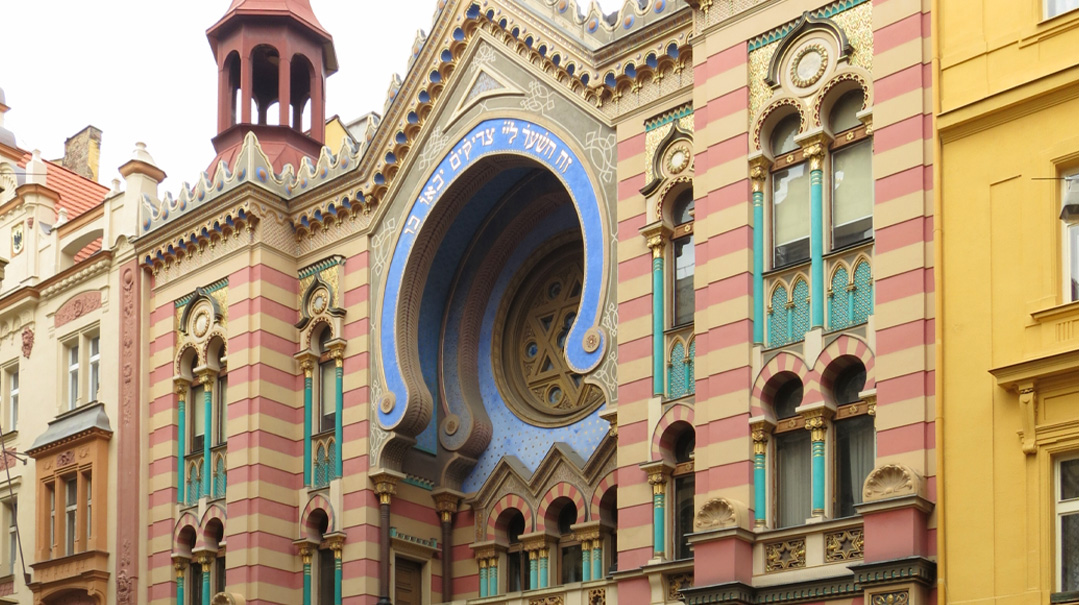 The Jerusalem Synagogue in Prague (By C. Löser - Own work, CC BY 3.0 de)
How do you feel when you enter an imposing sanctuary? For me, silence speaks louder than words as I imagine the tear-stained faces, the yearning eyes of those praying through traumas and challenges, the powerful prayers of fast-weakened voices on Yom Kippur, and the joyful dancing on Simchas Torah. It may have been unused for decades or centuries, but it's filled with history and emotion to those who can see.
Does it matter — the tall ceiling, the artistic stained glass, the imposing chandelier, or the architect's fame? To me, shuls are foremost a place to join in joint yet private, deep, and meaningful conversation with our Father in Heaven, to feel the imposing presence of our Creator.
But the topic is fascinating, so let's explore some of the world's most beautiful shuls — their uniqueness and their commonalities.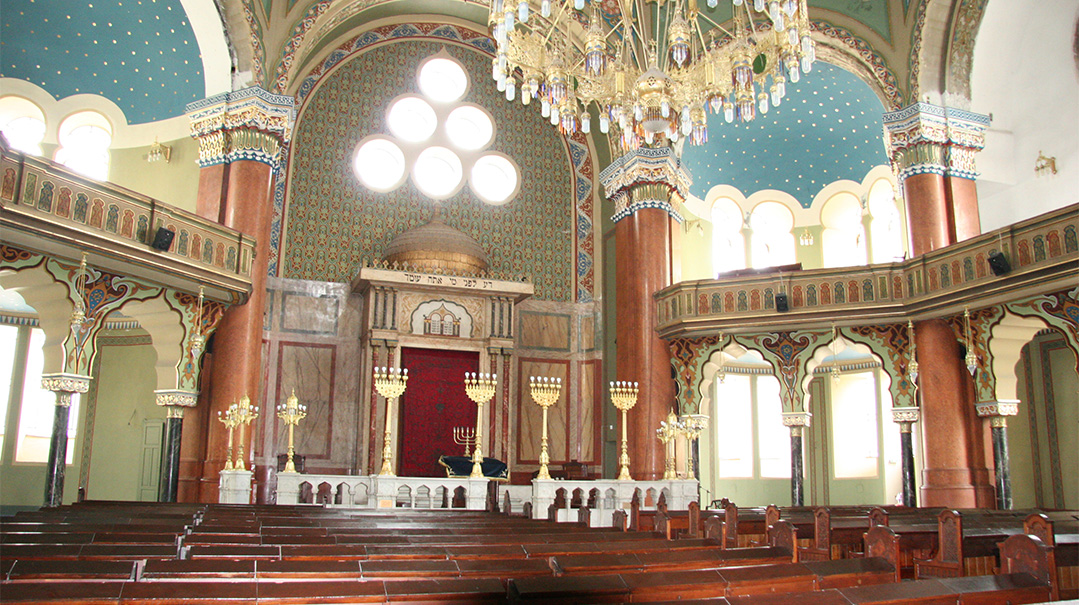 The Sophia Synagogue, Bulgaria (Photo Credit: Linda and Joel Berkowitz)
Moorish Design in Shuls: Culture or Irony?
Many of the world's most beautiful shuls incorporate the designs of western Islamic, early Moorish architecture, featuring elaborate geometric motifs, domed roofs, and distinct arches. In the 19th century, this style was adapted in European and American design as Neo Moorish or Moorish Revival and used in many shuls.
The Sofia Synagogue in Bulgaria, featuring Venetian mosaics and Carrara marble columns, was designed in Moorish Revival, with a stunning 1.7-ton chandelier and topped with a large octagonal dome.
In Florence, Italy, the Great Synagogue, Tempio Maggiore, marries Italian architecture with Moorish elements. Travertine and granite created bold stripes that have since faded, and a massive dome with twin turrets tops the roof.
The Jerusalem Synagogue in Prague is a blend of art nouveau and Moorish revival. Destroyed during World War II, the building has since been restored, with triple arches and extraordinary color — a pink-and-white striped exterior, pale blue arches, and moss green walls.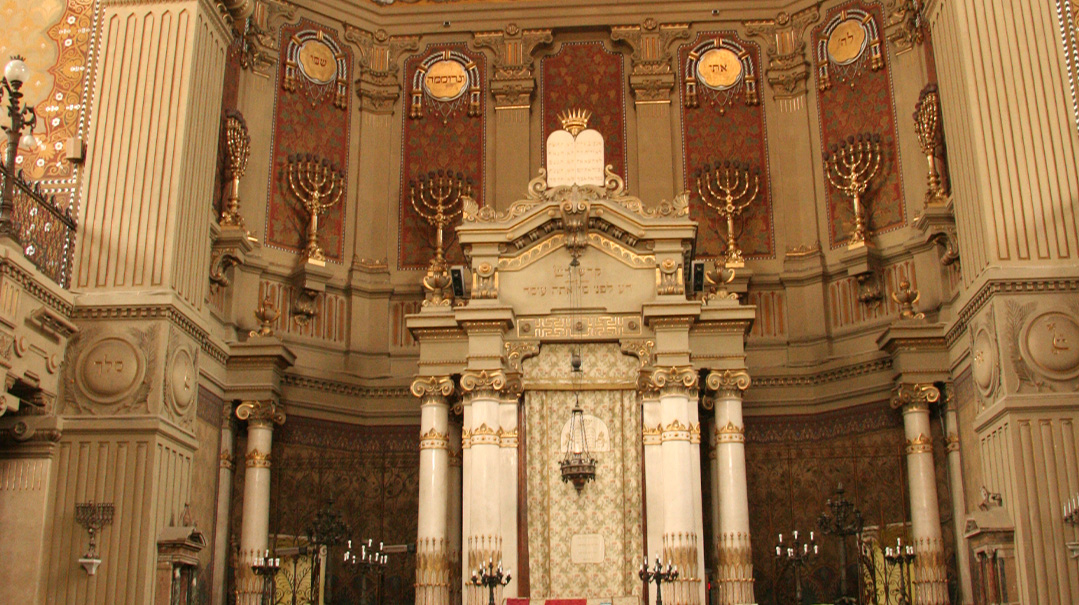 Tempio Maggiore, Florence, Italy (Photo Credit: Linda and Joel Berkowitz)
Consistencies in Shul Design
Clearly, Moorish architecture was a favored style, carrying a stylistic tradition through the ages. Other design elements crossing continents and centuries include the use of the color blue, skylights, and natural or artificial light to evoke the heavens and inspire congregants to turn their minds and hearts heavenward.
The Star of David design is featured prominently in shuls new and old, and is said to have been used in the 1500–1700s by Jewish printers to mark their ancestry and separate their work from the competition. The six-pointed star is not limited to Jewish culture, but understanding the meaning behind the shape cements it as a symbol of Judaism. In Tehillim, King David refers to Hashem as "Magen David," David's Shield. Rav Moshe Feinstein explains that David found protection from Hashem in all six directions, represented by the six-pointed star.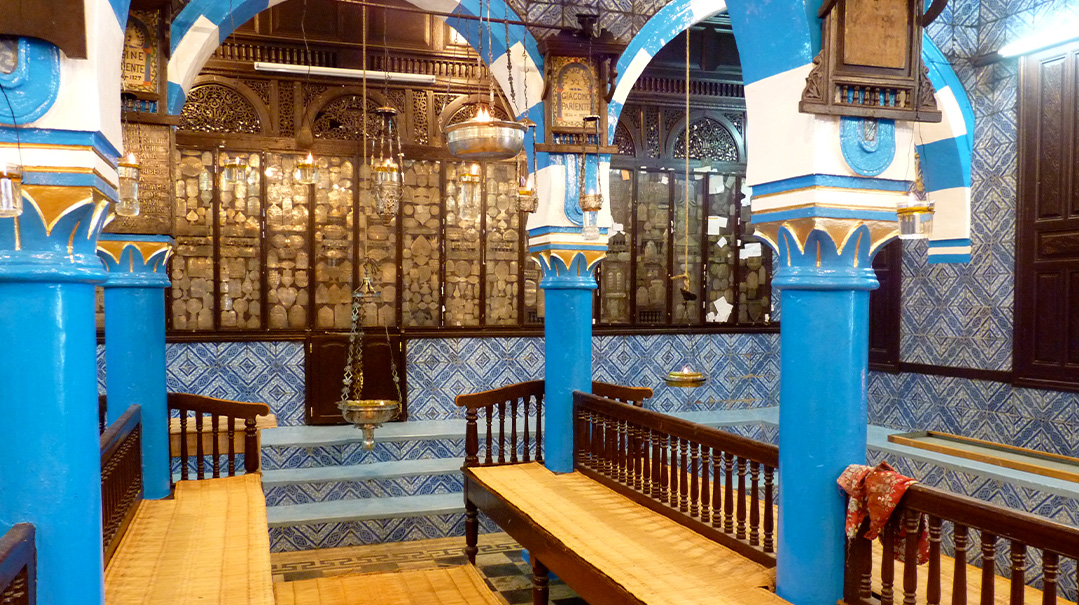 El Ghriba Synagogue, Djerba (by IssamBarhoumi - Own work, CC BY-SA 4.0)
American Architects Break the Molds with Modern Designs
Brad Kolodny, author of Seeking Sanctuary, says that before World War II, American shuls were very basic; they usually included two rectangular levels, a sanctuary on the top floor, and offices or meeting spaces on the lower level. "After the war, there was more of a focus on design, and they had more land to work with," he explains.
Percival Goodman and others were "wrestling with new ways to move the modern idiom beyond functionalism" [NYT article], leaving them with a blank slate on which to express modern ideas. Goodman famously said, "Imitation cannot be as good as the real thing, and so is an abomination. In design and structure, the work must be of our time." His point is clearly made in the fifty shuls he designed around the country.
A shining example of modern shul design is my spiritual home, Congregation Beth Jacob in Atlanta. Designed by Benjamin Hirsch z"l, in 1963, the wood paneling above the sanctuary features twelve dome-topped stained-glass windows representing the twelve tribes. The wood beams extend to a vaulted ceiling that hosts a magnificent stained glass Magen David at its center.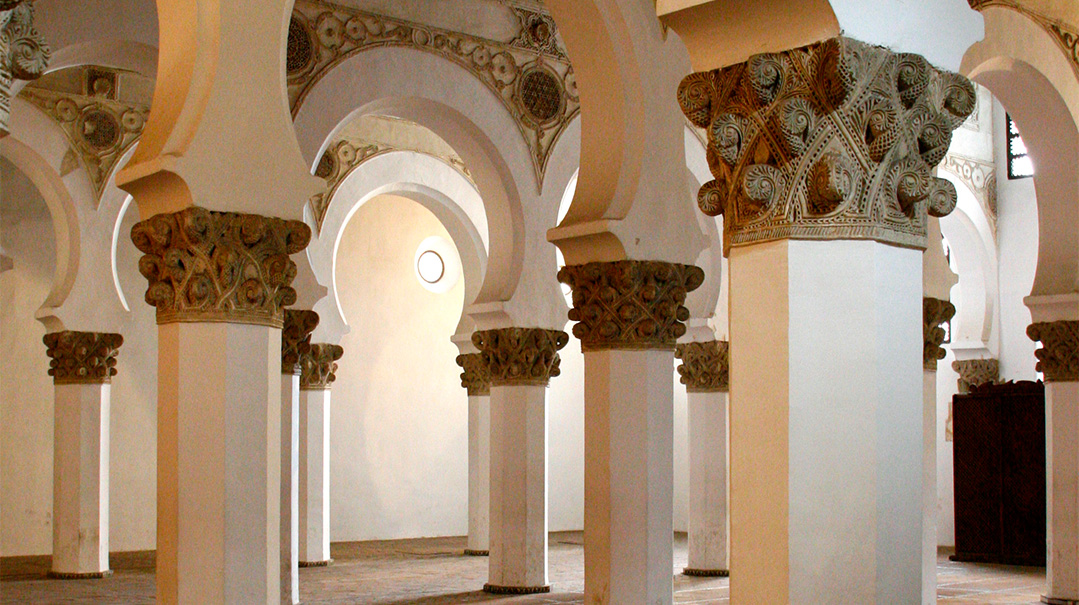 Ibn Shushan Synagogue, Toledo, Spain (By kurtxio - originally posted to Flickr as Sinagoga Santa María la Blanca, CC BY 2.0)
Historic Shuls and Their Unique Features
One of the world's oldest shul is the El Ghriba Synagogue in Djerba, off the coast of Tunisia. The shul, which may have included a door and a stone from the Mizbeiach, was likely founded by Kohanim who were exiled after the destruction of the first Beis HaMikdash. (The well-known Rebbetzin Shulamit Bitton-Blau, featured in the Taste of Shabbos article previously printed in Family Table, was born and raised in Djerba.) Featuring deep blue ceramic tile mosaics and pillars, a painted ceiling, gold leaf, and a large crystal chandelier, El Ghriba is a bold blend of Middle Eastern design and Jewish symbolism.
Also known as the Ibn Shushan Synagogue or the Congregational Synagogue of Santa María la Blanca in Toledo, Spain, built in 1180, is the oldest shul building still standing in Europe. The building was converted to a church in the early 1400s, and remains in the hands of the church to this day.
The Eldridge Street Synagogue on Manhattan's Lower East Side is one of the oldest shuls in the United States. Designed by Peter and Francis William Herter, it incorporated the Star of David, stained glass, and a domed ceiling, and it has been serving Kahal Adas Jethurun for decades.
One Final Word
After researching thousands of shuls, looking at breathtaking photos, and davening for four decades at multiple minyanim, I have concluded that shul design has almost nothing to do with my level of focus. Standing in a centuries-old shul with a vaulted ceiling that beautifully echoes the chazzan's tenor can stir the soul — but a faintly musty room full of tallis-clad men and tear-stained women's faces in the shul of my childhood can do more.
Yet, every effort to beautify and enhance the efficiency and comfort of our shuls is an honor and a mitzvah of the highest caliber. Combining modern design with timeless symbolism, and staying true to the halachic dictates of our faith, our shuls will always be where we come for the spiritual connection we need in our lives.
Sarah Faygie Berkowitz was born in Jerusalem, raised in Detroit, and currently lives in Atlanta with her Manhattan born and bred husband. She works in communications and marketing, and has been writing for Mishpacha long enough to be considered family.
(Originally featured in Family Room, Issue 31)
Oops! We could not locate your form.
>