| Family Room |
Upkeep and Update
| May 20, 2020
Expert advice from the clueless-but-curious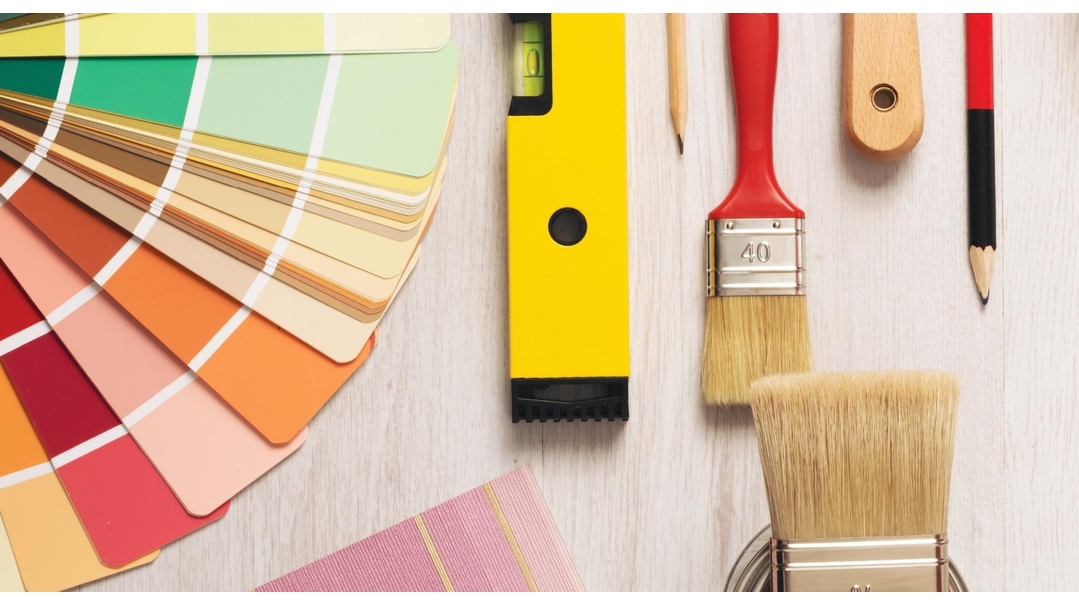 Little Miss Maintenance
I
don't think I've been bored once in the last six weeks — working from home, a few extra professional projects, more homemade meals, and spending time with family on puzzles, walks, and cooking contests has definitely kept me busy. But I still feel like I'm underachieving; I view this forced quarantine as an opportunity that will likely never happen again, and I want to make the most of it before the world flings its doors back open and life resumes its new normal.
Part of what I want to do is give our home some long-overdue attention. In saying that, several weeks ago when I created a daily regimen for myself, I included 30 to 45 minutes of heavy cleaning or organizing each day. Sounds simple enough, right?
I confess — I didn't check off a single cleaning or organizing box during the first two weeks. And I'm not a slacker; the rest of my tasks were checked off consistently. As a relatively neat and organized person, meeting my goals shouldn't have been so difficult. But I just didn't know where to start — the small tasks added up to a huge unscalable mountain, and it was so much easier to move onto the next than to start climbing this one.
The timing of compiling these ideas into an article was just the motivation I needed to look at the problem, break it down, and find solutions that are doable — not just for me, but for the rest of you not-bored overachievers out there. Here's how I tackled my mountain; I hope you can find something helpful as we journey together to the top.
Step 1: Make a List
Be realistic, but think big. You may only get about 25 percent of your list tackled, but even that's a great accomplishment. So put it all down. This is the really fun part, and you may want to recruit other family members to weigh in.
There are two categories here — first is maintenance and upkeep, second is decor and design ideas.
1. Clean/whiten tile grout.
2. Touch up or repair paint (old nail holes, places where window dressings were removed or unidentified objects or individuals scraped/ painted/colored on the wall).
3. Repair nicked appliances or furniture.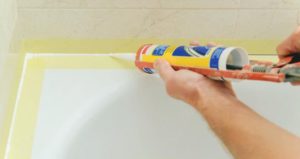 4. Clean area rugs.
5. Scrape paint drips off of older windows.
6. Replace old caulk.
7. Pressure-wash the patio or walkway.
8. Install molding on the walls.
9. Repaint a bathroom, exterior door, accent wall, or old wooden furniture.
10. Install new drawer pulls or cabinet knobs.
11. Landscape: Plant flowers, spread new mulch, border a garden.
Step 2: Prioritize and Monetize
Number your list in order of importance, starting with the project that would mean the most to you and your family. Then estimate the cost of building materials or any special equipment, and note that amount next to the item. This may require research. You have the time.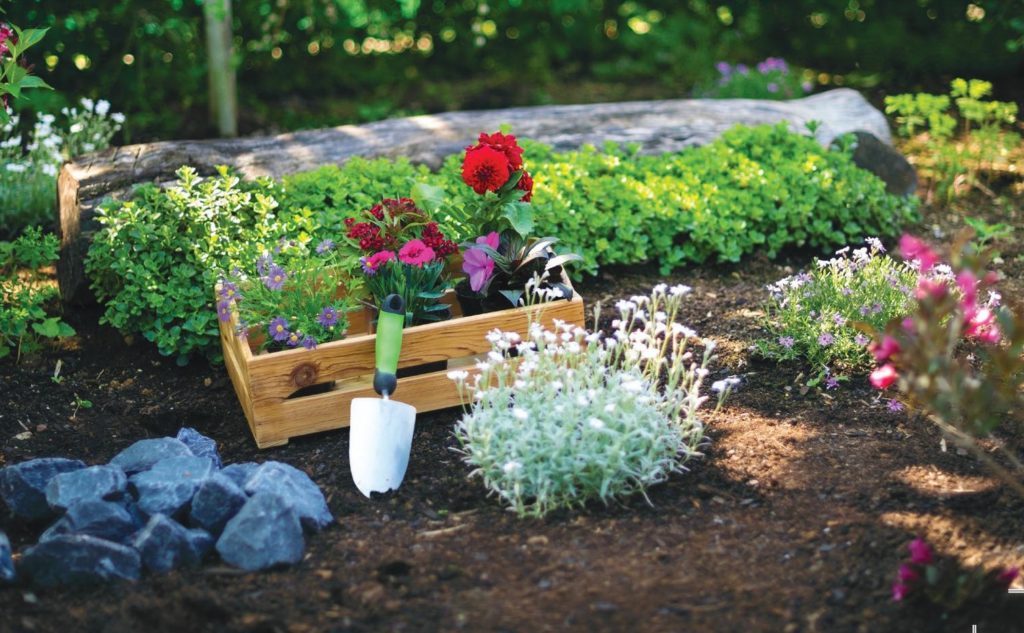 Step 3: Obtain Materials
Create a short list of what you need foreach project on your list. Materials will fall under three categories: 1) have, 2) have-not, and 3) want, but not sure if you should buy, since you may not actually end up doing this project. Buy the have-nots — the wall repair kit, mildew cleaner, paint scraper, etc. Hold off  on buying fancy shellac for your garage fl oor or wire for a chicken coop until you've proven yourself worthy of that kind of investment by checking off  a few of the smaller DIY tasks.
How It's Done
I'm going to step away from the steps now because personalities diff er so vastly that I can't in good faith tell you what to do next. Some of you will set a date and time to get each task done. Others will wait for extra time to fall into their laps, whenever that may be. And then there are those of you so excited to tackle your new tasks that you're going to try to do it all right now — and hungry people can either pick up a hammer and help in the hopes that dinner will happen sooner, or they'll learn that there are tasks more important than eating. Like installing a new raised bed garden. When the garden grows, they'll have something to eat. Maybe.
What I can address is the how-to. It's so much easier than you think to make little problems go away that my fingers are literally tripping over the keyboard. I've done the research and compiled a few tips, and if what I'm about to tell you is totally obvious, then contact me via Mishpacha, I have some DIY questions for you.
Clean Grout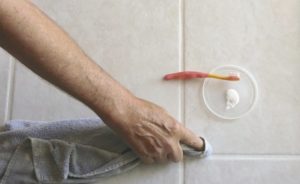 There are products you can use to brighten up your grout (Rejuvenate grout pen, grout whitener), and an inexpensive brush head that attaches to your drill can cut down on labor and increase pressure on the dirt. Or simply mix up a paste of baking soda and water and use a stiff brush to spread it around and then rinse off with a rag. If there's mildew, use an equal mix of water and vinegar and let it sit for 5 to 10 minutes before wiping away.
Wall Repair/Paint Touch-ups 
Spackling paste and a putty knife are ideal for filling fill in nail holes. But there are homemade remedies you can use in a pinch, like rubbing a bar of soap across the hole, or mixing up 1 Tbsp flour, 1 tsp salt, and a few drops of water to make your own paste. If you're filling holes in wood rather than drywall, use special wood putty. Use sandpaper to smooth down the surface, and then wipe clean with a rag before painting.
Furniture/Appliance Nicks and Scratches
Look for specific products for the material you're repairing that will restore your items to like-new condition: appliance paint, wood touch-up markers, and stainless steel scratch remover compounds, to name a few.
Clean Area Rugs
For high-pile rugs, carry them outside and shake upside down — you'll be amazed what comes out, even if they're vacuumed regularly. Then use a rag dipped in warm water with just a hint of soap to rub at dirty areas. To spot-clean low-pile rugs or carpet, put a damp rag over the stain and pound on the rag with your fist to lift away dirt. Fold the rag over to a clean area and repeat until clean.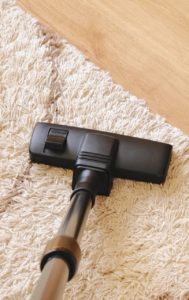 Scrape Excess Paint from Windowpanes
Use a little razor blade to gently scrape away paint drips from older windows. Strangely satisfying. Try it.
Replace Caulk
Caulk guns are easy to use — you just need a steady hand and a clean surface. A few caulk-specific tools will make removal so much easier, and keep that vinegar-water mixture handy for cleaning away mildew before recaulking.
Pressure Wash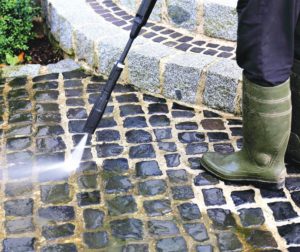 I had some serious fun using our pressure washer (bought at a garage sale for $50) to deep-clean a low brick wall and the fiberglass awning over our patio. The power, the control, the thrill of the clean — this is a must for stressed or pressured individuals. Wear rain boots and expect to get quite dirty. Stand back at first, and get closer with caution (generally a good rule in life).
Install Molding
Thin molding can add interest and style to any blank wall that won't have furniture placed against it. Or consider installing crown molding to the top of your wall to create a decorative finish. You'll need a saw, a hammer, nails, a level, and measuring tape.
Paint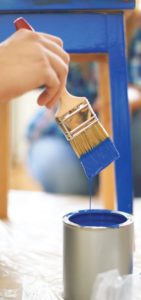 Check online for rooms that strike your fancy, then imitate the color of an accent wall, bathroom, or wooden door for a fun and easy upgrade. Old wooden doors need sanding and priming first, and choose a durable finish, i.e., semi-gloss or gloss, if you still host crayon-yielding thugs in your home. You can do the same for tired-looking wood furniture and completely change the look with a fresh coat of paint and new or freshly shined hardware.
Replace Carpeting (At Your Own Risk)
A family interviewed in Family First recently chose to forego repairing their worn and torn carpet in favor of necessary wedding expenses. With this in mind, I considered including a how-to on pulling up carpet and refinishing floors. But that kind of work seriously impacts indoor air quality, and right now — when the whole family is in the house all day — the time isn't right for exposing them to the dust, chemicals, and other debris that fills the air when changing flooring. Having said that, if the family will be out for a full day on a hike and you bowed out, carpe diem! Have all necessary equipment ready the day before, and consider soliciting an older child/teen to stay home and assist in the fun of ripping up huge chunks of carpet. Splitting the project into two days — one day for removal of carpet, another for sanding and refinishing floors — is also a good idea. And keep those N95 masks handy — they'll protect you and your helper from just about everything you'll be exposed to on this kind of project.
New Knobs/Drawer Pulls
This easy upgrade can add whimsy to children's furniture, and character or class to other areas in your home. Be sure the material and style of the hardware works well with your furniture or cabinet finish. Look around for cool shapes like twigs, flowers, musical instruments, animals, or grape clusters (perfect for a wine cabinet).
Landscape (My Personal Favorite)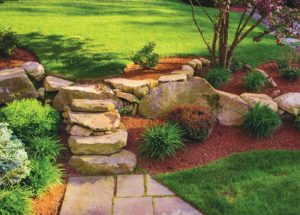 There are so many ways to improve the look of the outside of your home, regardless of budget. On a basic level, clean away lawn debris that gathers under bushes and near fences. Pull ivy from trees (it can choke them), and collect pine cones and fallen branches. Plant border flowers (perennials give the best value) or small bushes to decorate and add color. Create a border for garden or flower areas by laying down bricks, large stones, store-bought materials, or even glass bottles (nose down). Once you've finished planting, fill with red mulch for bright color, honey mulch for a woodsy look, or black mulch for a classy, modern finish.
Motivated yet? If the list, ideas, and how-to still haven't drawn you to the toolbox and your home really needs the attention, get yourself an accountability partner. This is a person who annoyingly looks over your shoulder (remotely, of course) as you skip over that checkbox on your to-do list and says, "Aren't you forgetting something?" So get listing, get fixing, and enjoy the process of maintaining and beautifying your home. May all succeed in our goals, and have the ability to welcome guests again into our (newly enhanced) homes very soon!
(Originally featured in Family Room, Issue 004)
Oops! We could not locate your form.
>