| Family Room |
Saturated Scenarios
| July 15, 2020
Perfectly imperfect household updates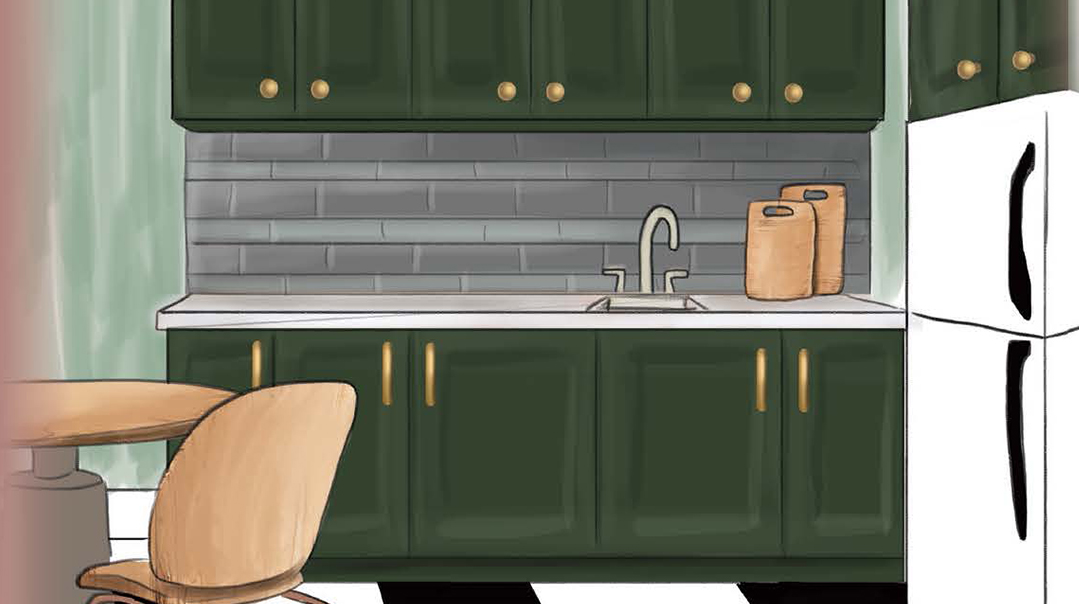 W
hen it comes to home updates, I often find that people think in extremes: do nothing, or go for a total gut renovation. But really, there are so many smaller changes that can be made to give your home a simple rejuvenation! With color being the multifaceted workhorse that it is, here are some scenarios where the subject requiring renewal is color focused:
Scenario 1
I've been dreaming of a hunter green kitchen. Is there a way to make this more timeless?
Hunter green is one of my favorite colors because it's versatile and warming. Try adding in classic elements to tone down its trendiness, while enhancing its softness and diversity.
Put in a black and white (or gray and white) checkerboard floor. This is a classic pattern that will make the green pop.
Consider adding some brass hardware and a Carrera marble-look counter (porcelain is stain proof and has a similar feel), plus wood tone accents or seating to soften the room.
Scenario 2
My kitchen is brown wood and not in great condition, but I don't have the budget to start from scratch. I really want a fresh taupe kitchen. What updates can be done?
Here are a few ideas that aren't too pricey:
Replace some or all of your cabinets with Ikea frame,

which are simple and inexpensive and add custom fronts.

Update some of the kitchen cabinets,

designing it so your kitchen has two different color cabinets.

Try replacing the finish and style of your hardware and faucets.

This alone can make a huge difference.
If a transformative paint job is not in the works for you anytime soon, fret not. Creating a room that is special for you and your family is all in the details, those indefinable small elements that make your home uniquely yours. Don't rush into a decision that doesn't feel right for you taste, family, or lifestyle, regardless of how on trend a color is – because when it's all said and done, it's your house and it should feel like home.
Scenario 3
The walls of my house are light yellow and not my taste, but we aren't repainting all of it now. What can I do to make it feel more like me? I like cooler tones.
You'd be surprised at how well yellow pairs with cooler colors to achieve balance.
Try pairing the yellow with a dark bluish-gray on a door or accent wall.

(Check out Benjamin Moore's Hale Navy, in "The Primaries of Color," as an example.)

Add in layers of grays and navies,

in, in tea towels, table-cloths, and art, to give the space a more updated look.

Add a pattern

to break up the color blocking, using the colors you've incorporated.
Scenario 4
We live in an older home, and the boys' bathroom is pink. I've told them pink is the new neutral, but to no one's surprise, they're unconvinced. What can I do to make it feel more boyish?
Although pink is arguably a more feminine color by nature, there are definitely ways to balance it out.
Buy removable wallpaper and completely transform a basic pink bathroom for a fraction of the price of regular wallpaper. Consider black and white or a neutral stripe.

Finish off the look

with some old black and white photos of vintage sports.

Use dark and contrasting accents

to create a more masculine feel.
Shiri Feldman, head Shiri Feldman Interior Design, a full-service design shop located in New York City. Having attended the New York School of Interior Design and graduated from the Jane Packard Floral Design Program, Shiri has experience in high-end floral design, set design, event planning, spatial design, landscape design, multi-family design, and more. Contact her at shirifeldmaninteriors or www.shirifeldmaninteriors.com
(Originally featured in Family Room, Issue 006)
Oops! We could not locate your form.
>