| Family Room |
Professional Perspective: Kitchen Remix
| February 12, 2020
Bringing in the experts to breakdown common kitchen design quandaries
J
ust like our life circumstances vary down to the minutest of details, so too our kitchen challenges will always require unique responses. Here, we broke down some very specific situations we've encountered and brought in an expert to advise, with the understanding that there is no one-size fits-all resolution.
Scenario 1: Cabinet Reset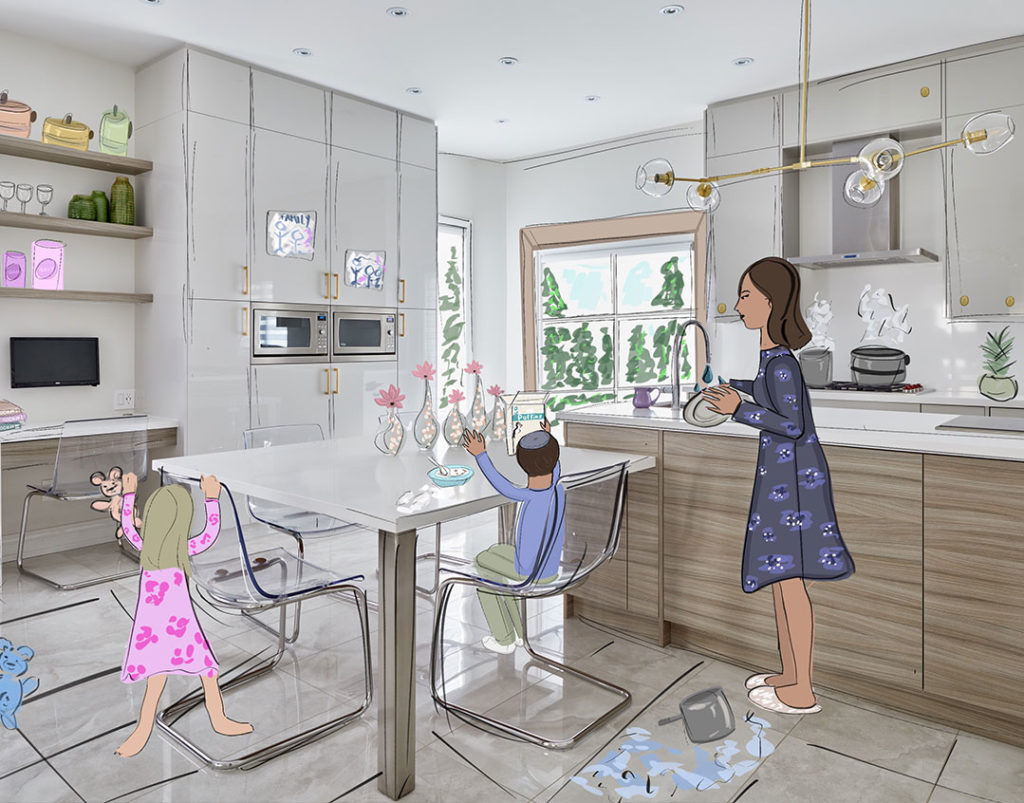 Illustrations By Lauren Pearson
My kitchen has been frustrating me for years. The cabinets are deep, dark caves, and my pantry is so deep that I have no idea what's in the back of it! I don't want to waste money on trendy gadgets that my kids are just going to break. Which accessories can be retrofit into my existing kitchen that are worth the money?
Rivky´s Response 
There are many ways to make a kitchen user-friendly, some of which are impossible to add in after the fact (for example, pot drawers). But don't lose hope! Here are some ideas you can implement to make your kitchen work better for you:
Pullout shelves/rollouts: These are the sliding drawers that go behind a hinged door. They can be added to any standard lower cabinet or deep pantry and will make it so much easier to fi nd things because they bring the items to you. They aren't cheap (between $100–$150 each), but they're very worth it.
Vertical dividers: These are inexpensive, and you can screw them in on your own. Their purpose is to get items to stand up — like trays, platters, and cookie sheets. They're routinely placed in the cabinets above the oven, fridge cabinets, or those narrow 9- or 12-inch cabinets that you aren't sure what to do with.
Trash pullouts: If you're like most people, you'd appreciate a place to hide your garbage. A 12–15-inch cabinet can fi t a single can, and an 18-inch cabinet can fi t a double. These come in all price ranges, although the pricier ones are more durable. If you don't have an available cabinet, try a smaller under-sink unit. It won't replace your large garbage, but it's a convenient place to scrape your plates before you place them in the sink.
Door-mounted spice racks: These work very well to keep small items neat — especially if you have a mixture of standard and Costco-sized spices. The epoxy-coated style is very inexpensive.
Scenario 2: Midlife Merry-Go-Round

I am in my 60s and I'm looking to remodel my mediumlarge '80s kitchen. At this stage, I'm no longer cooking many meals on a weekly basis, but when Yamim Tovim come around, it gets crazy busy! I need a solution that can accommodate lots of people sometimes, but one that's not silly when it's just me and my husband.
Rivky´s Response
No matter the stage, updating a kitchen is exciting, but as you've pointed out, you'll have to do it differently than you might have done it 30 years ago. Here are a few ideas to consider:
Small and large refrigerators: Consider fridge drawers or a small under-counter fridge strategically placed in your main work area, which allows quick access to fresh items. On a far wall, you can install a larger fridge/freezer unit that will store all those Lebens and semi-finished string cheeses come Yom Tov.
Optimal distance: Aim to keep your main sink and burners at an optimal distance from each other. Try for the magic number 48 inches — this is spacious enough for preparing a large meal, but not too big that you're running back and forth. The prime real estate in a kitchen is between the sink and stove, so make that your primary focus and accessorize the area as needed for full functionality.
Island seating: This can work well for you and your husband (seats can be configured so you can face each other) and will also keep the grandkids happy. You may want to eliminate your formal dinette area and repurpose it as a cozy seating area. This will make your kitchen a more practical size for you, yet gives the grandkids somewhere to hang out without being underfoot.
Scenario 3: Small Footprint, Big Guest List

I'm in a small kitchen and I want to add a second sink. Once I'm doing this, I'm wondering what else I can do to make the room work for me. I entertain often, but I'm not the type who likes a lot of help in the kitchen. I have a ton of dishes and serving pieces that need a good space-saving solution.
Rivky´s Response
Yes, a second sink is important, and if you're able to pull the plumbing and put in a proper, separate sink, that's great. If not, place two sinks side-by-side, with separate faucets as opposed to a double sink. Other ideas that can possibly help you:
Dishwasher: If the kitchen doesn't have a dishwasher, is there an option to replace a 24-inch cabinet with one? This can easily be done, as dishwashers just need an outlet and a water line to function. It sounds like you could use one with all the entertaining you do.
Burners: If you can pull it off, expanding your four-burner stovetop to a five- or six-burner one would give you some bonus cooking surface. Alternatively, if there is space to add a small two-burner stovetop, that would free up your other burners for meat cooking only.
Pantry units: I'd recommend purchasing some standalone tall pantry units to place along any available wall space. These can be used to store all those serving pieces you mentioned.
Fridge placement: If you like your space when you cook and have the option, place the fridge and snacks near the table and away from your primary workspace.
Formica countertop: If you need to replace the countertop as well, keep in mind that although stone and quartz tops are both fashionable and functional, they're expensive. If this kitchen is temporary, you'll do just as well with a new Formica top. Although Formica lacks the beauty of stone, it's fully capable of standing up to heavy work.
Scenario 4: Independent Senior Chef

My mother is in her 80s and lives alone. She loves to cook and values her independence. My siblings and I want to make sure her kitchen is a safe place for her without redoing the whole room. What are some ways we can adapt it to make it accessible and less hazardous for her?
Rivky´s Response
With the large number of baby boomers hitting their senior years, universal and accessible design is an area in the kitchen and bath industry that has been receiving a lot of attention recently, and you are wise to make the necessary changes before an accident happens. Depending on how much you're willing to spend on this project, here are some suggestions.
Flooring: Slips and falls are among the biggest causes of injuries to the elderly in their homes. If your mother's kitchen has a polished marble, granite, or porcelain floor, I'd advise you to have it replaced. Even a small amount of water on a slippery surface can be a potential hazard. Stay away from stone flooring, which is extremely hard and can easily cause broken bones. Wood, laminate, vinyl, or cork are safer choices.
Cooking surfaces: Gas burners can be hazardous for the elderly, with the high potential for clothing, oven mitts, and other items to catch fire. Replace gas burners with electric ones that clearly light up when on, and choose a model that has the electronic controls in the front, for ease of use and safety. If it's in the budget, place ovens at counter height and put in units with side-opening doors as opposed to front-lowering ones to minimize the risk of burns when placing and removing food.
Lighting and plumbing: Make sure the room is well lit. Don't underestimate the importance of effective overall and task lighting. Sinks should ideally be undermount so that items can be placed directly inside. Faucets should have a levered handle as opposed to ones that require turning.
Storage: Make sure your mother has ample storage that's at an easy-to-access height. If necessary, invest in some pull-down shelves so she doesn't have to climb to get anything down.
Rivky Ungar is the founder of Design It Kosher. She is a certified kitchen designer (CKD) and an associate kitchen and bath designer (AKBD). Her first experience was designing and selling kitchens in Lakewood, and she now works in Toronto, designing in Canada and USA. You can find out more at www.designitkosher.com.  
(Originally featured in Family Room, Issue 002)
Oops! We could not locate your form.
>