| Family Room |
Mess Management
| November 18, 2020
The idea of organizing is to set yourself up for success and to make sure the system in place is something that can work with your family.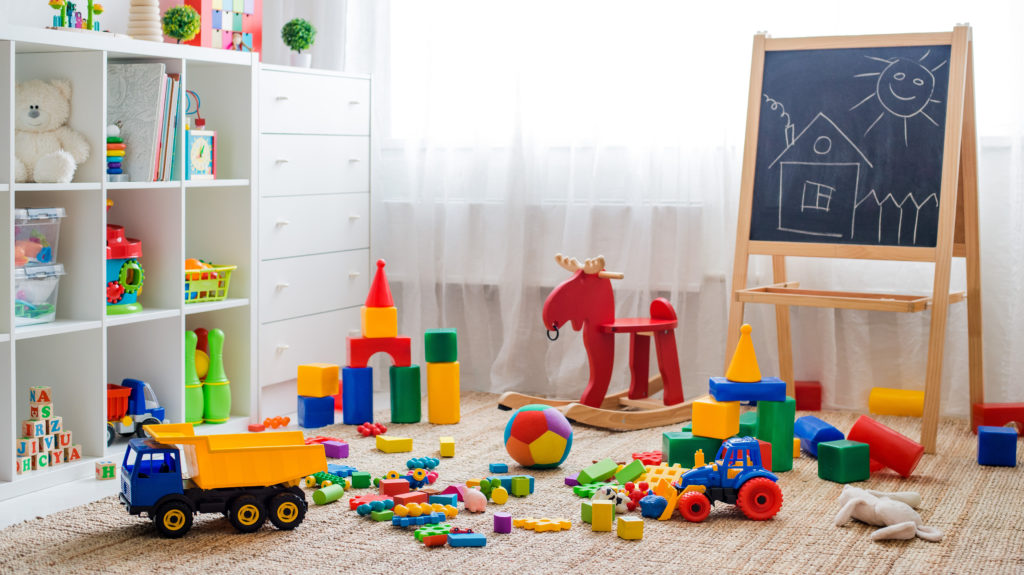 With kids around, toys are a necessity and playtime is a constant. While the mess of fun is tolerable to some degree, we'd all love to implement some kind of systematic organization process in our home — if we don't have it in place already.
Here, Mishpacha staff members offer ideas on how to organize the chaos, and professional organizer Brachie Zolty weighs in.
LEGO Bins

My kids have a lot of LEGO, and I sort them in clear drawer bins by color.
-Chaia Frishman
Control the Chaos
I don't let any toys out of the basement, but each kid has their own container (bag, treasure box, or tiny rolling suitcase, in the case of my five-year-old) that they can put special odds and ends in and play within their rooms or in shared living space.
-Michal Frischman
Miscellaneous Items
One of the containers in my toy closet is labeled miscellaneous. When the cleaning lady (or kids) don't know where a game piece or a small toy goes, they can put it in there until I get a chance to put everything back where it belongs. It helps keep random toys and game pieces from piling up around the house.
-Chaya Perel Nojowitz
Super Invention
I always thank Hashem for the invention of the snaplid plastic bins, which I find are the best way to keep everything neat, clean, and organized.
-Rivky Kleiman
Puzzles Contained
Years ago, my friend Miriam, a personal organizer, helped me organize my bedrooms and play area. One of her best space-saver tips was her treatment for puzzles.
My kids loved puzzles back then, and we had around 20 boxes of puzzles, which took up way too much space. Miriam put each puzzle in a strong ziplock bag, cut out the picture of the finished image from the cover of the box, and slid it into the bag. She then placed the bags, standing up, in two long, shallow baskets. I was able to fit all the puzzles in a fraction of the space they'd previously occupied.
-Bassi Gruen
DIY Book Bench
One of our favorite organizational ideas is the book bench we made out of an Ikea Kallax shelf. Take a Kallax bookshelf (we did it with one that's one column, four shelves) and turn it on its side. You can use it for either books or bins with toys (we've done both over the years). It's strong enough for an adult and two kids or more to sit on, so to make it comfortable, you add a bench cushion.
Sounds complicated, but I found it pretty easy: Cover a flat piece of plywood with foam and then batting. Working around the bottom of the board, pull the batting tight and staple down with a staple gun. Then cover it with whatever material you want (we started with fabric but after a while I changed it to fake alligator leather, an old tablecloth I didn't use anymore, which is much easier to wipe down).
Again, work around the bottom of the board to pull the material super tight, stapling down with a staple gun as you go along. Flip over and place the cushioned board on top of your bench. You can glue it down if you want. We did eventually because it kept moving.
-Rachel Bachrach
Organized Chaos
Bubby Devorah's basement was a dream. It had it all. The space, the built-in closets, the riding toys, the knock-hockey table — all there just to keep her grandchildren happy… but it wasn't working!
Every time the grandchildren left, it looked as though a hurricane had hit. Leah, who didn't have the luxury of space or a room to call a playroom, had plenty of toys to keep her kids happy — but she didn't have the same frustration as Bubby Devorah. She had designated areas for toys and games throughout her two-bedroom apartment and a system in place, so that she and her kids always knew where to find the toys and put them away.
The differences between these two homes are obvious: the space, or lack thereof; the number of toys; and of course the feelings connected to all of these factors.
From Concept to Completion
The idea of organizing is to set yourself up for success and to make sure the system in place is something that can work with your family. The acronym I use is SPACE: Sort, Purge, Assign a home, Containerize, and Equalize (i.e., maintenance).
All you need to achieve success is labels and containers. Make sure you have containers that come in an assortment of sizes with lids. My preferred choices are the Iris containers, which can be found at The Container Store and on Amazon, and the Sterilite clip box containers. Keep in mind that Sterilite changes the colors of the clips every few years.
Tips:
If you're short on space, get creative and add some floating shelves, an Ikea Billy bookcase on an empty wall, or a shelving unit under a window or a hallway closet.

Designate centers for different categories of toys, such as the building center (aka LEGO center), the art center, the dress-up center, and so on. Once the toys are sorted, containerized, and labeled, you'll find the equalize step more easily maintainable.
Stay on top of your load by putting things away after each use.
Make a daily or weekly routine of cleaning up and putting away the toys to keep the system in place. This is the maintenance part of your system. Although we might wish it otherwise, there's no magic solution when it comes to organizing a space. Use what works for you, and hang in there!
Brachie Zolty is a professional organizer based in Toronto. While mostly spending her time organizing her four children, she enjoys helping others find some order in their homes.
(Originally featured in Family Room, Issue 010)
Oops! We could not locate your form.
>