| From My Table |
From my Table: Linzer Torte Cookies
| February 14, 2023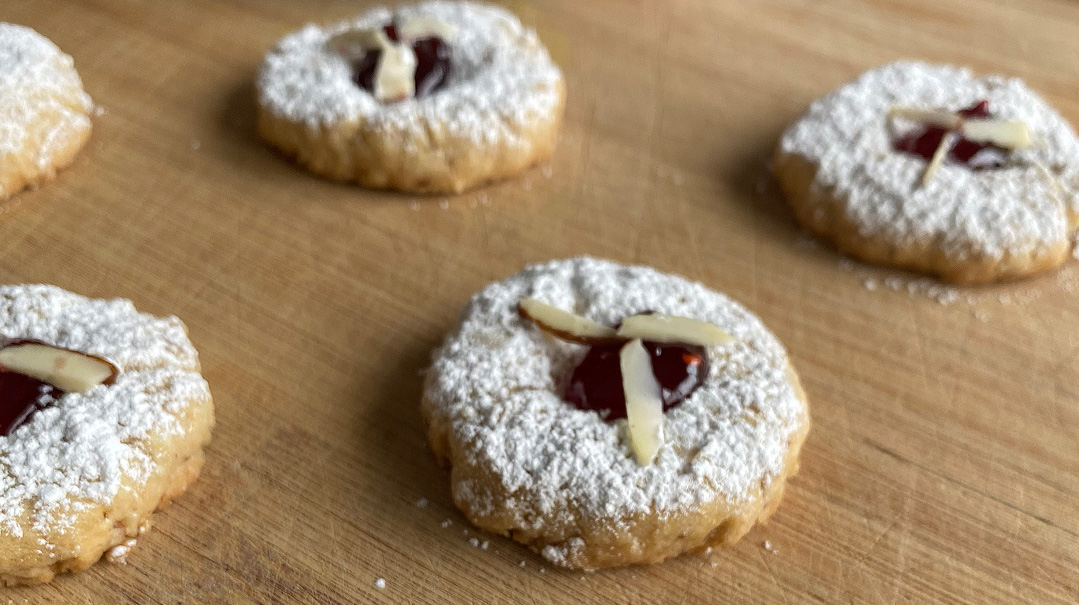 The shalach manos I finally decided on during my shanah rishonah was a family favorite, delicate Linzer torte cookies in a glass jar along with a pretty seltzer bottle. I walked from store to store (no online shopping in Israel then) trying to find the perfect-size jar so that the cookies would look presentable without having to bake too many of them. I hunted down the perfect ribbon and quickly added white paper bags with handles at the last minute because I thought the package needed it.
Before I started, I made a list of some neighbors, a few friends and family members, and added a hefty handful of extras to my final tally — you know, just in case.
Purim came, and about three-quarters of the way through the day, I paused, genuinely confused as to why my extras hadn't disappeared. I'd been calculating like an adult, following what I'd seen my mother do for so many Purims and preparing extras as if we had a revolving door. I can laugh at it now, but it took me a minute to unthink the popularity-
contest Purim mentality.
If I can steal a line from the Kichels, our Purim "Humble-Brag" is often the number of mishloach manos we make. We all know at least one someone who says, "Oy, I have to make a hundred of them!" But there are so many people who make multiple shalach manos yet are still lonely, and people who make just a few yet feel complete. The numbers are irrelevant; we just need to power through the prep to get to the point of all of those packages lined up at the door.
We have lots of good ideas for you this week, some sweet, others savory, others a shalach manos/seudah food hybrid. Perfect for any number of people on your list — and don't count the extras, just enjoy them.
CHANIE NAYMAN
Food Editor, Family Table
Editor in Chief, Kosher.com
Linzer Torte Cookies
(Previously printed in Family Table for Purim 2011)
1½ cups flour
½ tsp baking powder
½ cup finely ground almonds
¼ tsp salt
½ tsp cinnamon
¾ cup margarine, softened
¾ cup sugar
2 egg yolks
1 tsp vanilla extract
Topping
confectioners' sugar
½ cup raspberry or strawberry jam
slivered almonds
Preheat oven to 300°F (150°C).
In a medium bowl, combine flour, baking powder, almonds, salt, and cinnamon with a fork.
Cream margarine and sugar in a mixer. Add dry ingredients. Add egg yolks and vanilla extract and beat at medium speed until just combined. Don't overmix.
Roll dough into 1-inch (21⁄2-cm) balls. Place balls 2 inches (5 cm) apart on a baking sheet lined with parchment paper. With your fingers, reshape each ball into a round cookie shape, and make an indent with your index finger in the middle of the cookie.
Bake for 20–22 minutes, or until just golden brown at edges.
When the cookies are cool, sift confectioners' sugar on top. Using a teaspoon, place a spoonful of jam in the center of each cookie. Place three almond slivers in the center of the jam.
Note: These cookies freeze beautifully, with or without the garnish.
Tip: For added flavor, add 1 tsp grated lemon peel to the jam before filling the cookies.
(Originally featured in Family Table, Issue 831)
Oops! We could not locate your form.
>