| From My Table |
Family Table: Apple Biscuit Cobbler
| September 12, 2023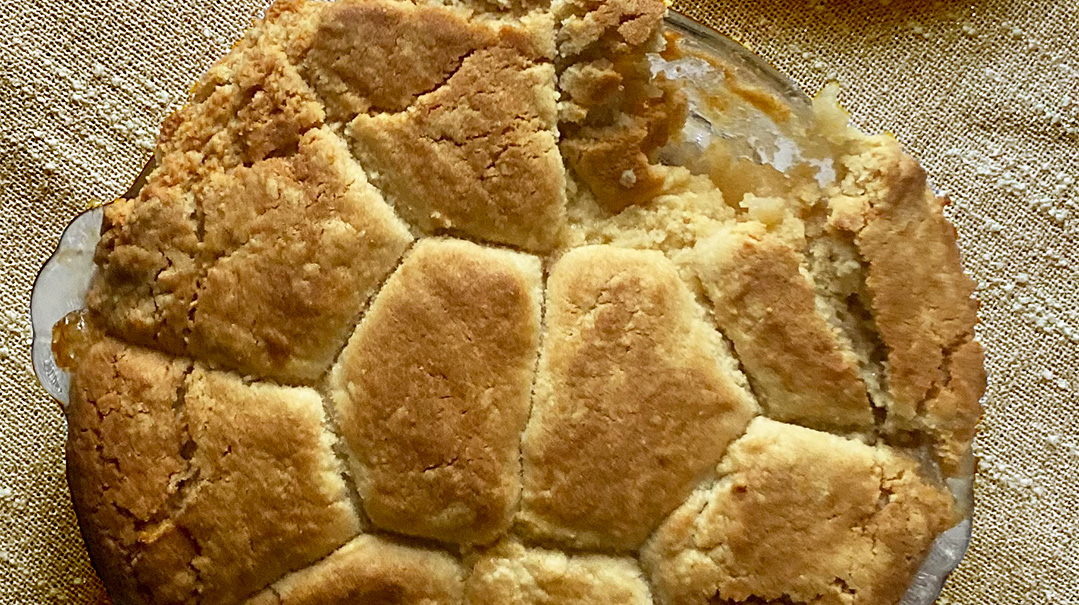 My grandfather a"h taught me a lot about noticing and appreciating the delicate details that make something stand out. Having this kind of awareness is a gift across the board (think: little favors people do for you, kids' comments, and the pleasant weather), but I also picked up his attention to detail when it comes to food. He would curate each of their favorite food items from its own special place, knowing the best spot to buy coffee and the best bakery to buy the accompanying cheese Danish, even if that meant two separate stops.
I often take this for granted, but I did inherit this discernment, and yes, on occasion, I will drive 20 minutes to get one particular item from one particular store whose main claim to fame is this one item that they make in a superior way.
Every community has its little-known stores that are hiding secrets like this. The butcher that sells the best chicken soup or the bagel shop that sells the best Caesar dressing. For years I've been wanting to create some kind of space in Family Table for little hidden culinary gems. And we're finally launching the column, Like a Local, this week.
To me, the novelty around these little-
known products includes the feeling of discovery, of being in the know, and the freshness and newness they bring each time.
We can relate to firsts all throughout the year; a fresh start is something we experience every time we turn a fresh page in a notebook, or refill a fridge, or do a weekly grocery shop. Those micro firsts help me relate on a much larger scale to having the golden opportunity to restart an entire new year. The greatness and majesty of it is truly awesome.
Wishing you a kesivah v'chasimah tovah,
CHANIE NAYMAN
Food Editor, Family Table
Editor in Chief, Kosher.com
Apple Biscuit Cobbler with a Hint of Honey
For the apples
3 lb (1.4 kg) apples, peeled and cubed
½ cup honey
¾ cup sugar
2 Tbsp cornstarch
pinch allspice (optional)
For the topping
2 cups flour
1 Tbsp baking powder
1 cup almond flour (you can sub with regular flour, but this gives the dough a very good texture)
1 cup brown sugar
2 sticks + 5 Tbsp margarine, softened and sliced
¼ cup honey
Preheat oven to 350°F (175°C). In a glass bowl or small saucepan, heat the honey, sugar, cornstarch, and allspice over low heat until bubbly. Stir to combine, and pour over apples in an oven to tableware dish.
Combine topping ingredients using a spoon and form into a dough. Form 10 balls out of the dough and place on top of the apples. Bake for 1 hour or until the apples are fully softened.
Golden Tent
If the apples aren't cooking at the same speed as the topping, cover the topping with a sheet of foil so it doesn't burn and continue to cook the cobbler on a lower temperature (like 325°F).
(Originally featured in Family Table, Issue 860)
Oops! We could not locate your form.
>