| From My Table |
Family Table: Better Cinnamon Twists
| September 26, 2023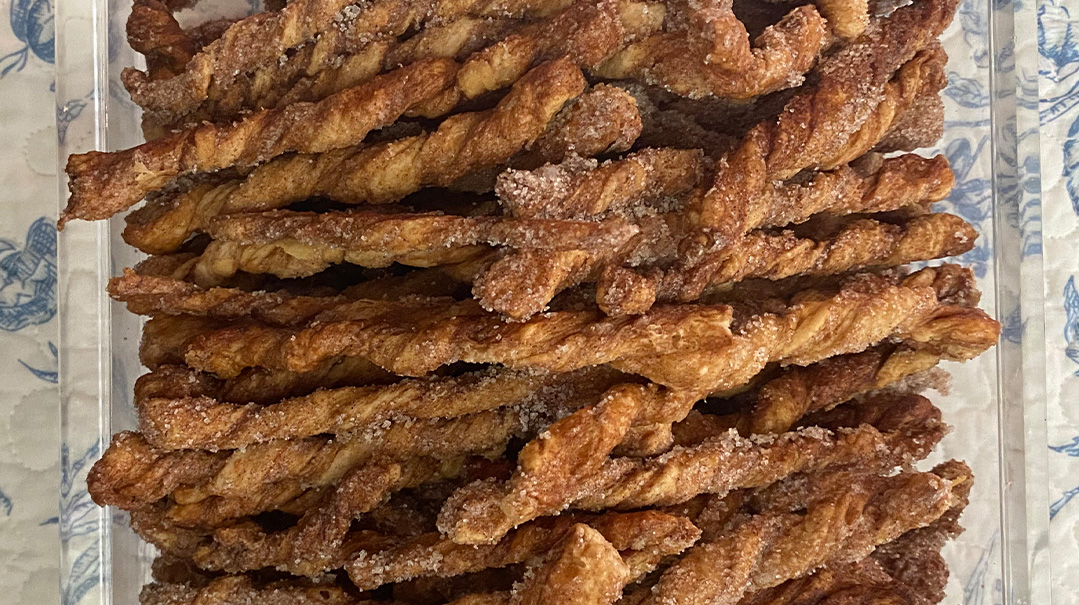 I was discussing my son's upcoming bar mitzvah with a good friend of mine who is making a bar mitzvah right around the same time. We were comparing notes, playing the same game we played as kids in school — who studied less for the test, who was more behind in planning their simchah.
My friend told me she ordered hostess packages from a nice lady who orders tons of assorted containers and bags from AliExpress as a service for people who are making simchahs, saving them considerable time and money. She started it when she found some great deals while preparing for her own simchah, and it morphed from there. I took down the number, saved it in my phone, and was shocked to discover that this anonymous lady was none other than a very dear coworker! I called her immediately. I couldn't believe she was operating a chesed production that I'd never heard a word about.
So many of us have underground meccas of something that no one quite knows about. Sometimes it's very serious and personal, and the fact that no one knows about it is extremely taxing, and sometimes it's an exciting underground world, such as intensely focusing on making a bar mitzvah before the announcement goes out to the world.
We arrive at Yom Tov with a fridge or freezer full of the testimony that we've been busy in our own underground world, slowly accumulating delicious food that will soon become a joyous Yom Tov seudah. Many times our family members have no inkling of the amount of time it took us to find a certain ingredient or remake the challah when we accidentally omitted the salt, or to studiously sit over our menu, making sure each guest has sufficient options at each meal. It's our own underground world, and we have to feel good about it even if no one else knows about it.
I hope you receive fantastic reviews on all the delicious Family Table recipes you've created this Yom Tov, and that all your hard work pays off.
Wishing you a beautiful Succos!
CHANIE NAYMAN
Food Editor, Family Table
Editor in Chief, Kosher.com
Better Cinnamon Twists
Be prepared…these are as addictive as popcorn!
2 sheets puff pastry, defrosted
1 cup sugar, divided
2 tsp cinnamon, divided
2 Tbsp vanilla sugar, divided
Preheat oven to 350°F (175°C). Line a baking sheet with parchment paper.
Divide each puff pastry sheet into 3 parts, then thinly slice into 1⁄4-inch (1⁄2-cm) strips. Once fully sliced, spread 1⁄2 cup sugar, 1 tsp cinnamon, and 1 Tbsp vanilla sugar over each of the doughs. Then tightly twist each strip.
When all strips are twisted, coat them in the remaining cinnamon-sugar. Lay them in a single layer on the baking sheet (they can be close; they don't rise too much) and bake for 45 minutes, or until golden.
No Big Bites
Buy extra-large citronella candles that burn for a few days to help keep the mosquitos at bay.
You can light them before Yom Tov and then transfer them into the succah on the second night. While you cannot trap bugs on Yom Tov, you are allowed to take steps to repel them.
Reminder: Don't leave a flame unattended in the succah!
(Originally featured in Family Table, Issue 862)
Oops! We could not locate your form.
>