| From My Table |
From My Table
| October 21, 2020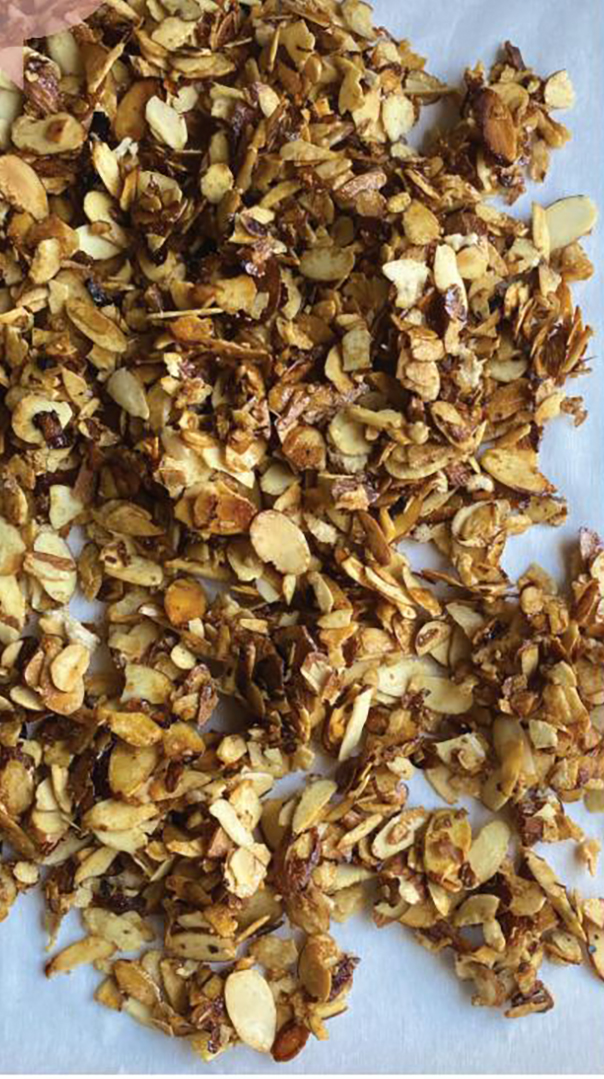 My perfect-every-time (unless I walk away from the stove for some crazy reason) version of candied almonds is this: 3 heaping Tbsp sugar to the standard 11⁄2-cup package of sliced almonds. Don't stop tossing till it's golden and fully coated in the sugar.
I don't think I've ever saved a fortune from a fortune cookie in my life, but this one from our Chol Hamoed takeout was too good to lose: If you don't program yourself, life will program you. Or in simpler terms, my new mantra: "Stay a step ahead." Here's why.
I laugh when friends excuse their meals around me, because, contrary to the lovely image many of you have built of me, I'm far from the perfect housewife with the three-course supper every night. Actively working on not drowning in the details of my hectic day is a constant struggle. When my house is finally quiet at night, the last thing I want to do is line up clothing and shoes and cereal for the next morning. But when I stay a step ahead, it makes all the difference.
Recently I got a request to start a dinner column where women would normalize their non-homemade suppers. Here are my thoughts. This is 100 percent something we all serve, and when times are just too hectic, it's a very okay reality. But my goal for myself and for all of you is to take the exasperation out of suppertime as much as we can.
It's okay to make the decision at 4:00 p.m. to serve fish sticks and tater tots, and no apologies are necessary. But on other nights when we do have the capacity to plan ahead, making something homemade (maybe even making double to freeze) is a good feeling. It's a mode that works naturally for this time of year, when the school schedule (even if not school itself, unfortunately) and the early nights welcome a plan-ahead structure.
Miriam's meal-in-one recipes make cozy yet easy suppers. It doesn't mean the end of the simple supper era, but if it helps me stay one step ahead, maybe it will help you too.

Chanie Nayman
Food Editor, Family Table
Now It's Homemade
I got this tip from my grandmother — always add a key ingredient into something store-bought. Lately, I added a nice amount of balsamic vinegar to liven up two di­fferent store-bought salad dressings, and I loved the results!
You Know This, Right?
I love keeping two squeeze containers in my pantry, one with canola oil and the other with olive oil. It makes the food or pan I want to drizzle with oil that much more targeted and neater — and I think I end up using a lot less this way.
(Originally featured in Family Table, Issue 714)
Oops! We could not locate your form.
>