| From My Table |
From My Table
| August 26, 2020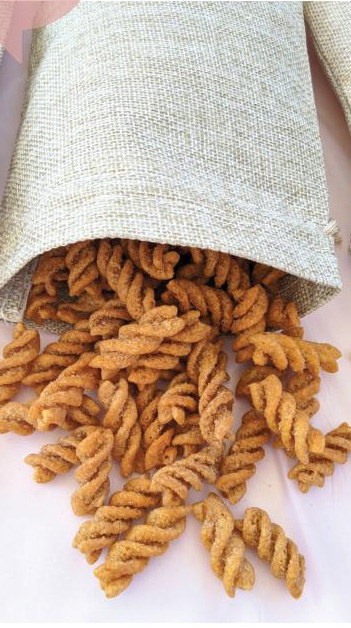 Incorporate snack-bagging into the after-school routine, allowing your kids to pick what they take the next day so it's not your job at night or in a rushed morning!
I was recently at a new wedding hall. It was beautifully done, fl oor-to-ceiling marble, oversized chandeliers — no detail left out. I appreciated its class, but after a moment, what hit me was that style is the pursuit of perfection. Of course, when you're building something from scratch, the decorator's goal will be to make sure they get it right and the project appeals to the masses — that's their job. But it also says something about all of us: they're creating perfection for people who expect perfection.
As I pull together all the pieces for the exciting start of a new school year, I realize how much energy is placed on getting the "right" backpack, the "right" school shoes, the "right" knee socks. Forget the price tags for a second, do I want my children to sense how important it is to me that everything be so perfect? Do I want them to have all the right things for them as individuals, or for the overall message of perfection and getting all the boxes checked off?
I definitely don't have this all worked out, and I'm a work in progress, just like you. I realize, though, that I want "good enough" to be the goal. This year more than any other has a novel excitement in the back-to-school mode, to the point that I almost feel like we could get our kids out the door with whatever we have in the house.
We have an issue full of fantastic back-to-school ideas, snacks, and crafts. Not to raise the bar, but to emphasize what happens inside the home, and to focus on those delicious after-school moments with stories and reports pouring out of little mouths, when the fixings are irrelevant and the positive energy is very relevant.
Chanie Nayman
Food Editor, Family Table

Turn It Over
Burger bits usually fall through the grates on your grill, right? I took a cooling rack placed upside down on top of my grill so that the burgers have much less opportunity to fall through the cracks.
Push-up Pops
The warm weather's almost gone! But you can enjoy these all year round (think about long Succos afternoons). I love the silicone ice pop molds I bought from IKEA, but you can buy similar ones on Amazon as well. The plastic ones are much harder to fill, and many of them have some plastic on the sides that makes them uncomfortable to place in your mouth.
(Originally featured in Family Table, Issue 707)
Oops! We could not locate your form.
>