| Family Room |
Accessorize
| February 12, 2020
We know the kitchen is the heart of the home, the epicenter of memories, and so much more than the place that dinner is made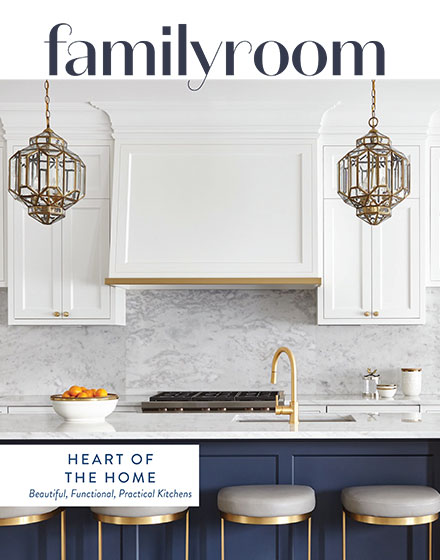 T
he truth is, we can fill volumes on the kitchen. We can dissect space planning, window treatments, Tupperware stacking, countertop cleaning. We can approach it from angles of practicality, relatability, dependability. But is that what we want to do? Sometimes, in the tightrope we walk in our role as Jewish women, we wonder: Is our pursuit of beauty blinding us from the spiritual side of things, from remembering that the kitchen is actually a concrete embodiment of spirituality in our lives?
We know the kitchen is the heart of the home, the epicenter of memories, and so much more than the place that dinner is made. Its counters have been fl oured to braid challah, its walls have heard countless brachos, and sometimes, it is simply the home to your only quiet moment of the day: a cup of coffee before anyone else wakes up, yours in its stillness. No matter if you're starting from square one or totally happy with your current kitchen, we want to welcome you to ours.
Enjoy!
Rivki Rabinowitz
Editor, Family Room
I used to just throw down some plates, but lately I've been setting my dinner table with a cloth, like my mother used to do. Solid cloths in neutral shades are timeless classics,
but for our girl-centric table, a floral cloth injects the perfect dose of whimsy.
ROMANTIC PRINT TABLECLOTH
$30, Zarahome.com
If you love a fresh plant but have the blackest of thumbs, it can be hard to keep your greens alive. My go-to? The asparagus fern: it tolerates a lot more abuse than other ferns by adapting to both bright spots and darker corners. Keep the soil moist and it will thrive.

ASPARAGUS FERN
Prices vary based on size and location. Dykeanddean.com
Dr. Bronner's entire line of organic sugar hand soaps have been my go-to sink-side brand for years. Peppermint is a favorite scent.
ORGANIC SUGAR SOAPS
$19.99, shop.DrBronner.com
Framing my children's artwork is always on my to-do list, and for those times I actually manage to cross it off , these acrylic frames have become a staple.
CLEAR ACRYLIC WALL MOUNT FLOATING PICTURE 
$19.99, Amazon.com
Hanging decorative plates is a very lighthearted way to add art. Find decorative plates in dollar stores, thrift shops, antiquing, or online. I am slowly building a collection of the ones I love and will begin hanging them once it feels right.
GARDEN TILE DESSERT PLATE
$16.00, Anthropologie.com
OUNONA PLATE HANGERS
$6.98, Amazon.com
(Originally featured in Family Room, Issue 002)
Oops! We could not locate your form.
>