| Family Room |
Accesorize
| November 18, 2020
The thing is, the spirit of play is the foundation to the meaningful conversations we have with the people who matter most to us.
My friends always tease me that I was born a little old lady. When everyone else was playing board games, I wanted to sit on the bed and chat; when jump rope and biking were popular, I preferred to yammer on with a friend.
Games and toys were never my thing, and I used to wonder why I couldn't just fake it. In the first few years of my role as a mother, I struggled with the uncertainty that I wasn't the "fun one." I knew I could become the connected one, but in that initial period where verbal interactions act as understudy to physical ones, I worried.
I've learned a lot from experience, as one generally does, and maybe now I've actually grown up. Truthfully, play doesn't need a conventional definition; there is no one right way to be the playful parent. I may not play Monopoly, or if I do, I'm pretty reluctant. I may not sit on the carpet Friday nights building a Magna-Tile tower, but I believe in the magic of messes, literally and figuratively, and I'm okay with replaying the same song over and over again, on full volume, as many times as my kids want to hear it.
The thing is, the spirit of play is the foundation to the meaningful conversations we have with the people who matter most to us. The shared laughter is not a luxury — it's a necessity in relationship building. It's learning to like each other because of course we love each other. And within those moments, we create those needle-sized openings whose safety elicits what we're really chasing: lasting connection.
Rivki
Editor, Family Room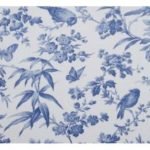 Art lifts my spirits; scarves and the like, less so. Take a silk scarf or purchase any patterned fabric you like and frame it in a fun color for a totally custom piece of art that's well-priced and style-setting.
CLARKE & CLARKE, AMELIA BLUE FABRIC
$40.75/roll, decoratorsbest.com
I am 100% that consumer that falls for beautiful packaging, and this puzzle falls right in line. Frame it after completion for a chinoiserie-inspired piece of art.
JIGGY PUZZLE AND GLUE SET
$54, anthropologie.com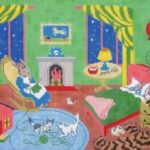 This iconic children's book is reimagined in needlepoint art. I love the jewel tones here and the nostalgia they evoke, and I would modernize this so it feels ironic by framing it in floating white oak.
NEEDLEPOINT HANDPAINTED, GOODNIGHT MOON (16x12)
$140.66, etsy.com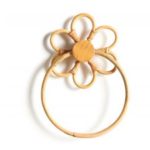 I love a simple addition that adds whimsy and thoughtfulness to a utilitarian item. This towel ring does just that.
DAISY RATTAN TOWEL RING
$19, urbanoutfitters.com
(Originally featured in Family Room, Issue 010)
Oops! We could not locate your form.
>