| FamilyTable Feature |
The Modern Table
| June 14, 2022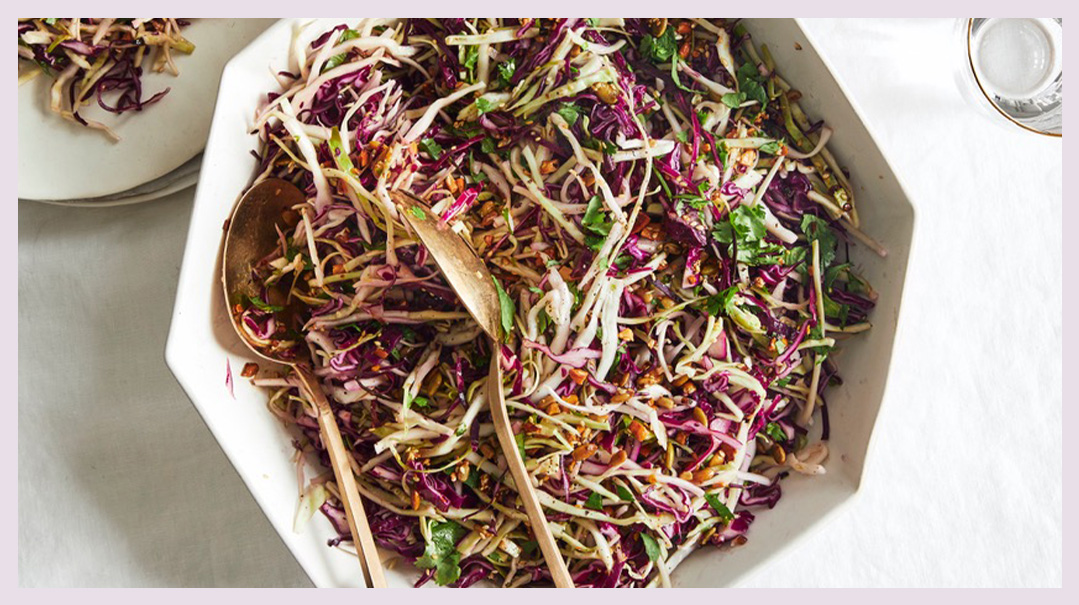 Photography by Kate Sears
Excerpted with permission from Figure 1 Publishing
Kosher recipes for everyday gatherings
Kim Kushner's latest book, The Modern Table, is a celebration of everything she loves about food: cooking, hosting, and bringing people together. This beautiful cookbook is designed to make every get-together memorable — whether it's a casual midweek dinner or a full-on Shabbos feast. Also featured are table setting ideas, informal and formal menus, simple floral inspirations, and culinary gifts. The Modern Table is an elegant collection of delicious, fresh, seasonal, beautiful recipes.
Cabbage, Cilantro, Salted Cashews, and Crunchy Chili Oil
Can you handle the heat? I love spicy food — and funny enough, all my favorite people in this world love spicy food too. Coincidence? A little heat and a hint of crunch perk up this hearty salad — it's a blast of flavor and texture with every mouthful.
Ready in 20 minutes
SERVES 8
4 cups shredded red cabbage
4 cups shredded green cabbage
¼ cup rice vinegar
2 tsp coconut sugar or brown sugar
½ tsp kosher salt
¼ tsp freshly ground black pepper
2 Tbsp neutral oil such as avocado oil, vegetable oil, or rice bran oil
1 clove garlic, minced
1 tsp chili flakes
¼ cup crushed roasted salted cashews
1 Tbsp roasted salted sunflower seeds
1 Tbsp roasted pumpkin seeds
1 Tbsp roasted sesame seeds
½ tsp toasted sesame oil
¼ cup cilantro leaves, roughly chopped
In a large bowl, combine cabbages, vinegar, and sugar. Season with salt and pepper. Using your hands, toss to combine. Set aside to marinate.
Meanwhile, heat oil in a large nonstick skillet over medium-high heat. Add garlic, chili flakes, cashews, and seeds and sauté for 5 minutes, until golden. Transfer mixture to a small bowl, then stir in sesame oil.
Scatter cilantro over the cabbage. Drizzle with chili oil and toss well. Serve immediately.
Good to Know: You can double or triple the recipe for the crunchy chili oil. It is delicious on almost everything!
Make It Ahead: The shredded cabbage can also be marinated for up to 5 hours in the refrigerator.
Storage: Crunchy chili oil can be stored in a glass jar in your pantry for up to 2 weeks.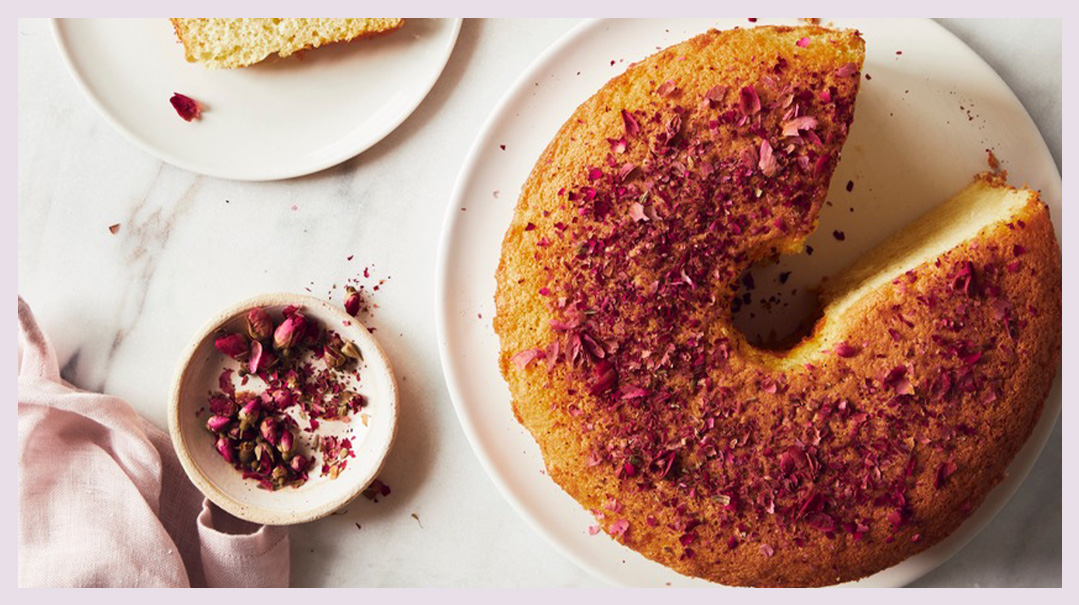 Orange Blossom Chiffon Cake with Rose Petals
An updated version of "La Pasta" featured in my cookbook The Modern Menu, this cake embodies the flavors of my childhood. Every new year, every break of fast, every important milestone, this gorgeous, fluffy cake made an appearance. This taller and lighter version, laced with the subtle flavor of orange blossom, rivals some of the most elegant cakes I've seen and may even be more delicious than the original.
Ready in about 1 hour
MAKES 1 (9-INCH) CAKE
vegetable oil, for greasing
all-purpose flour, for dusting
7 eggs, room temperature
1¼ cups sugar
½ cup neutral oil such as avocado oil, vegetable oil, or rice bran oil
½ cup orange juice
½ tsp orange blossom water
2 cups all-purpose flour, sifted
2 tsp baking powder
pinch of salt
1 tsp edible dried rose petals (see tip), crushed between your fingers
Special Tools or Equipment
Preheat oven to 325°F. Grease a 9-inch angel food pan with oil and dust lightly with flour. Shake out the excess flour.
In a stand mixer fitted with the whisk attachment (or using a hand-held mixer), beat eggs on medium-high speed for 3 minutes. With the mixer on medium-high speed, slowly add sugar, 1 tablespoon at a time. (It will take about 8 minutes.) The mixture should be thick, glossy, and fill up nearly the entire bowl.
Reduce the speed to medium. Add oil, orange juice, and orange blossom water and mix for 2 minutes. Replace the whisk attachment with a paddle attachment.
In a large bowl, combine flour, baking powder, and salt. Add half of the flour mixture to the egg mixture and mix on medium-low speed for 1 minute. Add the remaining flour mixture and mix for another 1–2 minutes, until well combined. (If you do not have a paddle attachment, you can use a spatula to fold in the baking powder, salt, and flour.)
Pour the batter into the prepared pan and bake for 50–60 minutes, until the cake springs back when tapped or a skewer inserted into the cake comes out clean. Set aside to cool completely before removing from the pan.
Run a knife along the sides and center of the pan to loosen the cake from the pan. Invert the cake onto a cake plate or platter. Sprinkle the crushed rose petals over the cake.
Good to Know: Edible rose petals are simply dried rose petals and are readily available online, in specialty food stores, and at most farmer's markets. Check the packaging for organically grown roses that are free of sprays and pesticides. And, keep in mind, a little bit goes a long way.
Good to Know: Use room-temperature eggs when baking for the best results. Room-temperature eggs mix into the batter more evenly, and they also create more voluminous baked goods, which is especially important in a sponge cake like this one.
Get Organized: Instead of greasing your Bundt pan with oil, you can spray it with cooking spray. Just don't overdo it. After spraying, I like to gently pat the inside of the pan with a paper towel to wipe away any excess oil. I like to use a fine-mesh strainer to dust the inside of the pan with 1⁄2 teaspoon of flour. Flip the pan over and shake out any excess flour.
(Originally featured in Family Table, Issue 797)
Oops! We could not locate your form.
>