| FamilyTable Feature |
Nip It in the Bud
| May 16, 2023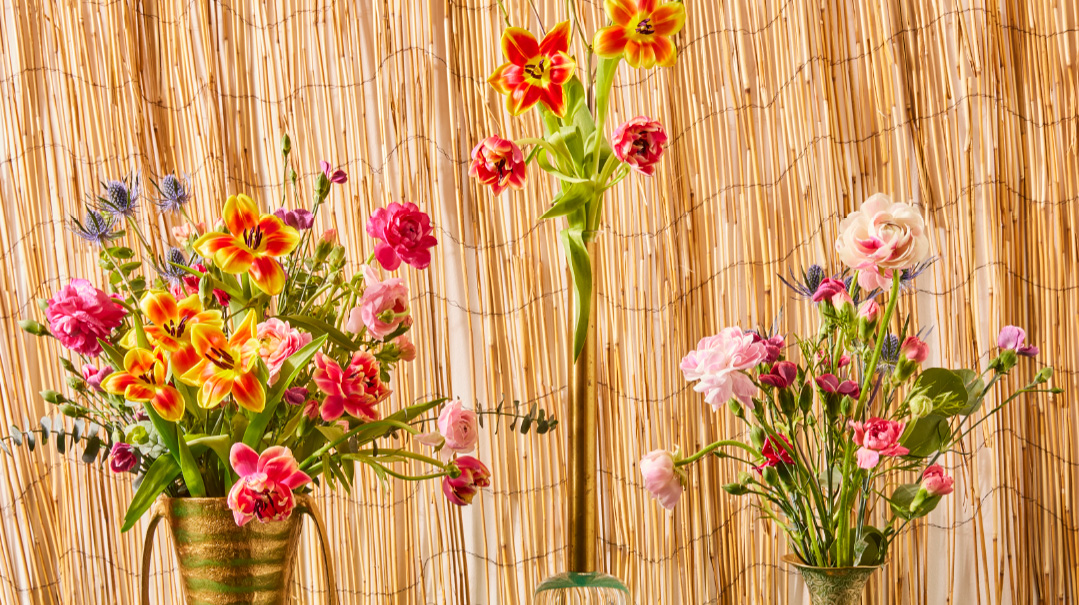 Text and styling by Shiri Feldman
Photography by Felicia Perretti
With this sunny mix of fresh florals, including garden roses, peonies, tulips, spray carnations, alstroemeria, ranunculus, thistle, and some greenery, you can create your own Shavuos bouquet and keep it fresh all week long. It's not as hard as you might think.
Throughout the Week
First
The starter arrangement (previous page, on the left) is a mix of tulips, ranunculus, greenery, thistle, and mini carnations. You can gently open up the tulips to create a fuller flower.
Second
The right bud vase is the same arrangement three days later. Once the larger flowers shed their petals, you'll be left with some of the heartier florals. Discard the others and you have a fresh new look.
Third
The middle vase is after a week. Whatever florals remain at this point can be placed in a bud vase and still make a big impact.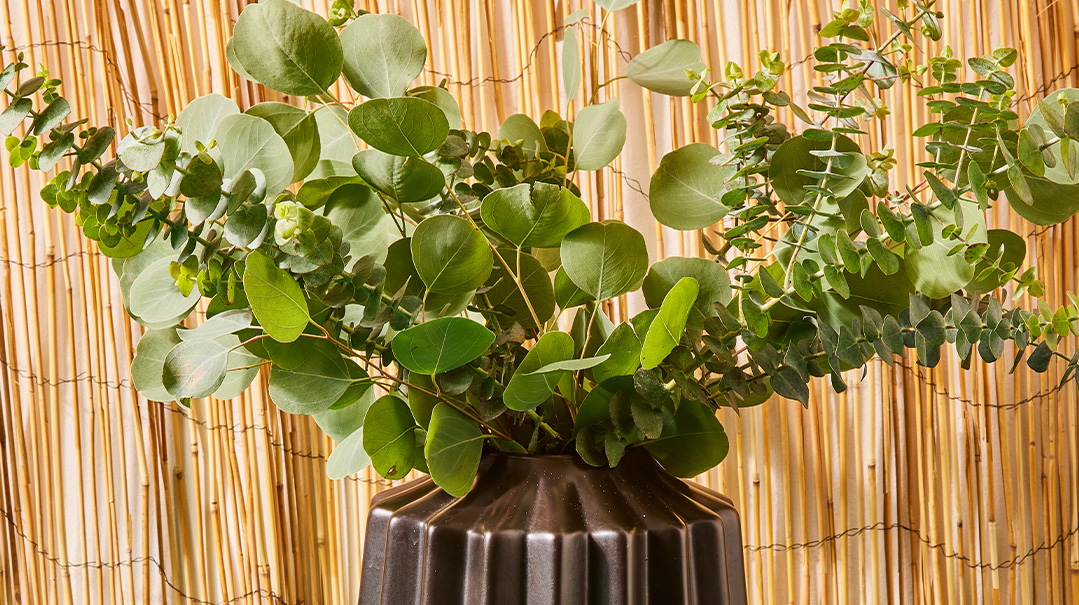 Step 1: Arranging the Greenery
For this bouquet, I mixed various eucalyptus greenery. Place the stems in the vase in a counterclockwise direction. Use your less dominant hand (left) to place the greenery in the vase so you can arrange the bouquet with the other hand. It's important to measure how tall the stems are next to the vase so you don't cut them too short.
Place the greenery in the vase to create your base layer. Make sure it's not too symmetrical. You want to create a nice shape for your bouquet.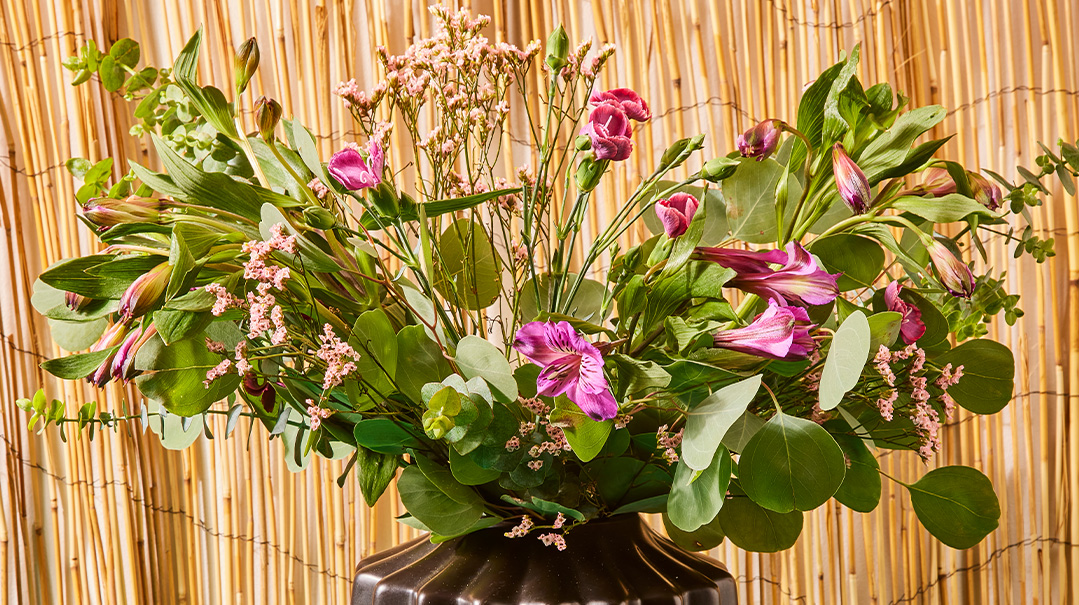 Step 2: Add Contrast and Texture
Once the greenery is placed, add smaller flowers or berries for contrast and texture.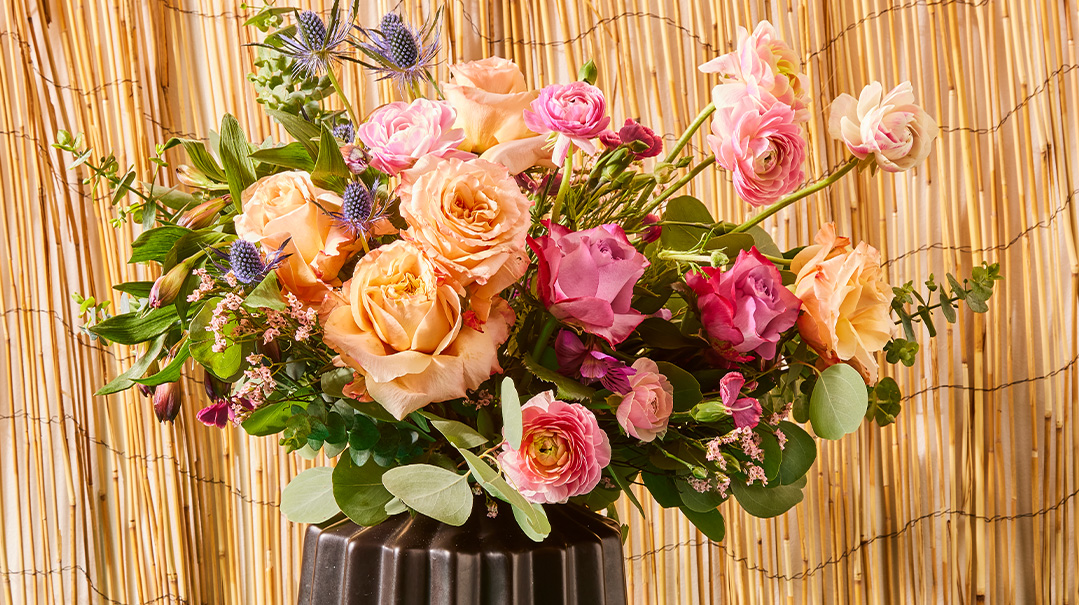 Step 3: Final Touches
Finally, add in larger flower heads in groups of threes or small clusters. Avoid placing larger heads completely separate, as that will give the bouquet a polka-dot look.
Conditioning and Maintenance
Properly preparing the flowers, called conditioning, is key to the health and duration of your flowers. Here are a few tips to keep your flowers looking fresh all week long:
Hard, woody-stemmed flowers need to be cut through the base of the stem to allow the water to penetrate.
All stems should be cut at a 45-degree angle to optimize the water access.
Any leaves or dirt below the water line should be removed so as not to create excess bacteria in the water.
For best results, change the water in your arrangement daily.
Tips and Tricks
It's important to note that some flowers react to the oils on your hands. Delicate flowers like roses can't be handled too much or they will turn brown.
Some flowers, such as hydrangeas, actually drink water through the heads as well as their stems. If they look a bit droopy, you can place the hydrangea heads in cold water or spray them with a mist.
(Originally featured in Family Table, Issue 843)
Oops! We could not locate your form.
>