| FamilyTable Feature |
Hot Pot
| September 19, 2023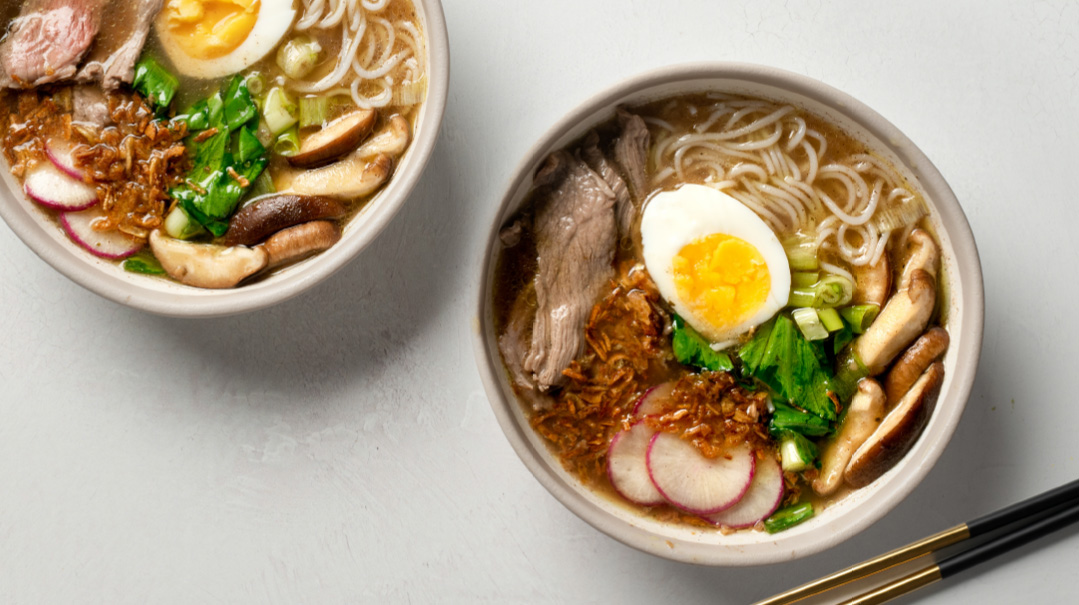 Styling and photography by Devorah Applegrad
I served this soup to my guests last Succos, and it was a huge hit! It does require some advance prep work. After candle lighting, I placed all the vegetable, noodle, and meat components in small bowls in the center of my dining room table, with a medium-sized Dutch oven filled with the hot broth in the middle. To heat up the broth, I lit the base under the burner from a flame on my stove. (I have gas burners, so I can transfer the flames to ignite the base for the burner.) On a year when the first night of Yom Tov is a weekday, you can arrange everything before candle lighting as well.
SERVES 8
1 Tbsp canola oil
3 cloves garlic, minced
1 inch (2½ cm) piece fresh ginger, minced
8 cups beef broth
½ tsp cinnamon
1 tsp sesame oil
1 Tbsp soy sauce
1 star anise (optional)
½ tsp sriracha (optional)
1 lb (450 g) New York boneless strip steak, frozen for 1 hour
½ 8.8-oz (250-g) pkg thin rice noodles, prepared according to package directions
4 scallions, chopped
2 baby bok choy heads, sliced
1 3½-oz (100-g) pkg shiitake mushrooms, stems removed, sliced
3 radishes, thinly sliced
1 cup crunchy onions
4 jammy eggs, sliced in half
kosher salt, to taste
freshly ground black pepper, to taste
Heat oil in a large soup pot over medium-high heat. Add garlic and ginger; sauté for 2 minutes. Add beef broth, cinnamon, sesame oil, soy sauce, and star anise and sriracha, if using. Bring soup to a boil, turn down the heat, and simmer for 10 minutes.
While the soup is simmering, thinly slice the partially frozen meat so it's paper thin.
In individual large, wide bowls, arrange noodles, scallions, bok choy, meat, shiitake mushrooms, and vegetables. Pour boiling soup into bowls; add salt and pepper and serve immediately. The boiling broth will cook the meat and vegetables. The jammy eggs can go into the bowl or on the side.
Tip: Any leftover vegetables and meat can be added to remaining broth. Bring to a boil to make a beef, vegetable, and noodle soup.
(Originally featured in Family Table, Issue 861)
Oops! We could not locate your form.
>