| FamilyTable Feature |
Sticky Smoky Burnt Ends
| June 28, 2022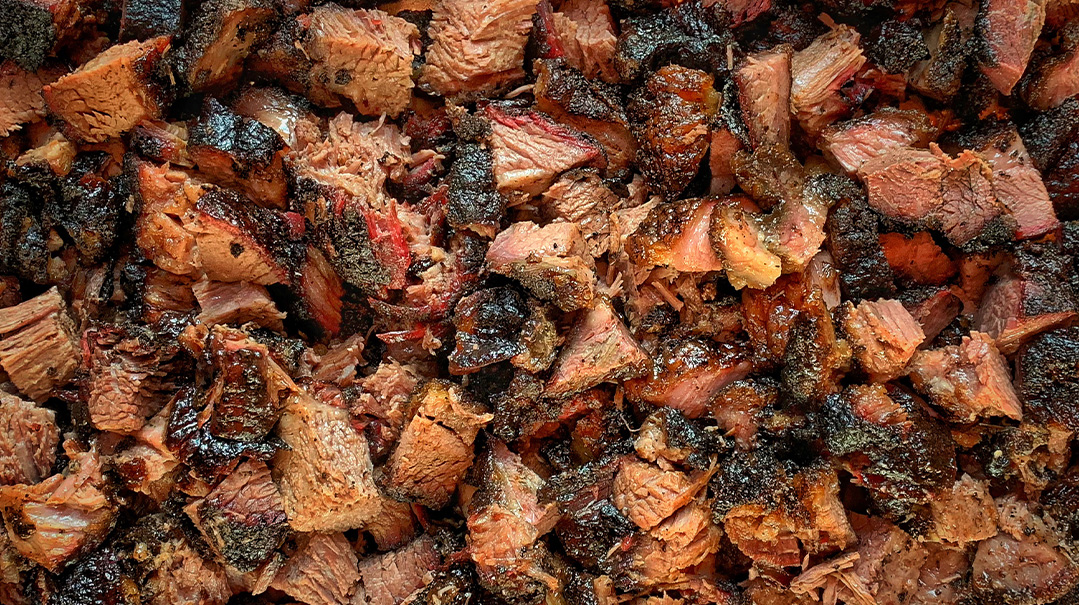 Burnt ends are not in fact burnt. Think of the super-savory ends of a smoked brisket — or even a steak — that are the most flavorful and butter-soft. In recent years, that's been termed "burnt ends," and it's specifically referring to the "point end" (or as is more commonly known in Jewish butcher stores, the second-cut) part of a brisket. Unless…you cut the entire thing into two-inch "ends" so there's a sticky, saucy end for everyone.
Usually, you'd think of burnt ends being prepared by smoking the meat in a smoker over wood for many hours. But although home-smokers are gaining lots of steam, it's not quite de rigueur, so I wanted to try this out using a conventional grill and oven.
The key is to start with a meat that has plenty of fat and marbling. I started with a second-cut brisket, which is ideal, and the classic choice for this dish. And just for fun, I also tried it with a kolichel, which was great, but had more of a ribs feel than a second-cut-brisket feel.
Start by treating your meat with a spice rub. I tried it once with Rivky Kleiman's Chili Lime Rub, and once with Trader Joe's coffee rub, and both were fantastic. You can use any flavorful, meat-friendly spice combo you have on hand. (Or create your own. I'd make a combo of salt, pepper, garlic, brown sugar, coffee granules, and chili powder.)
Now, for the grill. You can either use a gas grill with a metal box for wood chips, or a charcoal grill. With either option, you'll place your meat on indirect heat, or a part of the grill that would be about 250°F (120°C).
I know what you're thinking — eight hours on a grill is insane, and I kind of agree. I made this for the first time on Erev Shavuos, and I used a charcoal grill for the first part and finished it off in the oven with the sauce. But if you're averse to having your grill running all day, I would suggest doing the opposite: baking it all day in the oven, and then getting the smoky flavor with the sauce on the grill for the last two hours.
Sweet and Sticky Barbecue Burnt Ends
3 lb (1½ kg) second-cut brisket
3 Tbsp olive oil
3 Tbsp spice rub
1 cup barbecue sauce (see below)
Coat your meat in the oil and spice rub. Place directly on the grill in a zone that is approximately 250°F (120°C). Leave the meat on the grill for around 6 hours, flipping occasionally, until fork-tender or until internal temperature checks in at about 165°F (74°C). Alternatively, place it in a covered baking pan in a 250°F (120°C) oven. Either cooking method will require about 6 hours.
When the meat is fork-tender, remove from heat and let cool for about a half hour. Cut meat into 2-inch (5-cm) chunks. Place in a 9x13-inch (23x33-cm) baking pan, brush with barbecue sauce (you can use bottled or be extra and make my homemade recipe below), and cover with aluminum foil. If meat was previously on the grill, at this point you can place it in the oven or back on the grill. If it was previously in the oven, I highly recommend finishing this off on a grill to get that smoky flavor in!
Cooking times will vary based on the cut of meat you choose and how big of a piece it is. I found that brisket only needed around 2 hours to finish it off, but the kolichel needed a bit more time.
Note: For the first part of the process, if you're using a small piece of meat, you'll want to cook it for a shorter time so it doesn't dry out. For the most part, though, as long as you're using a fatty cut of meat, and as long as you keep it covered tightly after you sauce it, you should have very soft and delicious results.
Smoky Barbecue Sauce
I doubled this recipe, because I like having homemade barbecue sauce in the fridge for all kinds of barbecue needs, but if that's yet another cluttering condiment jar for you, skip it, and leave the recipe as is. By the way, I used a ketchup bottle that had about 1 cup left in it, which is always helpful.
1 cup ketchup
3 Tbsp apple cider vinegar
2 Tbsp brown sugar
2 Tbsp honey
½ Tbsp paprika
1 tsp mustard
½ tsp garlic powder
½ tsp onion powder
½ tsp salt
½ tsp pepper
½ tsp chili powder
Mix well to combine all ingredients.
Weber Universal Stainless Steel Smoker Box
This is a great wood-chips box to use with your gas grill. It will give your food a more smoky flavor.
(Originally featured in Family Table, Issue 799)
Oops! We could not locate your form.
>