| Slices of Life |
Secret Garden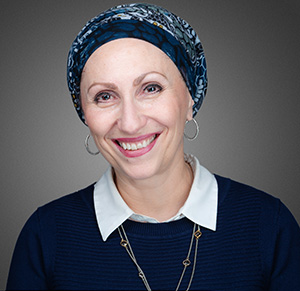 | September 29, 2020
It became our place to get away from Brooklyn on summer Sundays and the occasional weeknight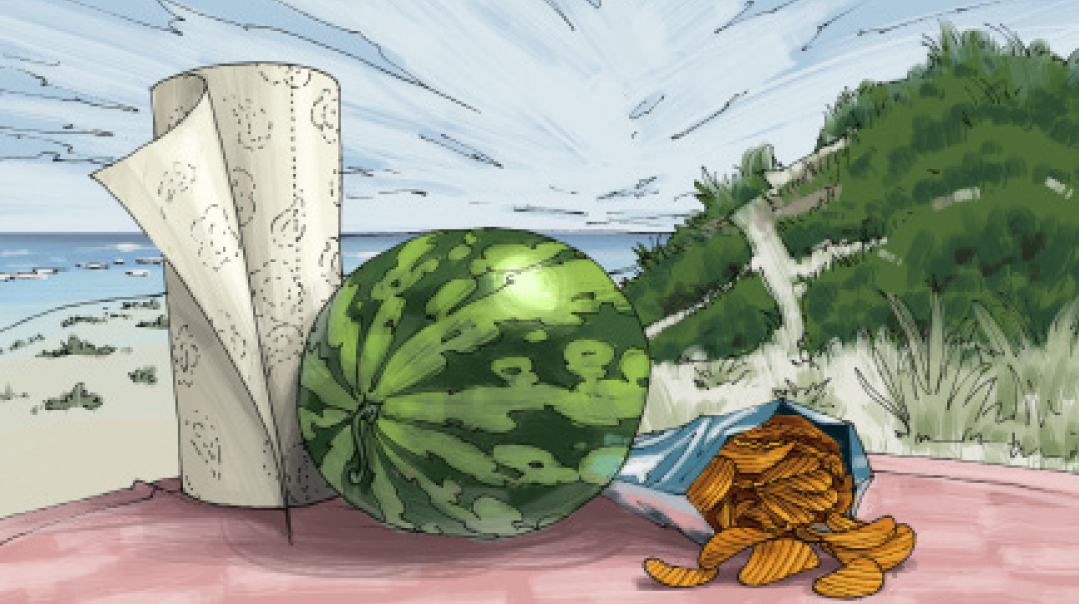 Illustration: Dov-Ber Cohen
We first discovered the park at Breezy Point/Fort Tilden when our oldest was a baby; I don't remember how. Maybe it happened on one of the drives we sometimes took to the well-groomed streets of Belle Harbor, sentimental journeys with the extra perk of ocean views (we were married in the shul there). Maybe once we took a wrong turn and noticed the picnic tables under roofs and a grassy area.
No one else seemed to know about the area; it was typically deserted. I remember our first picnic there, our oldest in an infant seat perched on the stone table, the breeze whipping at her hat and blanket. The park was just a short drive over the Marine Parkway Bridge, and it became our place to get away from Brooklyn on summer Sundays and the occasional weeknight, an escape from the sweltering, humid air and fetid smells of garbage cans pulled out to the curb.
Breezy Point wasn't exactly high-end entertainment, but our kids were young and still content with simple pleasures. There were only the two picnic tables, a couple of steel structures for kids to climb on (one was in the shape of a horse, I recall), and an old, painted missile lying on the grass. The entire lawn was smaller than a football field. There was a corral at the other end, so sometimes the kids saw horses. One evening, the park staff set up a band shell and hosted a little concert, a band playing American classics to a small audience of locals on folding chairs.
With time we started exploring beyond the lawn. Off to one side, we found a couple of huge, spooky-looking hangars built of rotting wood, the windows broken like jagged shark teeth. These buildings had housed planes and missiles during the war, as the area had been a military installation. If you walked far enough you reached a sandy trail by the beach, usually with just a few people throwing Frisbees to dogs or splashing in the water.
Over the years we hosted a lot of live-in company in the form of various relatives from overseas, and we'd pack them right into the minivan with our kids and take them along. We'd bring picnic food, nothing fancy: sandwiches of tuna or egg salad or cold cuts, leftover Shabbat dips, chips, soda. For a while we used an ice chest to keep things cold. Sometimes we'd buy a watermelon on the way, or pick up pita and za'atar bread from a Syrian bakery on Kings Highway (the kids always fought over the last scraps of za'atar bread). Dessert would include leftover brownies or chocolate chip cookies from Shabbat, or maybe cookies from the Syrian bakery (almond crescents dipped in chocolate, or Moroccan "grinder" biscuits, so-called because housewives used to push the dough through a meat grinder to create shaggy sticks). We eventually honed our packing skills to a science, bringing plastic tablecloths and cutlery, one good knife for the watermelon, and a roll of paper towels for cleanup.
Breezy Point wasn't much, but it felt like ours, since it was so rare for anyone else to be there.
"How come nobody else knows about this place?" we'd marvel to each other. The little kids had space to run around while the older ones climbed on the steel horse or played ball. The stiff breezes off the ocean were a relief from the steam bath that was Brooklyn, and we could hike through the sea grasses and watch the breakers crash on the sand.
All good things come to an end, and what ended our Breezy Point picnics was Hurricane Sandy in 2012. The entire peninsula, which includes a private beach community, took a horrific beating, with about 350 homes destroyed by flood or fire. The Fort Tilden area, where we ate our picnics, was closed off then to public traffic. The front entrance was still closed when we drove by a few months ago, but the area is supposedly being reopened in phases in compliance with COVID-19 guidelines.
Before Sandy, we managed to take our first grandchildren there to play; the younger ones haven't yet had the privilege. But in this unlikely secret garden, anything feels possible. I hope it's just a matter of time.
Barbara Bensoussan is a contributing editor at this magazine and the author of several books, including her recently released novel Pride and Preference. She lives in Brooklyn, New York.
(Originally featured in Mishpacha, Issue 830)
Oops! We could not locate your form.
>