| Slices of Life |
Back at the Dock | September 29, 2020
     

 Because for us time stopped in March, right after Purim, and it hasn't passed by so much as crept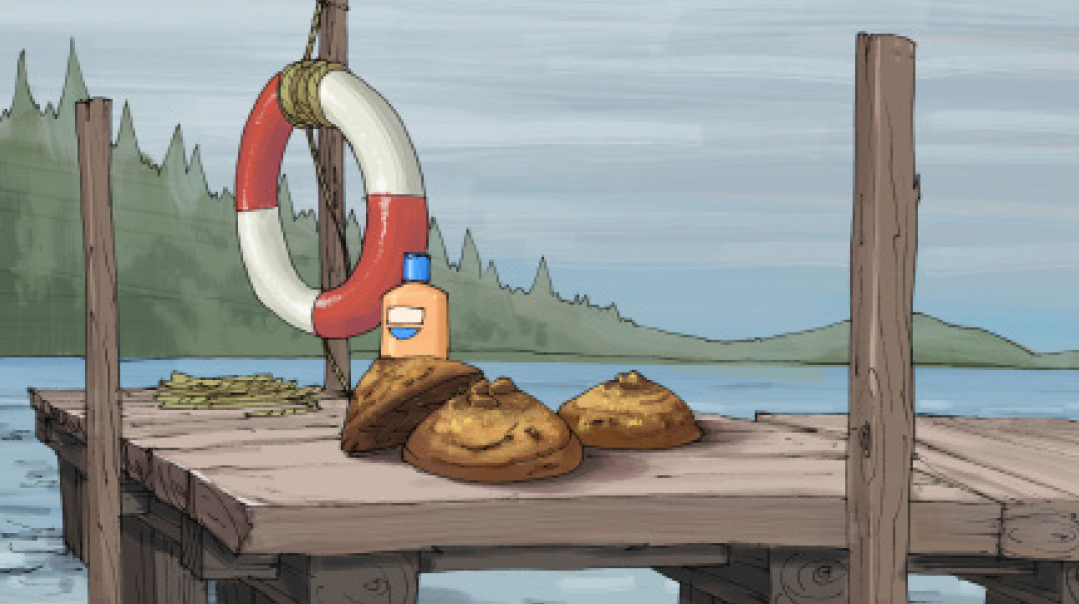 Illustration: Dov-Ber Cohen
This is the summer we rarely leave our house. State numbers are on the rise, and our local day camp canceled just days before it was scheduled to start. After months of being home, the kids are still home and my husband is still working from home and I'm still supposed to be trying to work from home. Ha.
This is the summer when time stands still. It's the summer someone tells me her son's birthday was April third, and I respond, "Oh wow, happy birthday," and her very polite nine-year-old looks at me strangely and carefully says, "Thank you," and I say, rather kindly, "Because it was just your birthday," and then I realize that it is in fact July, and his birthday was ages ago and he's already thinking about turning ten.
Because for us time stopped in March, right after Purim, and it hasn't passed by so much as crept as the kids Zoom-schooled at our dining room table and we made Pesach, and then Shavuos came and went and we had no family for Yom Tov and made no trips to New York to visit either.
And now it's summer, and it's the summer of no Camp Ashreinu but yes learning Navi online with Rabbi Ross. It's the summer my kids teach themselves how to rollerblade and ride a two-wheeler and swim and hoverboard. It's the summer I finally make the perfect babka and attempt kichel for the first time.
It's the summer our school starts offering free milk and free lunches, some COVID-related government funding, sign up and voilà, you're set. So it's the summer where every Sunday, we drive over to Cincinnati Hebrew Day School and pick up a large box of food for the week. We go home and unpack potato blintzes and bagels and chicken nuggets and orange juice and a bag of fruit and box of grape tomatoes and yet another container of cream cheese and a tray of muffins and cookies, and wait, what's this?
A perfect circle, about two inches in diameter, darker brown and with more height than the standard cookie, with an almost dusty-crumbly texture. I'm in shock; I didn't know they make these anywhere but the Catskills.
"Ima, does that have peanut butter in it?" my very-conscious-of-his-allergy-five-year-old asks, breaking my reverie.
"Nope."
"What is it?"
"A Federation cookie."
And suddenly I'm no longer in Cincinnati, I'm back in Narrowsburg, in Camp Sternberg, staring at a box of these cookies, because you move back in time way faster than it moves forward. I'm a lifeguard at the lake, and we're packing for a canoeing trip down the Delaware. There's a case of Kaiser rolls, my favorite type of bread, and a case of Federation cookies, which most of the counselors and canoeing instructors and lifeguards I work with say with disdain, because they're cheap and they come in bulk and this is camp where you're supposed to hate all the food. But when I look into the cardboard case, I see cookies I'm not ashamed to say I love, plus the more everyone else pretends to dislike them the more there is for me, so pride aside, it works out well.
Federation cookies have a distinct taste — only a hint of sweetness — and they're dry but not so dry that there isn't a little give when you bite into them. The name is utterly utilitarian, we think it's because they're sent by the Jewish Federation that subsidizes a lot of Camp Sternberg but who really knows or cares. They're hearty enough to survive being squished in a backpack under sunscreen and water bottles and a towel and a Discman and then being leaned on during the bus ride and shoved into the bottom of the canoe and whacked with a paddle and tossed into the water when the canoe flips. The Federation cookie emerges intact, unlike the Kaiser roll, which at lunchtime resembles a pancake.
Holding the cookie, I'm back there, on the river, and I'm Sweep, the last canoe, my favorite spot in the lineup when we help out on canoeing trips. I'm listening to the girls sing "Two-five-two, 3974 — that's eight-four-fiiiive!" at the top of their lungs and thinking about how when I was a Freshie, the area code was 914. I'm in the water of the Delaware River, swimming to get a girl who fell out of her canoe and is struggling to get back in. I don't know if it was really necessary, but I tell people about "my save" later that day, and the rest of the summer, too.
But it's not just the trips; cookie in hand, I'm back in camp, standing on the dock singing "Yigdal" from Pardes to myself as I scan, constantly scan. I'm guarding and then the bunks leave, and it's just us, the lake staff, swimming in the lake and even across the lake and back when we have the time. Random memories surface: it's six o'clock in the morning, and there's frantic knocking at the door of Acacia, our self-named cabin — the dam malfunctioned, the canoes got pulled into the lake, they're now being sucked into the dam which is working again, and the maintenance men need lifeguards to watch them as they get the canoes out. And another: I'm giving the campers the pre-trip lecture about never taking their lifejackets off, and because I was told to scare them a little because the Pioneers can use it, I'm sternly warning, "If you dip so much as a toe in, you can be swept away by a current"— snap! — "just like that"—maintain eye contact and… silence. It certainly feels effective.
The Federation cookie takes me back to that place and that time. Once again I'm a teenager, passionate about all topics, totally convinced I'm right about everything even though I know nothing. There's a heady sense of power, of invincibility, of being on top of the world from my perch on Sternberg's dock.
These days, I'm vulnerable, and powerless, and at the mercy of five blessings who run circles around me while we're homebound. There's something idyllic about this time together and my kids look really cute in masks, but we're turning calendar pages faster than things are returning to normal, and quite frankly, it's getting old. And this child won't eat and that one yells back and this one melts down for no reason and that one is fearless and leaps off the couch onto the high chair tray a few feet away without looking just for fun.
This summer that isn't like summer, instead of feeling relaxed I feel stretched so, so thin. I'm tired all the time, too tired to care about much — except for Federation cookies, apparently. I slip them off the tray and hide them from my kids; there's no way I'm sharing them because in those moments when I hold them, I have summer.
Who needs to go places when I've got the cookie that transcends time and space?
Rachel Bachrach is a deputy editor at Mishpacha. She lives in Cincinnati, Ohio.
(Originally featured in Mishpacha, Issue 830)
Oops! We could not locate your form.
>