| Off the Eaten Path |
Sandwiches Around the World
| July 15, 2020
My articles have had a bit of a change-up, as I've done almost no traveling in the recent months. I'm looking forward to trying new restaurants across the world as soon as the skies open up again, and I'll be happy to report back to you all then. Meanwhile, I'm sharing with you a collection of sandwiches from various cuisines to whet our travel appetites.
Sandwiches go all the way back in time to Hillel, as featured in the Seder. The "sandwich" that is known today — two slices of bread with assorted fillings — came from the fourth Earl of Sandwich in 1762. The Earl of Sandwich enjoyed playing card games. Reportedly, in the middle of a particularly intense game, the Earl, who didn't want to leave his cards to eat a formal dinner, had his servants bring him slices of roast beef wrapped between two slices of toasted bread so he could hold his food in one hand, allowing him to continue playing his game without leaving the table.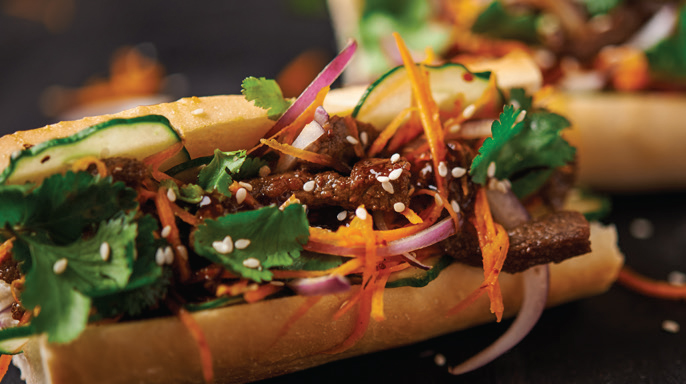 Banh Mi
This is an Asian-French fusion sandwich originally from Vietnam. When the French occupied Vietnam in the late 1880s, some Vietnamese cuisine became influenced by the French. One of these, the Banh Mi sandwich, was made from a crusty baguette, pickled vegetables, and a creamy spread topped with a protein (such as fish or meat). These are among my favorite sandwiches, as they have so many flavor options. I even created a Banh Mi sandwich for my book Perfect Flavors using fresh tuna.

Vegemite
While most Australian kids are familiar with vegemite sandwich, other people around the world generally turn their noses up at the extremely salty, uber-umami flavor of this iconic sandwich spread. As a child, I used to eat this sandwich almost every day in sleepaway camp. The best way to eat it is toasted, loaded with butter, with a light smear of vegemite over the butter. (My mouth is watering as I write these words; yes, I'm homesick!)
Vegemite has been around since 1922, when the Fred Walker Company hired Dr. Cyril Callister, then one of Australia's leading food technologists, to develop a tasty, spreadable paste. After many trials and experiments, Dr. Callister managed to create a spread from one of the richest known natural sources in the vitamin B group — brewer's yeast. This spread has since become a staple all over Australia (but not so much outside of that continent!).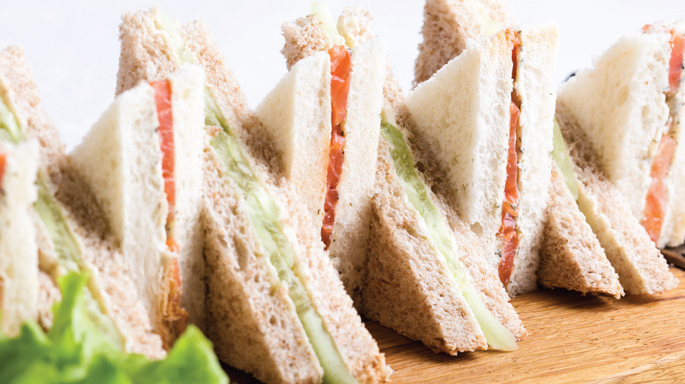 Tea Sandwich
A tea sandwich (also sometimes called a finger sandwich) is a small sandwich served in England, usually eaten at afternoon teatime (around 4 p.m.) to hold off one's hunger until dinner. There are a number of varieties of a tea sandwich, but they're always easy to handle and can be eaten in two or three bites. Often, they are cut into decorative shapes. The bread is usually thinly sliced and served crustless.
Typically spread with cream cheese, butter, or flavored mayonnaise, it's often filled with fresh vegetables such as radishes or cucumbers. Other popular tea sandwich fillings include tomatoes, assorted cheeses, smoked salmon, jam, tuna fish, or egg salad.
On a recent trip to London (BC = before corona), I had tea and sandwiches with my friend Jenny Hollander of JennyCakesLondon at the famed Savoy Hotel in the heart of London. We ordered kosher tea service, which consisted of tea, mini sandwiches, mini cakes, and scones.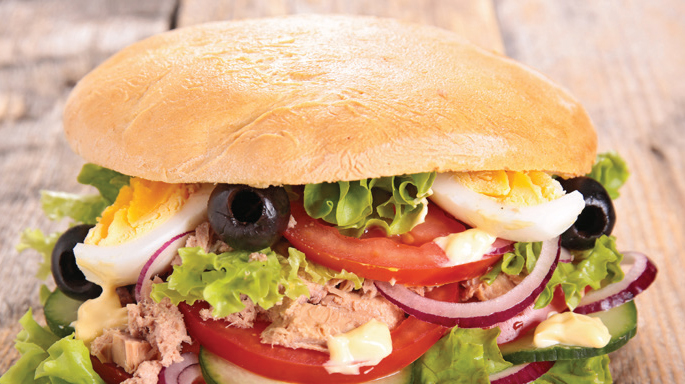 Pan Bagnat
I always appreciate a good salad, but this salad comes inside the bread (the bread is hollowed out first to make room for the salad). I learned to make this sandwich when I attended my first series of cooking
courses to become a chef and fell in love. A pan bagnat is a specialty in parts of southern France and particularly in the city of Nice. It's composed of whole wheat bread and fi lled with a classic tuna niçoise salad —lettuce, tomatoes, haricot verts (a type of French green bean), hard-boiled eggs, anchovies and/or tuna, and olive oil, salt, and pepper. It's commonly prepared using day-old bread.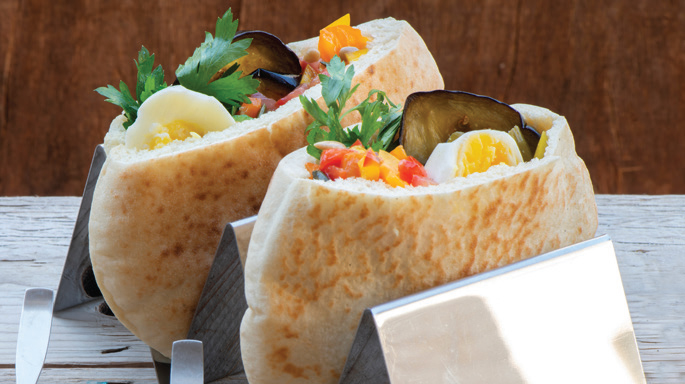 Sabich
My mother grew up in Israel before she moved to Australia as a child. Much of her cooking refl ected her Israeli roots, and she used to include eggplant in many of her dishes. On a trip to Israel about 15 years ago, I noticed this sandwich on a restaurant menu. Once I tried it, I was hooked.
First brought to Ramat Gan, Israel, in the 1940s by Iraqi Jews, sabich is a sandwich made by stu_ ng pita bread with fried eggplants, hard-boiled eggs, tahini sauce, Israeli salad, hummus, and pickled mango sauce (amba).
Sabich is often eaten as a snack or a breakfast, and can be purchased from street food vendors in Israel. Part of the appeal of this sandwich is that it marries the crisp eggplant with the soft textures of eggs and hummus; the various components of the sandwich are joined together with the rich taste of the amba.
(Originally featured in Family First, Issue 701)
Oops! We could not locate your form.
>