| Off the Eaten Path |
Greater Detroit
| January 10, 2023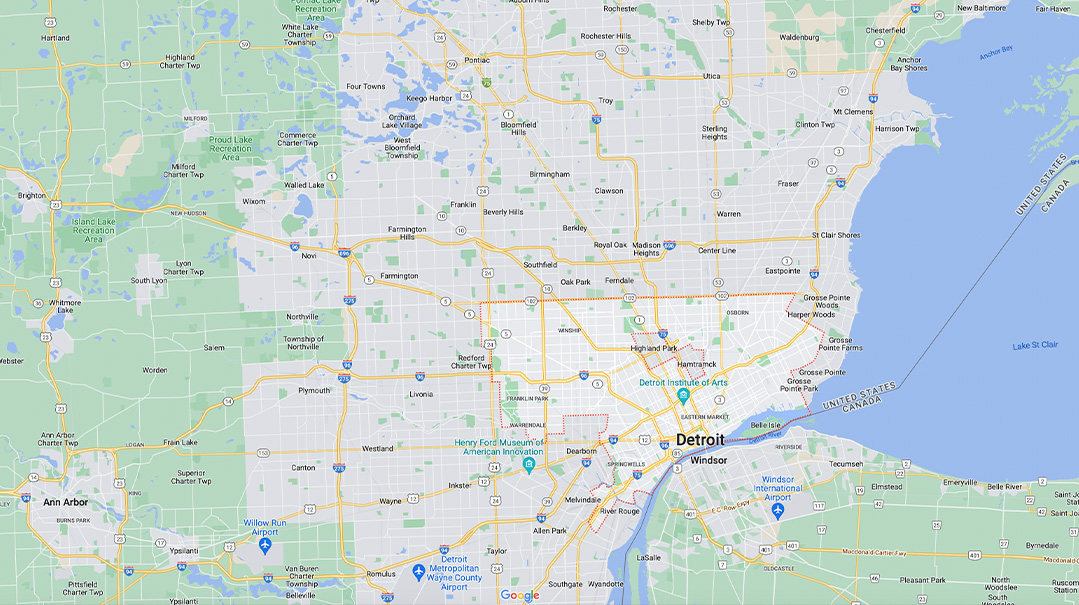 I've been to the Detroit, Michigan, area several times over the last few years. Here I'm presenting a combination of my experiences from my various trips — only my favorite parts, of course!
Oh Canada!
Detroit is very close to the Canadian border, so if you have your passports (or other valid ID) with you, you can simply drive through the tunnel and go shopping in Windsor, Canada. We enjoyed our shopping experience!
Soul Café:
This is always our first stop when we arrive. We absolutely love the food and the atmosphere! There's always a modern twist to the seasonal menu. Each dish I sampled was amazing, but I'm still thinking about the French toast with strawberry cream.
Besides the cuisine and ambiance, Soul Café is something special and unique — well beyond a typical eatery. It's a project of the Friendship Circle of Michigan  that was founded by Rabbi Levi and Bassie Shem Tov nearly 30 years ago and now has about 80 locations across the world. It's an initiative overseen by the Chabad of Greater Downtown Detroit.
Friendship Circles assist and support people with special needs as well as their families. The special-needs servers and support staff at Soul Café were trained in jobs in the food industry. There's also an art center attached to the café that provides the special-needs community with art classes and a studio. I was in awe of the entire experience.
Also part of the Friendship Circle family is the Dakota Bakery, which offers a large selection of breads baked fresh daily. It features a special loaf of bread each day of the week, including apricot oat, sourdough, Dakota rye, cinnamon raisin, and jalapeño cornbread, just to name a few. I enjoyed a tour of the bakery and seeing the impressive carousel oven with its rotating shelves. Jacob Gross, one of Dakota's employees, treated me to some delicious samples of its baked goods, including some doughnuts, as it was two weeks before Chanukah.
Ess-In:
I love fried chicken, and there's nothing better than fresh hot schnitzel right out of the frying pan. I went to this eatery with a friend, and everything looked so good that we basically ordered the entire menu! They offer fried chicken, burgers, and sandwiches, a variety of creative corn dogs, tacos, and salads. My favorite was the Korean Corn Dog — I especially loved that the batter had ramen noodles in it!
Prime 10:
I enjoyed dinner in this restaurant together with some of the women who coordinated the event I was working on. It's a steakhouse that offers a large variety of dishes — including burgers, sandwiches, and wraps. It has a really fun appetizer section with the latest trending foods, including cauliflower bites, fried pickles, and flatbreads. I especially loved the fattoush salad, which is basically an Israeli salad with large pieces of toasted pita, bursting with fresh lemon flavor.
The Grove Supermarket:
Whenever I travel, I make sure to visit the local kosher supermarkets. Formerly called One Stop, this supermarket was taken over and renovated by the Grove in 2019, with the goal of matching their other store in Florida and adding an upscale feel. In addition to many aisles of dry goods, the supermarket sells delicious sushi, sports a large wine selection, and even has a pizza store that makes fresh pizza on demand. We bought some tuna tartare from the sushi bar before Shabbos.
Museums
Before visiting a city, I always google the top things to see. It was no surprise that the Henry Ford Museum came up as the number-one attraction in Detroit. We walked around the museum for hours, as I'm a big car fan and I love pop culture. What a thrill to sit in the actual bus that Rosa Parks sat in during the civil rights upheavals during the 1950s. We also saw firsthand the history and modernization of the automobile industry.
(Originally featured in Family Table, Issue 826)
Oops! We could not locate your form.
>