| Off the Eaten Path |
French Riviera
| August 23, 2022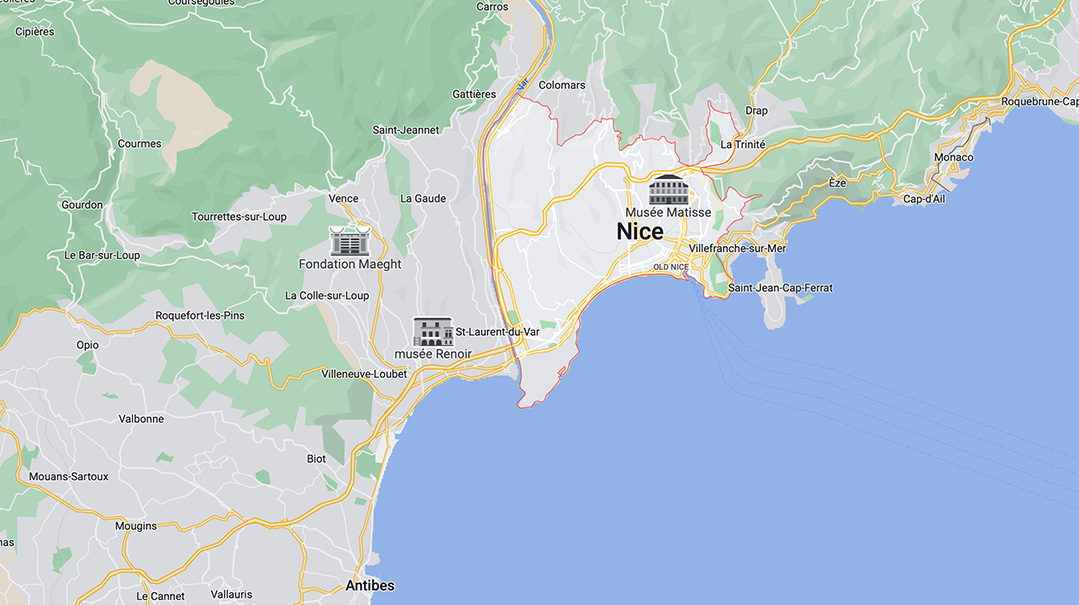 I am sitting at the airport in Nice, France, waiting for my next flight to Paris. I have a huge smile on my face and my brain is spinning because of all the amazing memories I've just made. I found myself with an incredible opportunity to go to the south of France. I had to be in Paris to give cooking demos on a river cruise, and I found some extra time because of the extended July Fourth weekend. I mentioned this to my friend Noemi Levy, from Zurich, Switzerland. She told me she was also thinking of going to the south of France at the end of June and suggested we go together. I was so excited about this, as Noemi had been there many times already and could plan the itinerary, and — bonus — she speaks French. She knew the hotels that were in close proximity to the shuls and restaurants. I was so excited, and our trip came together so easily, thanks to Noemi.
With the skies open, it was the first time (besides Israel) that we had left the States in two-and-a-half years. Rules were changing for the better. I used points to book our hotel and the euro and American dollar had almost the same rate of exchange.
We flew into Nice on a direct flight from New York. Neomi and her husband Roger picked us up; they had driven the six hours from Zurich so we would have a car. Our first stop was in Nice, to the large Super K kosher supermarket, where we picked up snacks, cheeses, and some food for Shalosh Seudos. I was so excited to see such a well-stocked supermarket, with familiar goods such as Tuscanini and Osem products, Kedem grape juice, and also tons of items I had never seen before, such as salted hard salami, smoked tuna, and foie gras. From there we drove to Cannes, which we called home for the next few days. Our hotel, Best Western Cannes Riviera, was right next door to the shul, and an eight-minute walk to a Chabad minyan, too. After resting and unpacking, we headed to Juan les Pins, a fifteen-minute drive and the next town over from Cannes.
Juan Les Pins is a year-round community with lots of restaurants right around the touristy area of the beach. We walked along the boardwalk, dipped our feet in the water, and had delicious coffee. Walking around, we counted five restaurants in a one-and-a-half-block radius.
Dinner that night was back in Cannes, right on the promenade, Croisette. I wanted to try as much French cuisine as possible. Some of the food we ate was pâté foie gras, beef tartare, pan-seared duck, and Planche De Boutargue, which consists of mullet fish eggs that were dried, pressed, salted, and sliced thin.
On Friday, we headed to a weekend outdoor market in Valbonne Village. They sell trinkets, clothes, fruits and vegetables, and pocketbooks. We wandered through the alleyways, exploring the area, and then headed to Mougin, where Picasso used to paint. The town was so quaint, filled with cafes and museums. We were also able to pick up some baguettes from the boulangerie (bakery).
Shabbos was so beautiful (and long). We had chosen to stay at a hotel near the shul that also has a restaurant and had made arrangements to eat both of our Shabbos meals at the restaurant. The food on Friday night was Tunisian/Moroccan-inspired, and included couscous, vegetable and meat stew, and assorted dips. Shabbos lunch was so delicious, with even more dips, and incredible ceviche, salads, and meats. It happened to be my birthday, so my husband, Zvi, surprised me and ordered a selection of cakes for dessert.
France is very northerly on the globe; that meant Shabbos was over very late, at 10:15 p.m. That gave us lots of time to rest, eat, rest, read, rest, eat, and walk around. We ate Shalosh Seudos on the rooftop of our hotel overlooking the city at sunset while the men went to shul. It was really beautiful.
On Sunday, we decided to take the coastal train from Cannes to Monaco. It was an easy and beautiful ride along the coastline. Monaco is a very small independent country or municipality in Europe. We didn't need visas to enter, and we literally walked its entirety. We had to bring our own food, as there is nothing kosher in Monaco, so that morning we bought fresh baguettes and packed our Gefen tuna packages, Haddar pickles I had brought from New York, and fresh butter from the local kosher store in Cannes. We had a picnic lunch along the waterfront. It was one of the most spectacular places I have visited. Everywhere there are views of water, boats, and fancy cars, and the city is built into the side of the mountains.
On Monday, our last day, we took a 20-minute boat ride to Marguerite Island. There was a fort museum, from the famed book The Man in the Iron Mask. We hiked around the island and found a quiet little alcove for our kosher picnic. which was the same lunch as in Monaco with the addition of some French cheese.
Our trip ended on such a high. The south of France has lots of beautiful small towns, incredible views, kosher restaurants, and minyanim. It's such a perfect vacation spot during the spring and summer seasons.
(Originally featured in Family Table, Issue 807)
Oops! We could not locate your form.
>