| Man With a Pan |
Letting the Creative Juices Flow
| July 11, 2023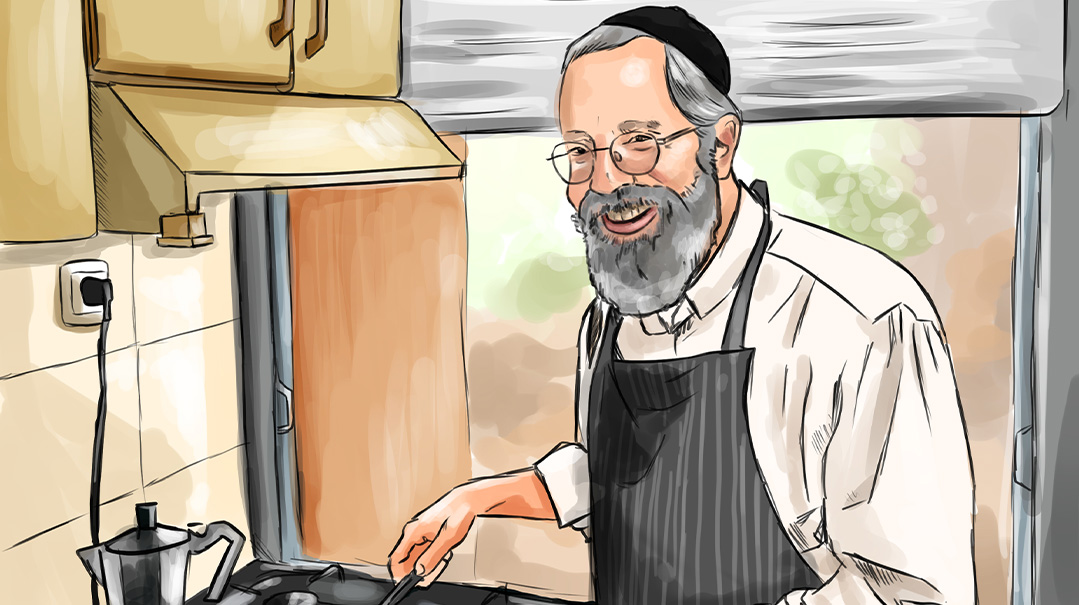 Illustration by Lea Kron
The Man
Rabbi Aharon Nikop, MSW
Psychotherapist
Tzfat, Israel
Cooking for 6 adults and 2 children
When my wife, Elisheva, showed me a few Man with a Pan columns and encouraged me to apply, I was intrigued. I love to cook. Some of my fondest childhood memories are the times when I baked with my mother as a kid. In addition, 30 years ago, as a young avreich and rebbe in an English-
speaking yeshivah here in Tzfat, I supplemented our income by doing small (and not so small) catering jobs — brissim, bar mitzvahs, and even one chasunah.
Nowadays, as a practicing psychotherapist for the past 15 years, I am very involved in my work, and my cooking has been relegated to somewhat infrequent incursions into the kitchen to make a dish or two for Shabbos in order to help my wife. I thoroughly enjoy "getting into the zone" and connecting to a creative side of myself.
More recently, at a regionwide social workers' conference about 10 years ago, each participant introduced himself and was asked to add what he or she would do if he wasn't working as a social worker. I said that I would love to write a cookbook. I may never get to that cookbook, but I still enjoy creating new recipes!
Planning Stages
As I stepped up to the plate for this challenge (no pun intended), I began to wonder if there should be a theme or a specific cuisine to my Shabbos. Should I prepare my usual dishes or try to develop new ones?
You see, I cannot follow recipes. I always have to change something. Also, menu planning isn't my thing. I prefer to enter the kitchen, look in the fridge and see what there is, and improvise. When necessary, I look at a recipe just to get an idea and then close the book and ad-lib. Ninety percent of the time my food turns out delicious, and the other 10 percent, well, let's not talk about it.
There was a possibility that we'd be having vegetarian guests, so I began to look into fish and vegetarian dishes. However, that didn't materialize, since my Man with a Pan adventure was postponed a week, baruch Hashem, allowing me to prepare a fleishig menu. However, I decided to incorporate a few of the vegetarian dishes that I had previously planned — while, of course, adding my own variations on the recipes. This included a quinoa spinach salad with lemon vinaigrette and a dairy potato, spinach, and fish casserole that I had to figure out how to alter for a fleishig Shabbos meal.
Also, possibly wanting to prove myself and impress my family, I chose to make challos, something I had never done before. I consider myself a good cook, but not a baker. That's my wife's department. I read up on herb bread, and on Friday afternoon used my wife's challah recipe with a few additions of my own — oregano and thyme, vanilla sugar in the egg wash, and a dried garlic and onion topping. It was delicious!
Getting into the Groove
So, with a rough draft of a menu and my wife out of the house, on Thursday evening (after a full day of psychotherapy sessions), I entered the kitchen, turned on some music, and put on my apron. The soup was the first step. I chose to make a guaranteed favorite, my Yemenite-style spicy beef and vegetable soup with lots of parsley and cilantro, and coconut cream.
Next came the dips. I've never been the salad and dips man, just the main course cook, so I had to look for ideas and, as is my way, alter what I found. I made matbucha and chummus, adding fresh cilantro and an array of spices to my wife's regular chummus recipe. Then, exhausted from my long day, I retired for the night, fully aware that tomorrow was going to be a nonstop marathon until candle lighting.
Forging On
With my final menu almost consolidated, immediately after Shacharis I drove to the supermarket to pick up a few more items and returned home to begin my marathon. Ahead of me was just — another dip (s'chug), a fish dish, the chicken and roasted potato dish, and the cholent; all items that I'd made in the past and wasn't concerned about. However, there were still a few dishes that I'd never tried before — the quinoa spinach salad; potato spinach fish casserole with major changes, which I hadn't yet figured out; challah; and some sort of dessert.
So I went into creative automatic pilot mode and began. At this point, I wasn't worried. I felt confident, trusting my capabilities and wanting to enjoy the process.
With the challah dough rising, I decided to go with a bit of Asian cuisine to complement the spicy Yemenite-style beef vegetable soup, and created an Asian salmon recipe. Nothing too complicated, but fun and delicious. I lightly stir-fried onions and red peppers in sesame oil with lots of powdered ginger and fresh garlic (I'm allergic to soy). I coated the salmon with sweet-and-sour chili sauce, sprinkled fresh cilantro on top, heaped the vegetables on top of that, and put it into the oven for about 15 minutes.
Next I prepped the baked chicken, placing it in the center of a deep baking pan, surrounded by sliced potatoes and sweet potatoes drizzled with olive oil and seasoned with rosemary, thyme, basil, and garlic.
The cholent was equally easy, made my unique way — first I fry the onions and sweet potato (thinly sliced with a vegetable peeler) with lots of spices, including curry, cumin, smoked paprika, garlic, salt, and pepper. The grated sweet potato adds a rich sweetness to the cholent. Then I braise the meat and add the other ingredients. The dessert I chose was chocolate peanut-
butter fudge brownies, which I created from a dairy recipe I found. I substituted coconut oil for the butter and demerara sugar for the white sugar, and added a little almond milk to give it a lighter texture.
As the day moved on and family members were about to arrive for Shabbos, I still had a lot to do. Having barely eaten, I was working on adrenaline. Looking over the dairy potato spinach fish casserole recipe, I began searching the kitchen cabinets to see what I could use to substitute for certain ingredients.
Replacing the butter with coconut oil, then cleaning, checking, dicing, and frying the spinach with garlic and spices wasn't problematic, just time-
consuming. The béchamel sauce was the question. What is béchamel anyway? I substituted coconut oil for the butter and half almond milk and half coconut cream for the dairy milk.
By now, I had been on my feet for over eight hours. All that was left was braiding, topping, and baking the challos, and making the s'chug. Exhausted, I took a quick shower, made my way to shul, and somehow stayed awake during the rav's derashah.
My Takeaway
Honestly, I was surprised by how much everyone loved my creations. The greatest praise came from our almost-five-year-old granddaughter, Ruti. She apparently never eats challah and her parents were amazed that she simply loved mine; she must have eaten four to five slices. For me, there's something so rewarding and satisfying when I put my heart and soul into creating delicious and nutritious food and my family thoroughly enjoys it.
But the process was utterly exhausting. I slept most of Shabbos, except for the mealtimes and when I was in shul. I literally couldn't move and passed out on the couch numerous times. I realized that there's a big difference between entering the kitchen to make a couple of dishes to lend a hand versus being totally responsible for everything. A full Shabbos menu can be quite overwhelming and unbelievably time-consuming. I now have a greater understanding for my wife's need to rest after candle lighting, while I head off to shul.
Additionally, I learned how much a positive attitude can affect your experience and mood. Although in retrospect, I pushed myself well beyond my abilities, my strong desire to succeed and prepare for my family a wonderful Shabbos culinary experience, combined with creating the musical ambience that put me in a great mood, provided the fuel to keep me going until the job was completed.
The Wife's Take
My husband and I are alike in many ways, but one of the ways we are not alike is in our cooking style. I'm the one who basically follows a recipe to a T. Yup, even down to measuring half teaspoons of spices and three-quarter cups of water. And I go for the easy recipes, without too many ingredients. As soon as my eyes catch sight of a long list of ingredients, I immediately turn the page (or scroll down to the next recipe).
Not my husband! He looks for recipes for sure, but only to be inspired! He then slaps the book closed and sets out on his next cooking adventure. The ideas have found their place in his soul, and all that's left is to actualize them. And nine times out of ten, they hit the mark. My cooking is reliable and mostly traditional. His is always unique and tantalizing!
This time was no different. He set off with high expectations, and there were no shortcuts. Challah with thyme and oregano. Fish casserole. Coconut meat soup. You got the idea!
My number-one rule of thumb is to try my best to stay out of harm's way (I mean my husband's way!) while he's in the creative mode in the kitchen. That means pots and pans flying, spices all over the counter, all kinds of greens soaking, you name it, it's going. No matter how many times I've slipped in "suggestions" — not too spicy! Too much oil! You're putting that into the dish! — my husband always politely ignores my comments. And generally, his dishes come out absolutely amazing! (Will I ever learn?)
One thing he thought had totally flopped was the chummus, but when we sat down for the seudah, everyone raved about it and was helping themselves to it a few times over.
And yes, it was a bit overwhelming for him, but at the end of the day, he rose to the challenge. And now he's more than happy to hand me back the reins!
The Plan
Friday Night:
Homemade Challah
Homemade Chummus, Matbucha, and S'chug
Quinoa Spinach Power Salad with Lemon Vinaigrette
Asian Salmon with Stir-fried Vegetables
Yemenite Spicy Vegetable Soup
Broiled Chicken with Roasted Potatoes and Sweet Potatoes
Chocolate Peanut-Butter Fudge Brownies
Shabbos Lunch:
Challah
Leftover Salads and Dips
Potato, Spinach, and Fish Casserole
Beef Cholent
Chocolate Peanut-Butter Fudge Brownies
Shalosh Seudos:
Challah
Salads and Dips
Fresh Fruit Salad
Sliced Vegetables
Aharon's Yemenite-Style Spicy Beef and Vegetable Soup with Coconut Cream
SERVES 10
2 Tbsp canola oil
5–6 onions, 3 sliced and 2–3 cut in chunks
4–5 sweet potatoes, 3 thinly sliced with a vegetable peeler and 1–2 cut in chunks
1 Tbsp curry
1 Tbsp cumin
1 Tbsp smoked paprika
2 Tbsp granulated garlic
2 Tbsp salt
½ tsp pepper
1 jalapeño pepper, diced
2.2 lbs (1 kg) beef cubes (I use chuck tender)
4–5 carrots, cut in chunks
½ acorn squash, cut in chunks
3 kohlrabi, cut in chunks
2 cups frozen corn
8–10 cups water
1 can coconut cream
½ pkg fresh cilantro, washed, soaked, checked, and diced
½ pkg fresh parsley, washed, soaked, checked, and diced
1 cup fresh celery leaves, washed, soaked, checked, and diced
In a large pot, heat the oil and sauté the 3 sliced onions and 3 sliced sweet potatoes.
Add spices and continue to sauté for another 3 minutes.
Add the beef and braise for 5 minutes on each side.
Add all remaining vegetables, including the cut-up onions and sweet potatoes, and water and bring to a boil.
Add the coconut cream and greens. Bring to a rapid boil and cook at a boil for 1 hour.
Lower heat and simmer for another 2–3 hours.
And don't forget to improvise!
(Originally featured in Family Table, Issue 851)
Oops! We could not locate your form.
>