| Man With a Pan |
Two Is Better Than One
| June 6, 2023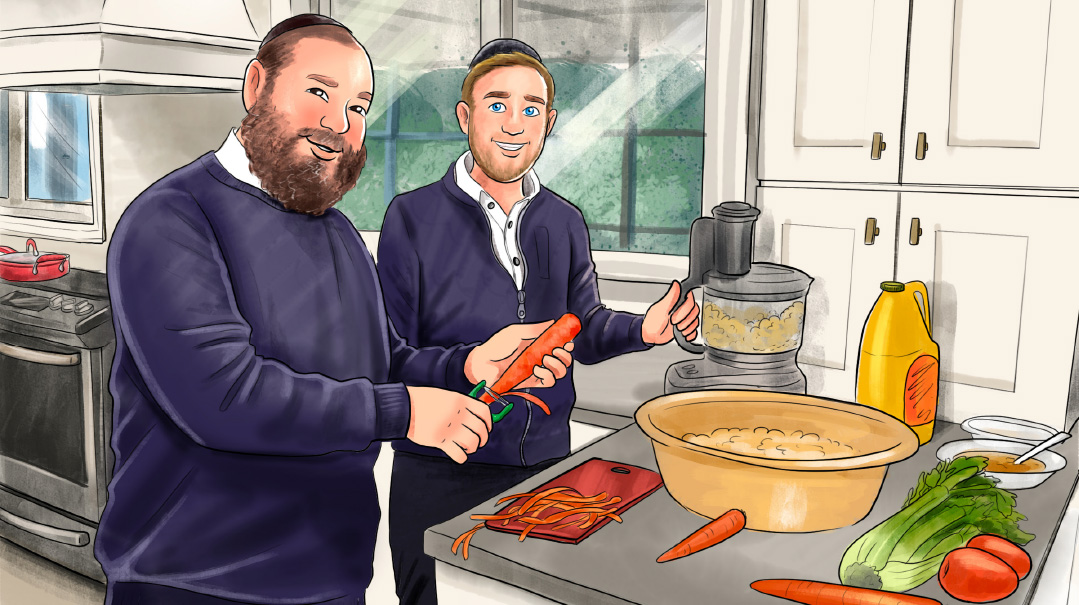 Illustration by Lea Kron
The Men
Zevi Berkovich, Lakewood, NJ and Shia Klein, Toms River, NJ
Property Manager and Grocery Store Manager
Cooking for 7
Ican't say I was shocked to find out that I was to be featured in Man with a Pan, since my wife was threatening me with it for a while, both to prove my cooking abilities and to give her a break from making Shabbos. Always up for a challenge, I decided to kick it up a notch and have my father-in-law help out as well, giving my shvigger a well-deserved break after hosting Pesach for our entire family.
Baruch Hashem, my wife is a phenomenal cook and an excellent baker, so at least we were able to have her guide us along as my father-in-law and I made Shabbos!
Step by Step
Since we have the same heimish menu each Shabbos, I already knew what I'd be cooking, and all I had to take care of was the shopping and preparation. I bought all the ingredients on Wednesday so I could start cooking as soon as I got home on Thursday.
My mother-in-law makes the best sourdough — don't mess with it! While the rules allow for store-bought challah, that would never pass in our family. I was invited to "feed the starter" to participate in the creation of this week's batch. I quickly learned the supreme importance of completely and thoroughly incorporating the water and flour — I kept mixing and mixing and mixing until I broke into a sweat! Both loaves of sourdough came out better than ever — and I may have landed myself a new weekly job around here!
When it came to making the fish, I knew right away that I would make homemade gefilte fish, since that's what I grew up on. I cannot recall even one Shabbos when my mother served gefilte fish made from frozen rolls. I've made gefilte fish from scratch a couple of times since getting married, trying to convince my wife (who absolutely hates fish) to eat it. Since I've had minimal success in that department, I figured I would try marketing my goods to a wider audience. I made my mother's gefilte fish recipe (see below), and my father-in-law agrees that you cannot compare the quality and taste to a commercial loaf!
I decided to make tomato dip for this Shabbos because it doesn't take long and it tastes great — just blend plum tomatoes with a bit of fresh garlic and salt in a food processor. At my father-in-law's suggestion, I added a red pepper, and everyone loved it. (Our dip was finished before all the store-bought ones!)
Growing up, my mother always put turkey neck in our chicken soup to enhance the flavor. So I decided my wife's family deserved the same royal treatment. I placed a package of bone-in chicken along with the turkey neck in a mesh bag and added it to a pot filled with water, salt, and pepper, then left it to simmer for several hours. When my father-in-law came home from work, he peeled, diced, and added all the vegetables while I went out to learn.
Mains and Sides
Lucky for me, I was nominated for this article right after Pesach. My mother-in-law prepares for Yom Tov as if she's expecting to feed an entire army. Believe it or not, her freezer was still fully stocked with Pesach food!
In our family we always have meat on Friday night lekavod Shabbos. There were plenty of options of frozen prepared meat from Pesach in the freezer, so I pulled out a clearly labeled 9x13 pan of brisket and potatoes and figured that the soup chicken could be offered as an alternative or additional main dish.
I made the potato kugel myself, following my wife's instructions. When I assembled the food processor, I accidentally connected the grater blade upside down, meaning the opposite of how my mother-in-law usually uses it for potato kugel. The potato shreds came out markedly skinnier. The end product had a slightly different texture than what everyone was used to, but it turned out extremely flavorful, and half the pan was gone by Thursday night.
Dessert was a no-brainer. So long as you don't mind gluten-free baked goods, there was still a variety of scrumptious Pesach cookies, biscotti, kichel, and muffins in my mother-in-law's freezer. I added some fresh fruit and ices/ice cream, and my meal presentation ended on a high!
The only additional thing I prepared for Shabbos lunch was cholent. My father-in-law bought a special cholent spice to make it easier for us. He added ketchup to it also, which I've never done before. After over six years of yeshivah dorm experience, I can use a Crock-Pot (or any hide-it-in-your-locker kitchen gadget) like a pro. Our cholent was a winner!
Takeaway
I've always helped my mother make Shabbos, so I knew that this challenge wouldn't be a big deal. How complicated can it be to make a pot of cholent and chicken soup? Well, even with my father-in-law helping me out, the whole process required a lot more effort than I thought it would! By the end of all the prep, I started to appreciate the fact that I'm not responsible for making Shabbos every week.
Unless everyone was trying to be nice, the rest of the family had only good things to say about the food we'd made. I guess our hard work paid off! We faced one big challenge when we almost had to scratch the soup from the menu, since too much black pepper was added to the pot. Luckily, we saved it by cooking another smaller pot of chicken broth and combining it with the original pot, which resulted in a delicious chicken soup.
Turns out, two Men with Pans may be better than one! My father-in-law and I were a dynamic duo in the culinary department, while entertaining our wives in the kitchen. We enjoyed finding shortcuts to get things done before we had to leave to go learn and daven. The entire process took us only about two and a half hours!
Wife's Take
Since I first met Zevi a year ago, I've been impressed by his ability to cook. A few months after we got married, I signed him up to be featured in this column. When we didn't get the green light from the magazine for a while, I put the plan aside. Then one random day I got an email and was delighted to tell him that he would be the next Man with a Pan!
Watching Zevi cook with my father was definitely a scene. My mother was panicking as she watched the incorrect ratio of water and flour get mixed into her precious sourdough starter, but fortunately it all worked out in the end.
The seudos took place at my parents' house, where we all excitedly tried all the food the men had prepared. I must say, everything came out delicious. From now on, my mother and I are going on vacation every Thursday night while my father and Zevi party in the kitchen cooking Shabbos!\
The Plan
Friday Night:
Sourdough (made by mother-in-law)
Tomato Dip and Store-bought Dips
Gefilte Fish (homemade)
Chicken Soup
Brisket and Potatoes (from freezer)
Potato Kugel
Gluten-Free Baked Goods (from freezer) and Fruit/Ice Cream
Shabbos Lunch
Sourdough (made by mother-in-law)
Tomato Dip and Store-bought Dips
Gefilte Fish
Eggs
 Liver and Gala (store-bought)
Cholent and Store-bought Kishka
Overnight Potato Kugel
Gluten-Free
Baked Goods (from freezer) and Fruit/Ice Cream
Mommy's Homemade Gefilte Fish
YIELDS 2 LOAVES
1 lb (450 g) ground carp
1 lb (450 g) ground pike
2–3 eggs, slightly beaten
¼–½ cup plain bread crumbs
sea salt and black pepper, to taste
3 Tbsp sugar (optional)
3 Tbsp fish gelling powder (optional)
2 stalks celery
1 parsley root
1 small onion
1 large carrot
Combine the two kinds of fish with your hands or in a mixer. Add eggs, bread crumbs, salt, and pepper. Mix well.
Boil a pot of water with more salt, pepper, sugar, and gelling powder. Add the vegetables and allow to simmer for half an hour.
Transfer half the fish batter to a long piece of parchment paper and shape into a log. Roll up the parchment paper and twist the ends to create a log of gefilte fish. Repeat with the second half.
Place the parchment-wrapped fish loaves into the boiling water. Lower the heat to medium-low and cook for 11⁄2 hours.
Cool. Allow to chill in the fridge overnight to allow the gelling powder to settle.
(Originally featured in Family Table, Issue 846)
Oops! We could not locate your form.
>