| Man With a Pan |
No Backing Out Now
| March 7, 2023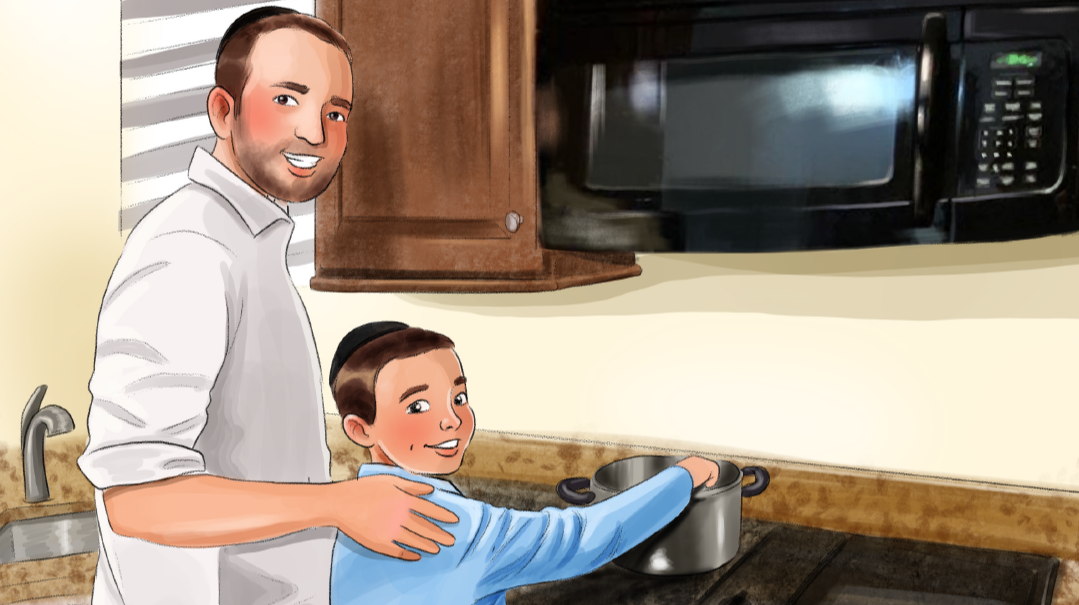 Illustration by Lea Kron
The Men
Yechezkel and Shmuel Chaim Rosenbaum, age 35 and 11
Attorney and 6th grader
Baltimore, Maryland
Cooking for 12
I had always considered cooking a Shabbos for my family, and with my wife constantly busy with our six-year-old triplets, it seemed like the perfect opportunity.
The first thing I did after volunteering for the task was establish the appropriate precautions to ensure that I would actually follow through on my commitment. We immediately invited my brother-in-law and sister-in law and their family for the upcoming Shabbos. My eleven-year-old son, Shmuel Chaim, wanted to participate as well, and we agreed to prepare Shabbos together.
Menu Plan
The next step was creating a menu. Like most families, we have a lot going on, and I knew I had to be very planned to give this Shabbos a chance to succeed. We also had to find times that would work for me and Shmuel Chaim together. I decided to prepare a few dishes I knew my family would enjoy. When my wife mentioned that there were a few new recipes she wanted to try, I decided to add those to the menu too.
I've assisted my wife with cooking before and wasn't overly intimidated by the prospect of following recipes. While I knew that my wife would end up helping me significantly more than the rules permit (don't judge — those rules were meant to be broken), I decided to at least try to conform. I immediately eliminated any recipes that necessitated mixers, food processors, or other kitchen equipment — those are above my pay grade.
I planned the Friday night menu first. For the established menu selections, we decided on lemon-herb chicken, an orzo dish with mushrooms, and grilled vegetables. Then I chose a new brisket recipe and potato wedges to pair with them, and to keep things interesting, Moroccan salmon and a pulled smoked turkey soup in lieu of traditional chicken soup. Store-bought challah rounded out my menu. We have a freezer-full of delicious homemade challah, but I decided that part of my contribution this Shabbos would be to not deplete those reserves. Shmuel Chaim decided he would handle desserts and would make a fruit platter, Rice Krispies treats, and a warm Oreo pie with ice cream.
Shabbos day was easier. I decided to buy gefilte fish, even though it's the easiest thing to make. Everybody likes the store-bought version, and there's no sense in changing a good thing if it works. A leafy salad with hearts of palm, pomegranate seeds, and sweet potato chips was a no-brainer because my wife already had a dressing for it in the fridge. We had homemade franks in blanks, pastrami puffs, and carrot muffins in the freezer, which I decided to use also. Then I added a London broil salad and grilled chicken, along with cholent. Shmuel Chaim included his signature deli wraps, which have quickly become a big family favorite.
Reality Check
The first thing I realized after finalizing the menu was that the vast majority of items could only be prepared much closer to Shabbos. After I consulted with my wife yet again and tried hard to convince her that many items don't need to be super fresh, she assured me that the only things I could make before Thursday or Friday were the brisket, soup, orzo, and chocolate pie, which could be frozen. Thankfully, I had already made sure I wouldn't be able to back out, so I plowed ahead.
I needed to knock out whatever I could earlier in the week. Motzaei Shabbos, after Avos U'banim, Shmuel Chaim and I put up the smoked turkey soup. Sunday night, I made the brisket, but I didn't realize that it couldn't be sliced and frozen until it had a chance to cool off. Since I wasn't around on Monday to handle that, my wife graciously stepped in and did it.
I planned to hold tight until Thursday, but my wife kindly pointed out that there was still a lot I could do to make things easier for myself later in the week. I was able to get a lot of the shopping done and prepare the mushroom orzo. Fortunately, my wife already had marinades and dressings ready for the leafy salad, grilled chicken, and London broil. That was an incredible help.
On Tuesday, Shmuel Chaim decided he would make the warm Oreo pie with ice cream entirely on his own and did a fantastic job.
The Hard Work Begins
My wife had a full day of work on Friday and wasn't going to be available if I had any questions, so I knew I had to get through anything I wasn't fully confident in on Thursday. Since I have a chavrusa in the morning, my wife supervised Shmuel Chaim as he made the Rice Krispies treats before he left for yeshivah at 7 a.m., which was super impressive. I handled the potato wedges in the evening, together with a sriracha-
based dipping sauce. I also threw in the herb chicken.
Next came the salmon, which was by far the hardest and most regrettable part of my menu. Not such a pro tip, if you need Google to figure out what half of the ingredients are, it's probably best you choose a different recipe. Lesson learned.
By Friday, I was exhausted. I had saved the items I was most confident in for Friday, so I got right to it. I put up the cholent and quickly grilled the chicken and London broil and finished them in the oven. I also made the grilled vegetables. When I checked the refrigerator to take stock of all the food, I was surprised to find a homemade eggplant dip that I really like. I'd mentioned earlier in the week that I regretted not making any dips (it violated my no-food-processor rule), and my wife had made it when I was out.
Shmuel Chaim and I set the table and took out the serving dishes we would need for the meals. We got a real surprise when my nieces and nephew brought over customized aprons for the two of us, ensuring that our efforts would not be easily forgotten. Their parents were also kind enough to bring an Israeli salad (no person should have to dice things that small) and a candy platter and variations of popcorn for dessert. We thanked them for their thoughtfulness and inspiration. We were finally ready.
Notwithstanding how much my wife helped me get to Shabbos, Shmuel Chaim and I were determined to make sure that she would be able to sit and enjoy the meals, and we handled all the plating, serving, and cleaning. Thankfully, our family and guests enjoyed the food, and the effort was well worth it.
My Recap
I will not disclose the degree to which I utilized the well-established principle of ishto k'gufo in attributing credit to myself in this article. I'm also embarrassed to say how much of this Shabbos happened between 1:00 and 5:30 a.m.
But I don't regret it. This experience really made me appreciate what my wife does each week for Shabbos. She puts so much thought into ensuring that there's delicious food for everyone in the family while balancing her many other responsibilities. Foresight and planning is true chochmah — and she's a master.
I also didn't appreciate how much work it is to go shopping for the various ingredients (visiting multiple stores), prepare, serve, and clean up the meals on Shabbos itself. We enjoyed the experience but will definitely enjoy next Shabbos even more!
Wife's Recap
I enjoy cooking for my family for Shabbos, but when Yechezkel offered to make Shabbos, I was eager to see how it would go. I was happy to answer his questions and pitch in when needed, and fortunately, his cooking was well-received. Everyone really liked the brisket and potato wedges, and the pulled smoked turkey soup was a treat. Shmuel Chaim's desserts were a smashing success, as were his deli wraps.
The best part of this experience was that I was able to sit at the Shabbos table and enjoy the meal without having to worry about serving and cleaning up! I also know that if I need help again, Yechezkel has the ability to pitch in.
The Plan
Friday Night:
Challah (store-bought)
Eggplant Dip (made by wife)
Moroccan Salmon
Pulled Smoked Turkey Pea Soup
Israeli Salad (contributed by brother-in-law and sister-in-law)
Brisket
Lemon-Herb Chicken
Grilled Vegetables
Potato Wedges with Sriracha Dipping Sauce
Mushroom Orzo
Warm Oreo Pie with Vanilla Ice Cream
Fruit Platter
Popcorn and Candy Platter (contributed by brother-in-law and sister-in-law)
Shabbos Lunch:
Gefilte Fish (store-bought)
Leafy Salad with Hearts of Palm, Pomegranate Seeds, Sweet Potato Chips
Cholent
Deli Wraps
Grilled Chicken
London Broil Salad
Franks in Blanks and Pastrami Puffs (from freezer)
Carrot Muffins (from freezer)
Rice Krispies Treats
Chocolate Chip Oreo Cookie Cake
Recipe by Daniella Silver
Reproduced from Best of Kosher with permission of the copyright holders, ArtScroll/Mesorah Publications, LTD.
SERVES 10
¾ cup oil
¾ cup sugar
¾ cup brown sugar
2 eggs
1 tsp vanilla extract
1¾ cups flour
1 tsp baking soda
pinch kosher salt
9 oz (255 g) chocolate chips
2 cups crushed Oreos or chocolate sandwich cookies, broken by hand
Preheat oven to 350°F (175°C). Lightly coat a 10-inch (26-cm) round pan or springform pan with cooking spray.
In a bowl, combine oil, sugars, eggs, and vanilla. Mix well, until batter is light in color.
Add flour, baking soda, and salt. Fold in chocolate chips and crushed Oreos.
Press batter evenly into pan. Bake for 25–30 minutes.
This cake freezes well.
(Originally featured in Family Table, Issue 834)
Oops! We could not locate your form.
>