| Man With a Pan |
Man with a Plan
| January 24, 2023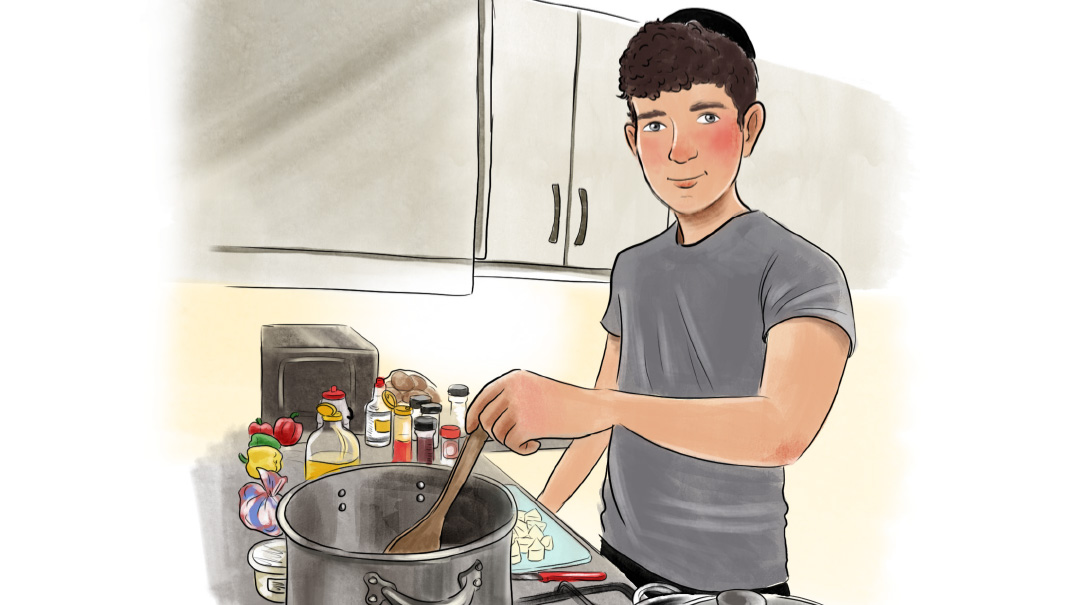 Illustration by Lea Kron
The Man
Eli Prijs, age 19
Manager of Kosher City, Manchester, UK
Cooking for 8 family members on Friday night; 11 people for Shabbos lunch!
When my mother challenged me to do Man with a Pan, I replied, "What's that?" She replied by showing me an article in Mishpacha that piqued my interest. Never one to turn down a challenge and wanting to give my mother a much-deserved break, I sent an email to Mishpacha.
Among my friends, I'm the designated chef for Shabbos meals and holidays (i.e., vacations) abroad, so I figured my food can't be that bad. My dad keeps a spice drawer of over 40 spices and herbs, which has introduced me to experimenting with many exotic spices and flavors.
As the manager of Kosher City, a large grocery store in Manchester, I'm surrounded by readymade food all day, but nothing compares to a delicious home-cooked meal! I've grown to enjoy the experience of cooking as a means to unwind and relax, but I'd never actually made a full Shabbos for my family before. Still, I wasn't worried.
On an average day I arrive home from work at around 6 p.m., and on Fridays about two hours before Shabbos, so I knew I would have to have it well planned.
Wednesday — Hitting the Pots
I arrived home and immediately got started on the cooking, with my friend Shmuel keeping me company and doing his fair bit of backseat cooking.
I began with the cream of chicken soup, so it would have time to simmer. Then I moved on to the tomato courgettes (i.e., zucchini), which was easy. At that point there wasn't much time to spare as I was going out in half an hour to meet some friends. Having never made meat strudel or deli roll before, I consulted with the master chef (aka Mum), who explained the process. I rolled up my sleeves and rolled out the dough… Half an hour later I walked out the door, leaving the stove and oven to be babysat by my 15-year-old brother.
As good as I think I am at cooking, I can't bake to save my life, so I enlisted my ever-helpful 12-year-old sister Raizy to take charge of desserts. After a small family conference, we decided on chocolate meringue ice cream and brownies for Friday night, and chocolate mocha mousse cups and fruit salad for Shabbos day. And did I mention we were having company? A family friend and her 94-year-old mom would be joining us for Shabbos lunch, so they'd also get to taste the fruits of my labor.
Thursday — On a Roll
The next evening I found myself back in the kitchen, with the intention of cooking the remaining dishes, starting with the cholent. Somehow the spicier I make my cholent, the more I get to eat! Keeping that in mind, spice after spice disappeared into the abyss of the cholent pot, to transform it into something truly delicious. The proof of the pudding was in the empty pot after the Shabbos morning meal!
Here's my tried-and-true method: First sauté the diced onions with brown sugar in a large pot. Brown the meat and add paprika, black pepper, and salt. Put in the pre-soaked beans, barley, and cubed potatoes. Add plenty of water to submerge everything, and add a little coriander, cayenne pepper, and cinnamon. Leave the cholent to cook for a few hours on low.
Ready to tackle the angel hair salad next, I started frying peppers. All was going great until my mother walked in and informed me that the new frying pan hadn't been toiveled yet. Back to the chopping board.
Rice might sound plain, but not when I'm the chef…coriander, pepper, and turmeric go in, to name a few.
That night's cooking session ended with a horrified look on my mum's face as I walked out the door for a night out, leaving the remaining dishes to be cooked on Friday afternoon.
Friday Afternoon — (Two Hours before Shabbos)
Home from work with no time to waste, I popped on the kettle and with tea in hand began the remainder of Thursday's jobs. My signature dish, chicken stir-fry, was made with ease, which proved rather useful as time was ticking.
Thanks to my good friend George Foreman, grilling the chicken was also simple and quick. Spice it, grill it, and slice it! Into the fridge it went, awaiting Shabbos morning to become a delicious salad.
The garlic-smashed potatoes that my sister suggested trying took too long to make and the effort wasn't worth the results, so I won't be making those again.
Looking Back…
Cooking for Shabbos was a great experience and a lot of fun. My family asking me to do it again confirms that the food was well-received! Personally, I enjoy cooking more as a hobby, so I'm not rushing to take on the entire load again anytime soon. That being said, I look forward to taking some of the load off my mum and helping her out here and there in the not-so-distant future.
Mother's Take
On Tuesday Eli wrote up his menu, taking suggestions from his siblings. Being an organized person, he worked out what he'd be making each day. I offered to do the shopping, which he accepted for the meat and vegetables.
Of course, Eli did an incredible job of cooking Shabbos. I looked forward to it all week, and he surpassed my expectations. It was all done so calmly and smoothly. The food was delicious, and he even did all the serving and clearing too! It was a real treat for me. I don't know anyone else who could pull it off as well as he did.
The Plan
Friday Night:
Challah (store bought)
Chummus and Matbucha (store bought)
Arbes (store bought)
Angel Hair Salad
Cream of Chicken Soup
Chicken Stir-Fry
Meat Strudel
Garlic-Smashed Potatoes
Tomato Courgettes
Chocolate Meringue Ice Cream and Brownies (made by sister Raizy)
Shabbos Lunch:
Arbes + Dips
Grilled Chicken Salad
Cholent
Potato Kugel
Rice
Deli Roll
Chocolate Mocha Mousse Cups + Fruit Salad
(made by sister Raizy)
Gourmet Chicken Stir-Fry
olive oil
onions, sliced into rings
green and red peppers, cut into strips
courgettes (aka zucchini), sliced
baby corn, sliced
chicken breast, cut into small strips
soy sauce
garlic powder
salt
black pepper
coriander
paprika
cayenne pepper (for those with adventurous taste)
Preheat olive oil in a frying pan.
Sauté onion rings on low until transparent.
Add pepper strips, courgettes, and baby corn and continue sautéing on low for 12–15 minutes.
Add chicken strips and soy sauce and keep stirring to ensure chicken is fully cooked, about 5–8 minutes. Add spices to taste.
(Originally featured in Family Table, Issue 828)
Oops! We could not locate your form.
>