| Man With a Pan |
Teamwork Totally Pays
| November 28, 2022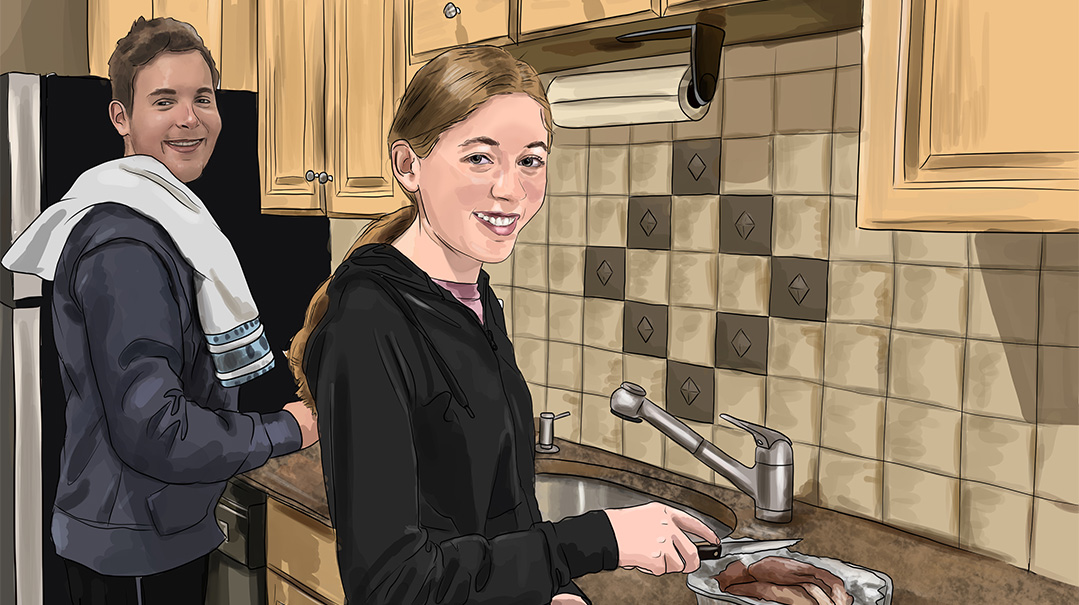 Illustration by Esti Saposh
The Team
Aaron and Hadassah Boehm, age 20 and 14
Tiferes Yerushalayim, Israel, and Shevach High School, Queens
Kew Gardens Hills, New York
Cooking for 4 (2 siblings were away in camp)
Ever since I started dorming in high school, I realized that I had to learn to cook if I wanted home-cooked meals. Back then it mostly meant hot dogs and fried chicken, but for in-Shabbosim it also meant a few "realer" foods. When I went to Israel for yeshivah, I set up a kitchen and did even more cooking, teaching myself to make full meals — including more than a few Shabbosim. When I'm home, I'm happy to be able to put my skills to use helping out.
Over the past few years, Hadassah, my sister, has spent more and more time in the kitchen helping with baking, and she enjoys creating desserts, cookies, and muffins. We've constantly joked about one of us doing a Man with a Pan article, but it was always just a joke; it wasn't actually going to happen. Until it did.
A couple of months ago, I was doing some summer shopping at the mall on a Thursday afternoon when my parents, who were on their way home from vacation, called to let me know that their flight had been delayed and they wouldn't be home until midnight.
"Why don't you and Hadassah make Shabbos?" my father suggested.
We were both taken by surprise, but before long we agreed that it was a great idea.
Menu Planning
We quickly moved into high gear. We had to do some planning before we got messy — how could we make Shabbos without some sort of menu?
Baruch Hashem, our mother always keeps her pantry fully stocked, so we didn't have to worry about ingredient shopping, and if something was missing we could either adapt the recipes or the menu. She'd also already placed her usual Thursday order for groceries, so we were getting a delivery of fish, meat, and chicken.
We had a lot of chicken cutlets on hand that I had planned to use during the week, so some form of chicken was definitely on the menu. Hadassah immediately started planning dessert. She decided on the Cookies 'n Cream Squares that she'd been wanting to try from the Dinner Done cookbook.
I love trying new recipes, so I decided at least some of the chicken would become chicken piccata, a thin cutlet battered in flour and cooked in a white wine sauce. Hadassah, on the other hand, being a firm believer in tried-and-true, defrosted some mini hot dogs and pastry dough for franks 'n blanks.
After a short debate on counter space allocation, Hadassah started on her franks 'n blanks, so I rushed to catch up with my chicken. I'd never pounded cutlets with a mallet before — it's very therapeutic. I'd been planning on making rice vermicelli for dinner during the week, but, like the chicken piccata, I hadn't gotten around to it, so I added that to our Shabbos menu as well.
Fish, Sides, and Cholent
Meanwhile, Hadassah also got some therapy in, crushing cookies for her dessert squares. We felt our meal would benefit from a sweet side of some sort. After a brief consultation with Mommy, we decided to adapt a sweet potato muffin recipe into pumpkin muffins, since there was a can of pumpkin in the pantry. Mommy also reminded us to make cholent, and told us that there was gefilte fish in the freezer and salmon in the fridge.
My mother sometimes makes gefilte fish dumplings for Succos and I'd always enjoyed them, so I decided to make a similar recipe for a loaf. I didn't see any marinara sauce, though, so I made my own. Some tomato sauce, pepper, garlic, Italian spices, oregano, parsley, Splenda, and bay leaves later, the gefilte fish was ready to bake.
It did take me a few minutes to find the designated fish tins in our kitchen. We also had to spend a few minutes working out the schedule for the oven so everything was baked with the proper equipment. (Fleishig together, pareve together, keep the top oven pareve and the warming drawer for fleishig…) By this point, Hadassah and I agreed that cooking Shabbos gave us a new appreciation for the elaborate meals usually prepared by a magical invisible staff.
For the salmon, I decided to pull out an old favorite, teriyaki salmon. I then baked some oven-grilled chicken for dinner, and we had so much chicken that we had plenty of it for Shabbos lunch too. So we had one variety of chicken for Friday night and one for Shabbos lunch.
Our parents arrived home at around 11:30 p.m. (I went out to pick them up from the airport). We sat and schmoozed for a little while, but the next morning we went back to work! Mommy always keeps challah and soup in the freezer, so we were able to pull those out, and once she was home, she was able to whip up the flat-iron steak that she had ordered as her contribution to Shabbos. And somehow, even though I can't remember the details, we still spent a few more hours in the kitchen.
Remember that cholent I mentioned? Well, we didn't. Baruch Hashem, Mommy to the rescue. And in my humble opinion, Shabbos was beautiful.
Looking back on the experience, I can see how excited I was to show off my cooking skills for my family. It was nice to spend some quality time doing a fun activity with my sister, and it felt great to be able to relieve my mother's stress. I would totally do it again.
Hadassah's Take
When my father suggested we make Shabbos, I laughed at first, but then I said, "Why not?" With music playing in the background and regular breaks to send pictures of our food to our parents, we really had a great time. Even though I was only supposed to do the franks 'n blanks and dessert, I didn't want to stop, so I decided to take on the muffins too.
The few items I made gave me a new appreciation for the hard work my mother puts in Every. Single. Week. Everything worked out perfectly, and it was a really beautiful Shabbos.
Mommy's Take
It was a Thursday afternoon and our flight was canceled, rebooked, and delayed — long story short, we weren't going to land until close to midnight and I generally cook for Shabbos on Thursday evening. Aaron and Hadassah jumped into gear and cooked Shabbos!
I was incredibly impressed with their can-do attitude and with their cooking skills as well! The progress pictures they sent were pretty amazing! (There was a great deal of texting back and forth from 10,000 feet up in the air and Queens, New York. What shelf is this on? Where do we keep so-and-so? Just rereading the texting conversation is hilarious.)
The house smelled fantastic when we walked in the door, and the food was all beautiful and tasted delicious. What a treat to come home and have Shabbos practically done!
The Plan
Friday Night:
Challah
(Mommy, from freezer)
Marinara Gefilte Fish
(Aaron)
Teriyaki Salmon
(Aaron)
Chicken Soup and Noodles
(Mommy, from freezer)
Chicken Piccata
(Aaron)
Flat-Iron Steak
(Mommy)
Franks 'n Blanks
(Hadassah)
Pumpkin Muffins
(Hadassah)
Rice Vermicelli
(Aaron)
Cookies 'n Cream Squares
(Hadassah)
Shabbos Lunch:
Challah
Marinara Gefilte Fish and Teriyaki Salmon
Egg Salad and Liver
(Mommy on Erev Shabbos)
Cholent
(Mommy)
Oven-Grilled Chicken Cutlets
(Aaron)
Franks 'n Blanks, Muffins, and Rice
Cookies 'n Cream Squares
Chicken Piccata
from allrecipes.com
SERVES 4–6
4 chicken cutlets, pounded thin (and cut in half if desired)
salt and black pepper, to taste
flour, for dredging
2 Tbsp olive oil
½ cup white wine
¼ cup lemon juice
¼ cup water
3 Tbsp margarine
Season the pounded cutlets on both sides with salt and pepper. Dredge in flour and shake off excess.
Heat oil in a frying pan and cook chicken until brown, then set aside.
Add white wine to the oil in the pan and cook until reduced by half. Add lemon juice, water, and margarine and stir to form a thick sauce. Return the chicken to the pan and cook for about 2 minutes per side. Serve topped with sauce.
(Originally featured in Family Table, Issue 820)
Oops! We could not locate your form.
>