| Hasty but Tasty |
Back to Dinner Basics
| October 14, 2020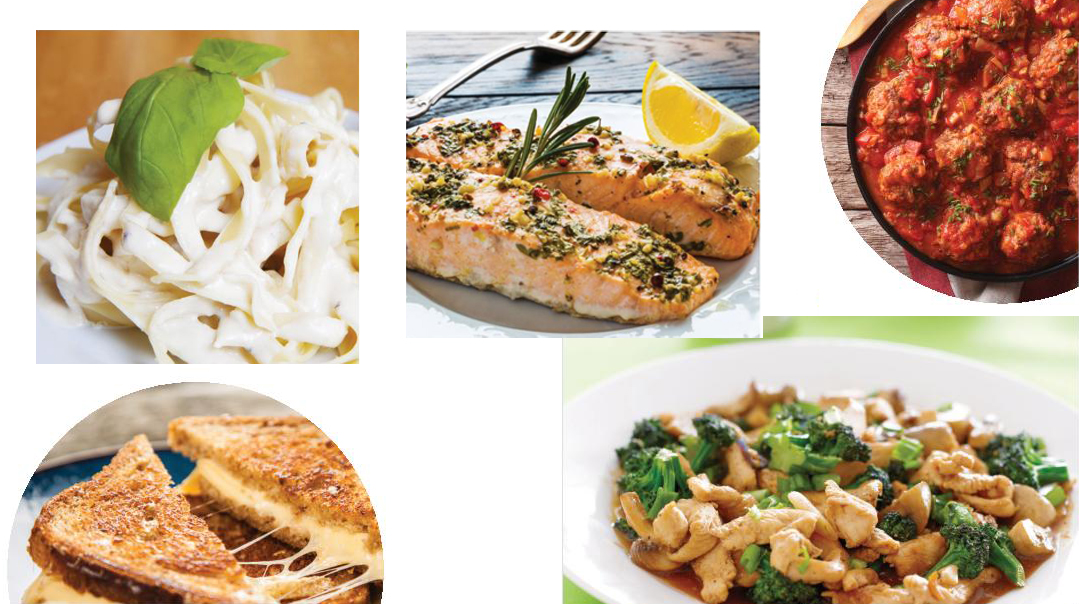 Yes, yes, we know we're very gourmet. Except for the times that we're not. And we serve the suppers that you also make — or if you don't make them, they're the supers that you want to make. Well, here you go!
Grilled Cheese Sandwiches
Spread MARGARINE on BREAD. Place KETCHUP and CHEESE of your choice on the inside. Fry. Enjoy.
Blintz Bake
Grease a 9x9-inch (23-cm) square pan. Using a whisk, mix 4 EGGS, 11⁄2 CUPS SOUR CREAM, 1 TSP VANILLA, and 1⁄4 CUP SUGAR. Place 6 STORE-BOUGHT BLINTZES in the baking dish and pour the mixture over them. Bake uncovered at 350°F (175°C) for 35–40 minutes.
Penne with Broccoli and Mushrooms
In a 9x13-inch (20x-30-cm) pan, mix 8 OZ (225 G) COOKED PENNE PASTA, 16 OZ (450 G) COTTAGE CHEESE, 1 PKG BROCCOLI FLORETS, 1 4-OZ (110-G) CAN MUSHROOMS, and 8 OZ (225 G) TOMATO SAUCE. Sprinkle MOZZARELLA CHEESE on top (or mix in if preferred). Cover and bake for 30 minutes at 350°F (175°C).
Fettuccini Alfredo
Boil a large pot of WATER, stir in 1 TSP SALT. Add 10 OZ (280 G) FETTUCCINE NOODLES. Cook, drain, and return to pot. Add 1 CUP HALF-AND-HALF and 2 TBSP MARGARINE. Bring to a full boil, stirring frequently. Remove from heat and add 1⁄4 CUP PARMESAN CHEESE and a few shakes of PEPPER. Toss and serve immediately.
Veggie Subs
Cut up a bunch of whatever VEGGIES you have in the fridge. Sauté veggies with a bit of SOY SAUCE. Slice a FRENCH BREAD into smaller-size sandwiches and have each family member fill it up with their choice of veggies and sauce. Sprinkle with CHEESE and warm in the oven until the cheese melts.
BASIC CHICKEN DINNERS
Chicken with Snap Peas
Cut CHICKEN CUTLETS into strips. Put chicken in a bag with 1⁄2 CUP FLOUR and shake. Make a sauce out of 1⁄4 CUP SOY SAUCE, 1⁄4 CUP OIL, 1 TSP SALT, 1⁄2 TSP BLACK PEPPER, 3 MINCED CLOVES GARLIC, and 3⁄4 CUP BROWN SUGAR. Pour sauce over chicken in a pan. Bake 1 hour covered. Add SCALLIONS and SNAP PEAS and bake another 15 minutes uncovered.
Oven-Baked Schnitzel
Mix OIL with CORNFLAKE CRUMBS and SPICES of your choice until the crumbs are very wet. Coat CUTLETS in the mixture. Bake at 400°F (200°C) for 15 minutes. Serve with COUSCOUS.
Crock-Pot Chicken
Sauté diced ONION and MUSHROOMS, put in a Crock-Pot, lay CHICKEN ON THE BONE on top. Cover chicken in TOMATO SAUCE, some WATER, a little TOMATO PASTE, and ITALIAN SEASONING. Cook until done. Serve with MASHED POTATOES.
Mexican Chicken Strips
Sauté ONIONS and PEPPERS. Add CHICKEN STRIPS and cook. Add 1 PACKET OF FAJITA SPICE. Serve in TORTILLAS, WRAPS, PITAS, or LAFFA.
Pulled Crock-Pot Chicken
Place CHICKEN CUTLETS in your Crock-Pot with BARBECUE SAUCE, KETCHU, BROWN SUGAR, a little APPLE CIDER VINEGAR, and BASIC SPICES. Cook on high for 3–4 hours or on low for 6–7 hours. Pull chicken. Serve with COLESLAW in BUNS.
Chicken Fettuccine
Stir-fry CHICKEN CUTLETS in OIL with 2 MINCED CLOVES GARLIC. Mix together 11⁄4 CUPS HOT WATER with 1 TBSP ONION SOUP MIX, 11⁄2 TBSP LEMON JUICE, 1⁄2 TSP SALT, 1⁄4 TSP BLACK PEPPER, and 2 TBSP FLOUR. Pour over cooked chicken in pan. Bring to a boil and let simmer for a few minutes. Mix chicken and sauce with cooked FETTUCCINE NOODLES.
Chicken and Veggie Stir-Fry
Coat CHICKEN CUTLETS in FLOUR, STIR-FRY, and set aside. Fry ONIONS, BROCCOLI, and MUSHROOMS. Mix together a FEW TABLESPOONS FLOUR, 1 CUP CHICKEN STOCK, 1⁄4 CUP HONEY, 1⁄4 CUP SOY SAUCE, and 2 MINCED CLOVES GARLIC. Add to vegetables in pan. Boil until thickened. Add chicken. Serve over RICE or ORZO.
Stir-Fried Chicken with Bow-Tie Noodles
Sauté 1 MINCED CLOVE GARLIC in 1⁄4 CU P OLIVE OIL. Add 1⁄2–1 LB BONELESS, SKINLESS CHICKEN, cut in chunks. Make a well in the center of the chicken pieces. Add 2 CUPS BROCCOLI FLORETS, 1 CUP CHOPPED SCALLIONS, and 1 CUP SLICED MUSHROOMS. Sprinkle veggies with 1⁄2 TSP DRIED BASIL, 1⁄4 TSP SALT, and 1⁄4 TSP PEPPER. Add 1 CUP CHICKEN BROTH. Stir to combine. Cover and simmer 5–10 minutes, until veggies are tender. Meanwhile cook 1 BOX BOW-TIE NOODLES, drain, and add to mixture in skillet; toss gently. Serve immediately.
MEAT IN MINUTES
Semi-Homemade Meatballs
Use 1 EGG and 1 slice BREAD per 1 lb (450 g) ground beef. Soak the BREAD in WATER for a few seconds, then chop very finely. Mix with EGG, MEAT, and SALT and PEPPER. Form into balls. Make a sauce of 2 PARTS BONE-SUCKIN' SAUCE, 2 PARTS MIKEE'S TERIYAKI SAUCE, and 1 PART WATER. Bring sauce to a boil and drop in meatballs. Cover and cook for 30 minutes until cooked through.
Hot Dogs and Baked Beans
Combine 1 LARGE CAN BAKED BEANS with 1 PKG HOT DOGS, cut into rounds, and 3 TBSP BROWN SUGAR. Bake at 350°F (175°C) for 40 minutes. Serve in HOT DOG BUNS.
Meat and Macaroni Casserole
Cook 2 CUPS MACARONI. Mix macaroni together with 1 LB (450 G) BROWNED GROUND MEAT, TOMATO SAUCE, SALT, and PEPPER. Bake for 45 minutes at 350°F (175°C).
Sloppy Joes
Brown 1 LB (450 G) GROUND MEAT. Add 1⁄4 CUP KETCHUP, 1 TBSP BROWN SUGAR, 1 TSP MUSTARD, 1 8-OZ (225G) CAN TOMATO SAUCE, and sliced MUSHROOMS and GREEN PEPPERS. Serve in HAMBURGER BUNS.
FISH FAVES
Mustard-Maple Salmon
Mix together 2 TBSP DIJON MUSTARD, 2 TBSP MAPLE SYRUP, 1 TBSP MISO (OPTIONAL), 1 TSP OIL, 1 TSP KOSHER SALT, 1⁄2 T S P PAPRIKA, and 1⁄2 TSP BLACK PEPPER. Spread over 2 LBS (1 KG) SALMON. Bake at 400°F (200°C), covered, for about 25 minutes, then uncovered for about 10 minutes, or until the edges are crispy looking and fish flakes easily with a fork.
Salmon Tacos
Season SALMON well with FISH SEASONING BLEND of your choice. Drizzle with HONEY and a SQUEEZE OF LIME or LEMON. Bake at 350°F (175°C) for 12 minutes until medium rare. Serve in TACOS with diced and salted CUCUMBERS, RED CABBAGE, and CREAMY DRESSING of your choice.
Tuna Pot
Melt 1⁄3 CUP MARGARINE in a pot. Stir in 1⁄3 CUP FLOUR, 1⁄2 TSP ONION POWDER, 1⁄2 TSP SALT, and 1⁄4 TSP PEPPER. Remove from heat and slowly (so it doesn't get lumpy) stir in 13⁄4 CUPS PAREVE CHICKEN CONSOMMÉ and 2⁄3 CUP MILK. Return to the fire and heat to boiling, stirring constantly. Mix in 2 CANS TUNA and 10 OZ (280 G) FROZEN VEGGIES. Serve over RICE or MACARONI.
Jiffy Salmon Patties
Drain 1 15-OZ (425-G) CAN SALMON, reserving 1⁄3 of the liquid. Combine salmon with 1 CUP FLAVORED BREAD CRUMBS. Add 2 BEATEN EGGS, 2 TBSP LEMON JUICE, 2 TBSP MAYONNAISE, 1 TSP MUSTARD POWDER, and SALMON LIQUID. Shape into patties and fry in OIL until lightly brown on both sides.
(Originally featured in Family Table, Issue 713)
Oops! We could not locate your form.
>