| Hasty but Tasty |
Menus Worth Making
| July 6, 2021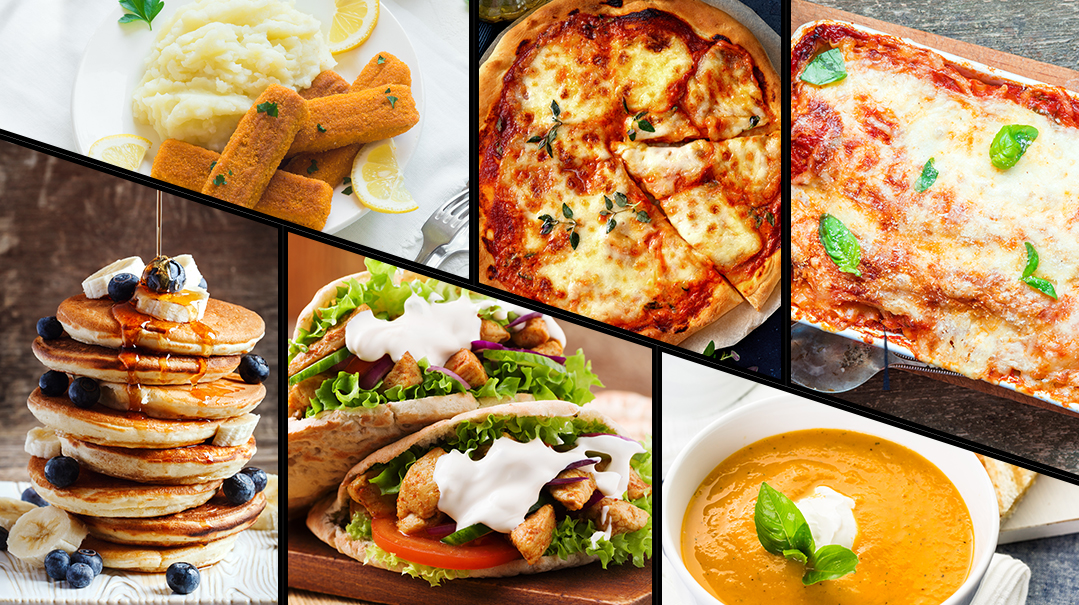 Do you feel stumped coming up with enough dairy and pareve meals to serve all week? Never fear, we did the thinking for you.
Menu ideas contributed by Devorah Cohen, Michal Frischman, Chaya Baila Lieber, Shana Halpert, Chanie Nayman, Rivki Rabinowitz, Hadas Stern, and Esti Vago
Do It Quick and Simple
Dairy/Pareve Mains
Onion soup and garlic bread
Mushroom-onion cheese calzones
Feta cheese salad with garlic pita chips
Half-homemade pizza/pita pizza
Cheese latkes
Quesadillas
Broccoli quiche
Sweet potato feta salad
Lasagna and Caesar salad
Falafel with Israeli salad
Tofu tacos
Veggie burgers
Fish Mains
Tuna melts
Salmon fettuccine Alfredo
Seared salmon and couscous
Baked breaded flounder
Fish sticks + mashed potatoes
Tuna-noodle casserole
Fish 'n chips
Breakfast for Dinner
Pancakes
French toast
Bagels and eggs
Veggie omelets with garlic bread
A Weekly Roundup
Menu #1
Sunday: Pita with falafel balls and Israeli salad
Monday: Southern baked tilapia, mashed potatoes, and roasted broccoli
Tuesday: Sweet potato fries and a big everything salad with tuna
Wednesday: Fettuccine Alfredo, teriyaki salmon, and avocado salad
Thursday: Onion soup and grilled cheese
Menu #2
Sunday: Omelets, toast, and Greek salad
Monday: Breaded garlic salmon, Dijon broccoli, and roasted potatoes
Tuesday: Baked ziti and Caesar salad
Wednesday: Breaded tilapia in rolls with mayo, avocado, and cabbage slaw
Thursday: Homemade pizza
Menu #3
Sunday: Stovetop lasagna, garlic bread, corn on the cob
Monday: Grilled cheese, soup, cut-up veggies
Tuesday: Egg and veggie wraps
Wednesday: Tuna casserole
Thursday: Zucchini Parmesan (or some other noodle/tomato sauce/cheese combo)
 Menu #4
Sunday: Tofu quinoa bowls/sushi bowls
Monday: Crispy skin salmon, roasted garlic broccoli, roasted sweet potato
Tuesday: Crustless quiche with chopped salad and quartered potatoes
Wednesday: Fish tacos with jícama slaw and sweet potato fries
Thursday: Breakfast burritos with sautéed kale and mushrooms
(Originally featured in Family Table, Issue 750)
Oops! We could not locate your form.
>