| Hasty but Tasty |
Soup's On
| October 12, 2021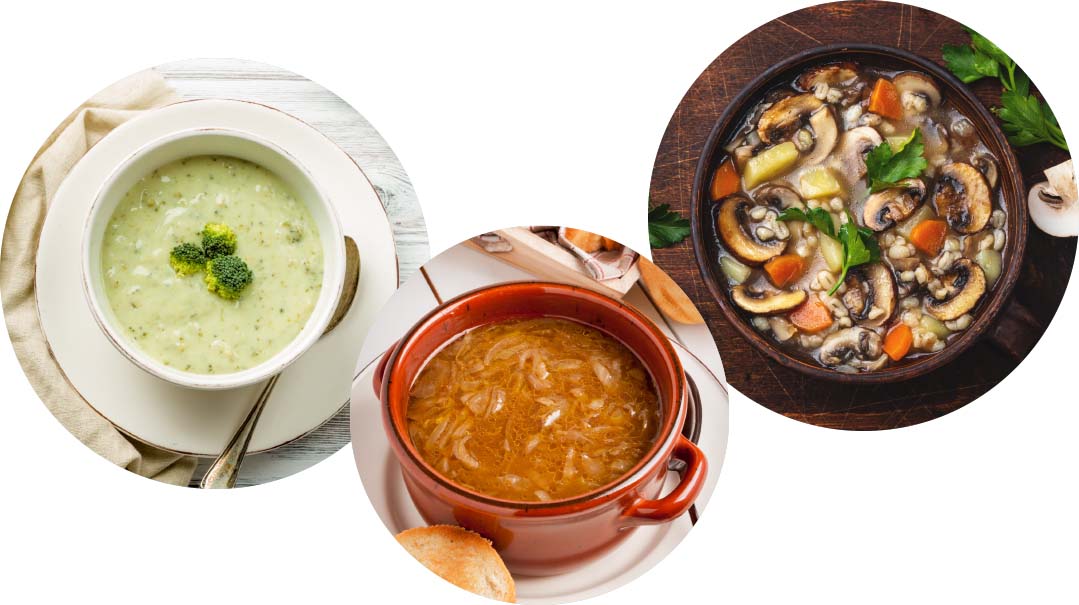 Recipes contributed by Devorah Cohen, Shana Halpert, Rivki Rabinowitz, Hadas Stern, and Esti Vago
With winter on its way, we're all looking for those quick and easy soups to fill our families without too much time spent slaving over the stove. Here are our favorite veggie soups for you to enjoy.
Water Base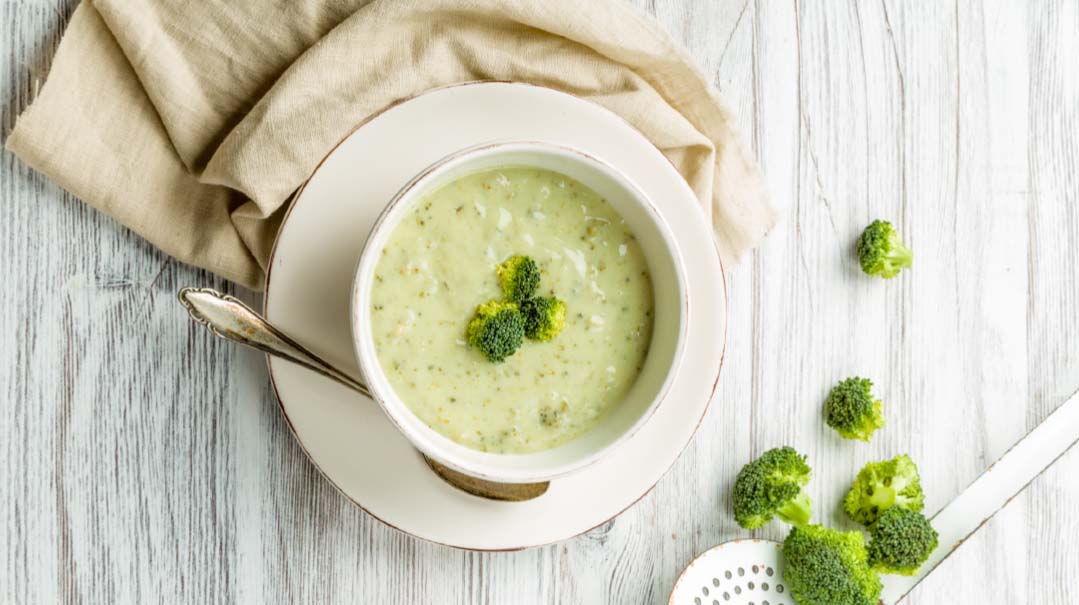 Zucchini Soup
Sauté 1 diced onion. Add 8 sliced zucchinis (dark green) and sauté a bit longer. Add a small amount of water (about half way up the vegatbles), salt and pepper. Bring to a boil, then simmer for 30 minutes. Add dill or parsley if you like (we like!). Puree until smooth.
Pareve Cream of Broccoli Soup
Heat 3 Tbsp oil in a 5-quart pot. Add 3 Tbsp flour and stir till golden. Add 1/4 cup water and stir till thick and golden. Add 5.5 cups water, 24 oz (680 g) frozen broccoli, 3 cloves minced garlic, 1 tsp salt, and 1/4 tsp black pepper, and 2–3 cubed potatoes (optional). Cook for 45 minutes and then puree.
Onion Soup
Sauté 3 sliced medium onions in 2 tsp oil until translucent. Sprinkle brown sugar and continue sautéing until onions are golden brown, about 1-11/2 hours. Add 1/4 cup flour and stir. Add 4 cups water and 1/4 cup soy sauce. Bring to a boil and then let it simmer for a few minutes. Serve with shredded cheese and onion garlic croutons, as desired.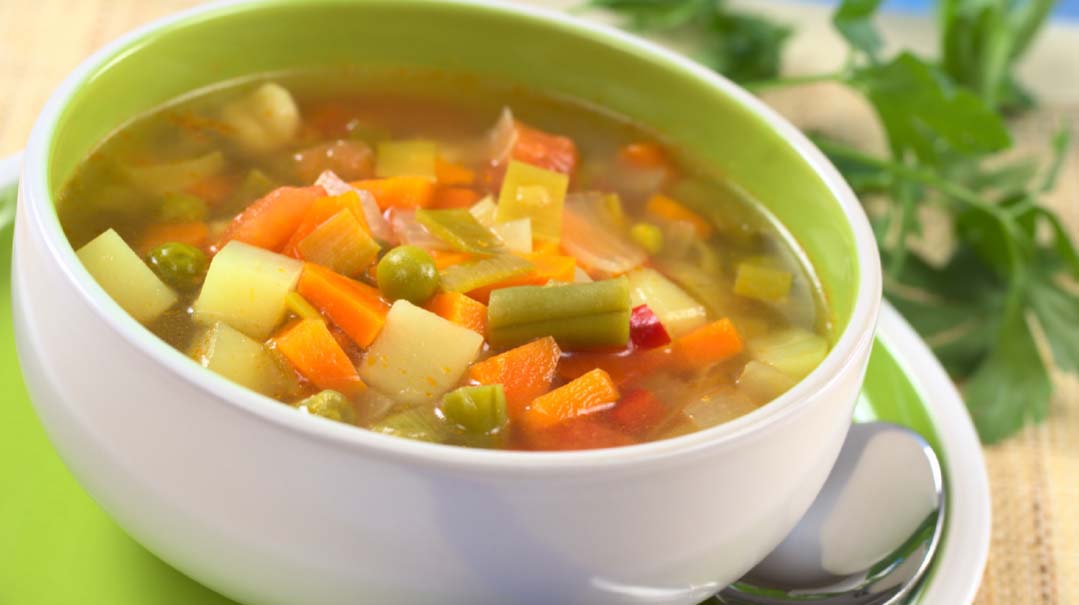 Basic Veggie Soup
Sauté 1 diced onion in oil till soft and fragrant. Add 3–4 cloves minced garlic, sauté another 2 minutes. Add 2–3 diced carrots, 2–3 diced celery stalks, 1–2 peeled and diced zucchini, 1 peeled and diced sweet potato, and 2 peeled and diced medium potatoes. Cover with water. Add salt and pepper to taste, plus any other flavorings you like. Simmer at least one hour or more.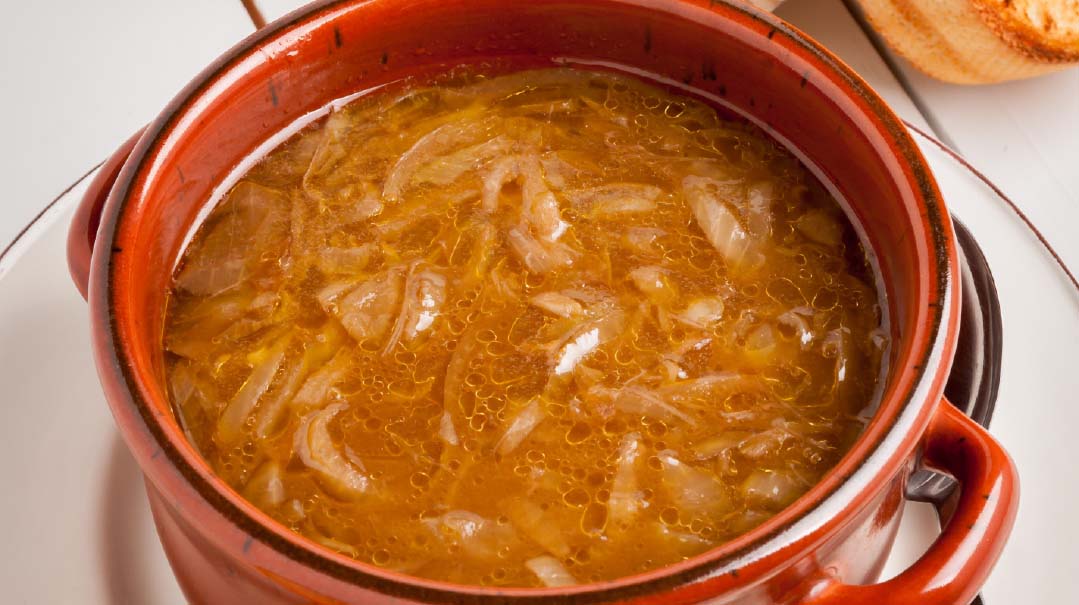 Easy Onion Soup
Sauté 2 large diced onions in 3 Tbsp butter. After the onions have browned slightly, add 2 Tbsp flour, 4 cups water, 2.5 Tbsp onion soup mix, and 1 tsp salt. Mix and cook for 1 hour. This onion soup is more of a light brown than a deep amber.
Tomato Base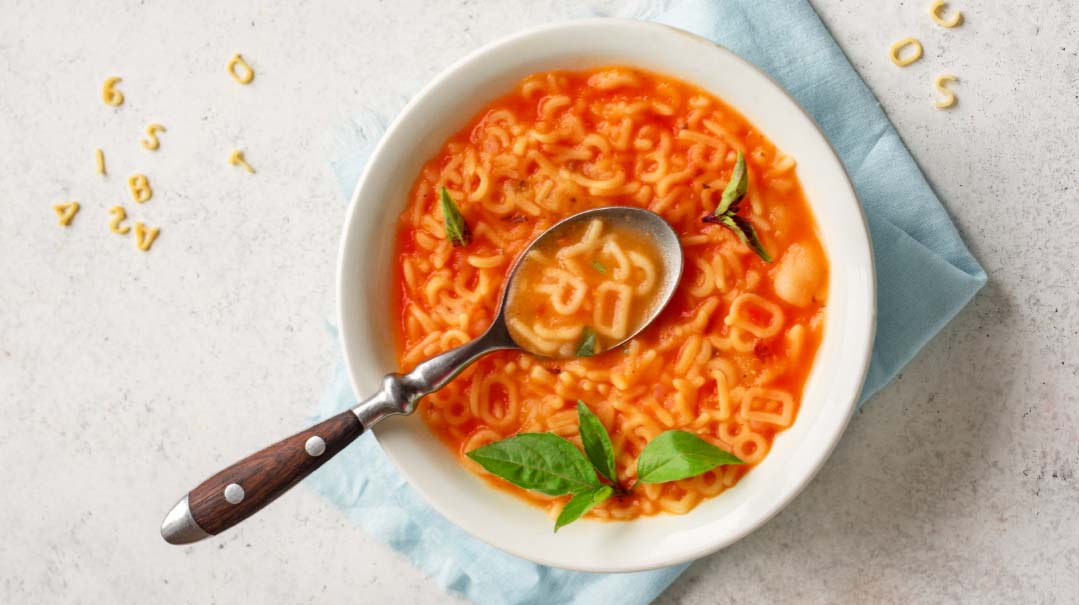 Alphabet Soup
Mix 2 tsp minced garlic, 2 cups crushed canned tomatoes, 6 cups chicken stock, 1/4 tsp dried basil, 1/4 tsp dried oregano, 1/4 tsp dried thyme, 1/4 tsp black pepper, 1 small bag frozen vegetables in a pot. Bring to a boil and then simmer for 20 minutes. Turn off flame and stir in 1/2 cup alphabet pasta. Let sit for 30 minutes.
Reproduced from kosher by design: Kids in the Kitchen by Susie Fishbein with permission of the copyright holders, ArtScroll/Mesorah Publications, Ltd.
Roasted Tomato Soup
Cut 6 large tomatoes and 1–3 small onions into large chunks and spread on baking sheet. Drizzle with oil and season with salt, pepper, stevia (or 1 tsp maple syrup), a drizzle of red wine vinegar, oregano, and fresh basil (I use a handful for medium basil flavor — you can do more or less or skip altogether) to taste. Roast in oven at 375°F (190°C) for 45 minutes, until browned. Using an immersion blender, blend roasted tomatoes with 1—2 cups chicken stock (or water if need extra liquid).
Chicken broth Base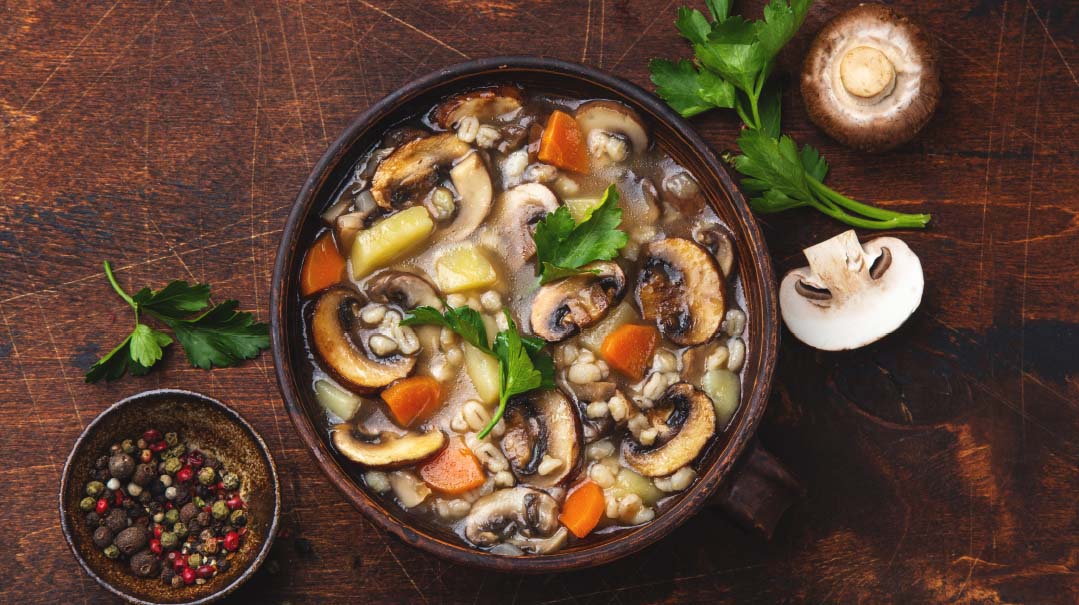 Mushroom Barley Soup
Heat oil in a large pot. Add 1 cup chopped onion, 3/4 cup diced carrots, 1/2 cup chopped celery, and 1 tsp minced garlic and sauté until transparent. Stir in 1 box mushrooms, sliced, and cook a few more minutes. Pour in 6 cups chicken broth and 3/4 cup barley. Bring to a boil. Cover and simmer for about 50 minutes.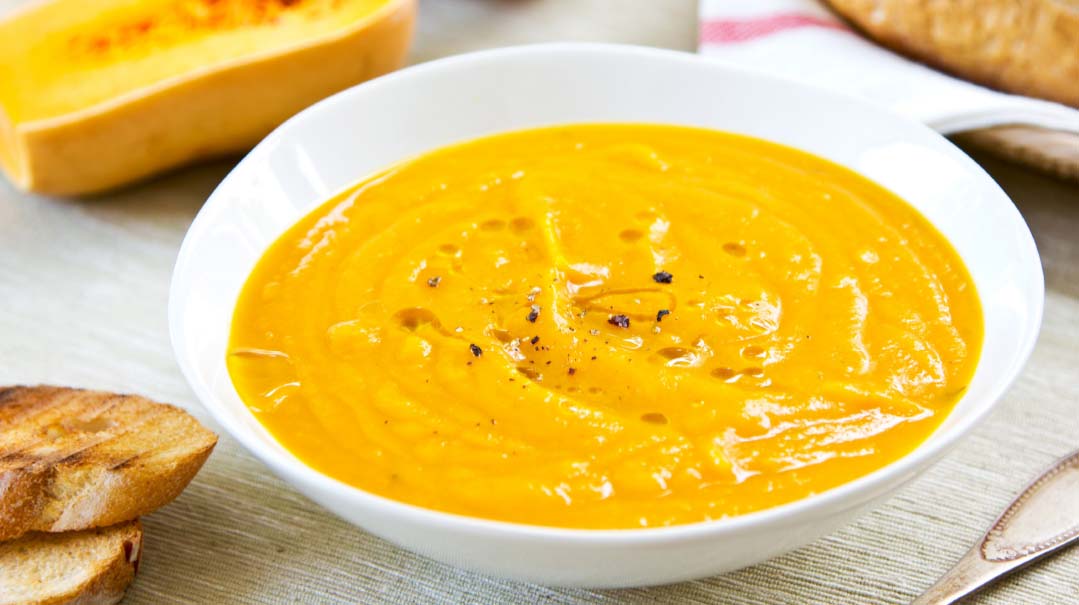 Butternut Squash Soup
Heat 2 Tbsp oil in a pot. Add 2 diced onions, 2 diced 10-oz (280-g) butternut squash, 2 diced sweet potatoes, 2 diced potatoes, 2 diced carrots (or 8 baby carrots), 4 cloves garlic, minced, and sauté until tender, about 20 minutes. Add 6 tsp chicken soup mix and 8 cups water. Bring to a boil. Cook about 30 minutes. Blend with immersion blender. Season with 1 tsp salt and 1/4 tsp pepper.
Note: The recipe calls for 20 minutes of sauté time, but if you are short on time, it works fine to add the liquid after five minutes!
(Originally featured in Family Table, Issue 763)
Oops! We could not locate your form.
>