| Off the Eaten Path |
A Tour of New England
| June 22, 2021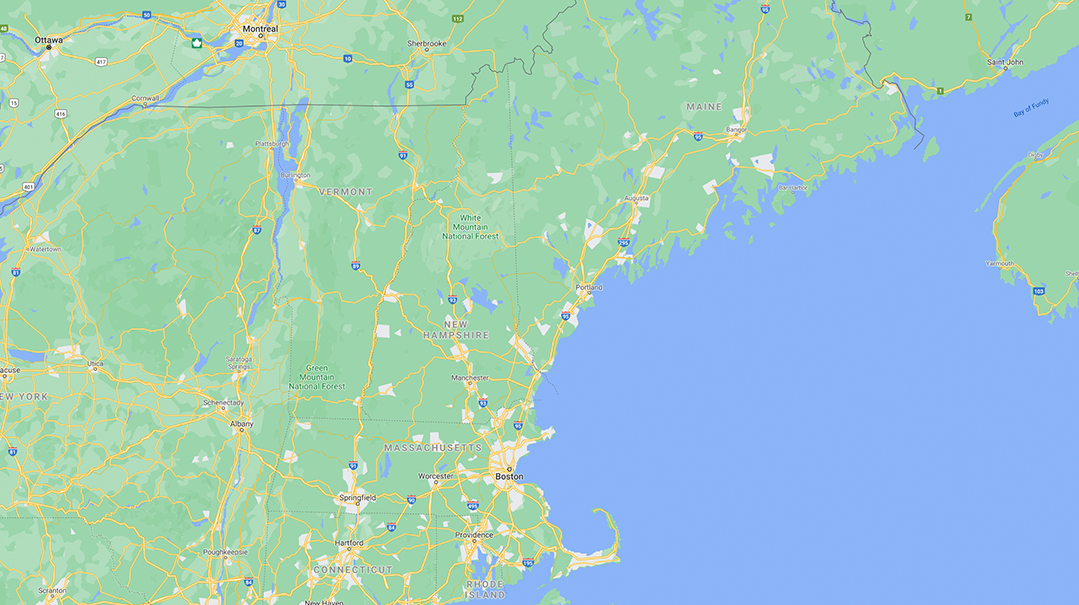 When we finished our road trip out west last summer, my husband and I counted up and discovered that we'd been to over 25 states since we got married. Realizing that we were already halfway there, we decided to make it a goal to visit all 50 states.
Our rule was that, in order to make a state count, we had to do something significant in the state — not just pass through it or land at an airport as a layover. One thing our trips have shown us is the beauty of the world that Hashem created for us! I look forward to sharing our journeys with you.
Our second road trip after our trip out west was to New England, since we'd never been to Maine or New Hampshire. Rachel Krich, an Instagram follower who became a friend, has a vacation planning business called PlanItForU (Planitforu.com). We had a Zoom meeting with her to give her an idea of what we wanted to do and the types of activities we like, and she put together our itinerary for us.
Our first stop was in Stamford, Connecticut — an hour's drive from our house — to pick up some fresh Danishes from Beldotti Bakery. Stamford boasts a few kosher restaurants, including an Indian one called Navaratna, a sushi place called Soosh, and a great meat place, Six Thirteen. There's also a gluten- and dairy-free bakery in Greenwich, Connecticut, called By The Way.
From Stamford, we headed off to Plymouth Rock. Although many American children have been on class trips to Massachusetts to see this famed rock, I (as an Aussie) had never been there (nor had my family). I enjoyed reading all the signs giving the history of the spot (eye roll from my family). We walked around the Plymouth Rock State Park and enjoyed our fresh Danishes.
We then headed to Plimoth Plantation, a historical village that shows how the early settlers lived, with actors making the history come alive. It was very engaging, and the kids could interact with the actors and ask them questions, with the actors answering in character.
Next, we drove up to Portsmouth, New Hampshire, a beautiful New England town. We enjoyed walking around the quaint town, then walking down to the harbor and watching a magnificent sunset over the river.
Back in the car, we drove to Portland, Maine, and settled in for the night. One of the highlights of Maine was the stunning lighthouses all along the coastline. Visiting the Portland Head lighthouse, we walked around the area and took in the sights.
From there, we headed into New Hampshire. We spent the night in Lincoln, New Hampshire, so we could be ready to "climb" Mount Washington in the morning. Most people, like us, choose to drive up the 7.6-mile toll road. The road to the summit was completed in 1861 with an incredible number of twists and turns alongside the steep mountain drop. According to dangerousroads.org, "With an average grade of 12%, a single mile of hard-packed gravel road around mid-mountain, and above-tree-line views beginning around 4,200 feet, this is truly one of the most spectacular drives in the Northeast."
I had to agree with this description. The summit was extremely cold and windy, but the view made it well worth the climb! My husband did a fabulous job of driving us up and down that twisting road, although he may be a little deaf from my shrieking.
Our next stop was Flume Gorge, where we went hiking to see the foliage, streams, and waterfalls. We had to book ahead due to Covid restrictions, and there was a paid entrance fee. The hike was well worthwhile, though, and we stopped to take picture after picture.
We spent the night in Hyannis Port, Massachusetts, located in the Cape Cod area, along the National Seashore set up by President John F. Kennedy in 1961 to protect the shoreline. We visited the fascinating JFK Museum located in the town, since the late president hailed from there. Afterwards we went to see seals at Chatham Piers, had a picnic lunch, visited the fish markets, and explored the lighthouse and the local boardwalk.
Although there were obviously no kosher restaurants in these areas, I made meals each day in either my meat or dairy Betty Crocker. As we were driving rather than flying, I was really able to load up the car with everything but the kitchen sink. For breakfast I made either omelets or shakshuka. Dinner featured schnitzel, meat sauce, or pasta, either cooked fresh or reheated. We stopped at local supermarkets to pick up fresh fruit and vegetables to make salad (lots of girls in our house!).
Since we were traveling during the pandemic, each state had its own rules, which were always changing. I always did my research to see if there were any applicable restrictions (for example, at times some states did not allow New Yorkers to stay in their hotels) and to confirm that each place we wanted to visit was open to the public. At the time this article is going to print, there is a major easing of restrictions throughout the country, but make sure to plan ahead.
Enjoy your trip!
(Originally featured in Family Table, Issue 748)
Oops! We could not locate your form.
>