| Off the Eaten Path |
A Taste of Indiana and Kentucky
| September 29, 2021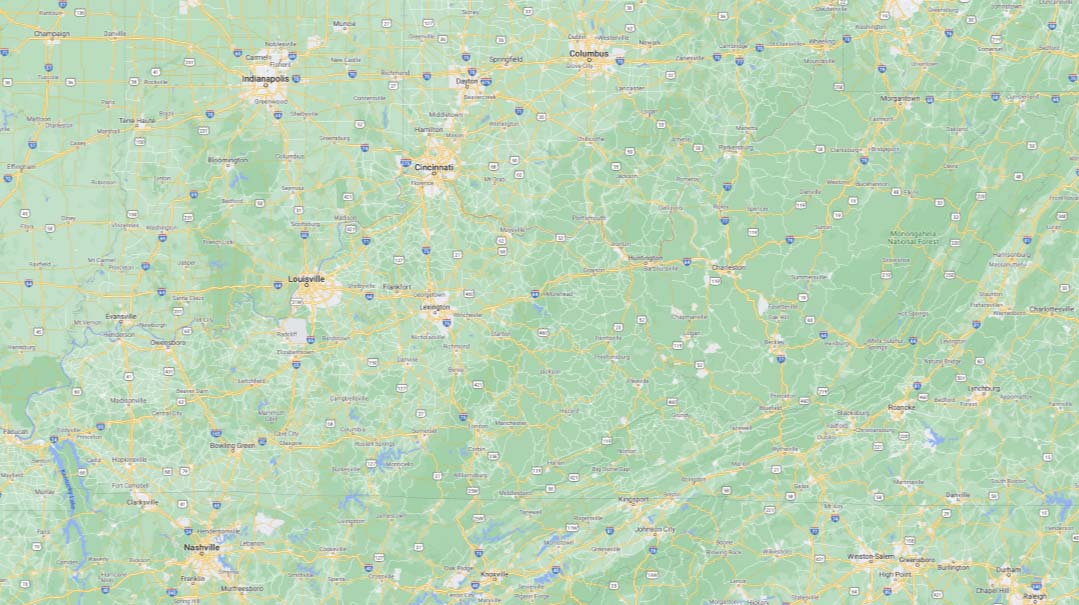 Our tour of the United States continued this past spring with a quick trip to Indiana and Kentucky. I always get asked how I choose which states to visit next. Sometimes the answer is based on how inexpensive the flights are or how many points the tickets are. Being Australian and doing lots of long-haul flights between Sydney and New York, I learned early on about the importance of mileage points and loyalty programs. I always make sure to join the points program for every airline I fly. I sometimes sell my points through companies such as Get PEYD, which can also book your trips and help you get upgrades.
When I book on my own, I'll often try Delta first, as I like how their points system works. Because I fly with them a lot, I get a lot of perks. For example, I'm allowed to bring extra suitcases without extra fees, and when higher-class seats are available, I'll often get automatically bumped up on national flights. These loyalty programs are fantastic, and they work with other companies, such as car rental companies, so you can merge points to get higher status and accumulate more points faster.
Touring Indianapolis
I love how the artwork and motif of an airport reflects the culture of the local city. For this particular trip, my husband and I flew into Indiana and flew out of Kentucky. In the Indianapolis airport, the gate area was decorated with cars (think Indy 500), and the Kentucky airport displayed models and portraits of horses (think Kentucky Derby).
I always try to see the local culture and iconic sights. So, after picking up a rental car, we drove straight to the Indianapolis Motor Speedway. I had booked a tour weeks in advance to make sure we were able to get in. (During these turbulent times, with Covid restrictions being imposed on a somewhat ad hoc basis, you always need to check ahead while planning your itinerary.) We took a tour of the Speedway grounds and the racetrack, which is full of history. Our tour guide told us that he had personally attended the Indy 500 race every year for the past 38 years! We also saw the preparations for the upcoming Indy 500, which usually runs during Memorial Day weekend.
There were no kosher options for our afternoon in Indianapolis, so I had prepared a picnic lunch of tuna sandwiches. Since I really dislike soggy bread, I prepare little containers of all the condiments and the protein filling and assemble them fresh right before we eat. I love the new Tuscanini tuna in the jars. I drained off some oil and added a little mayo packet (which I picked up at the airport) and mashed it right on the spot before we ate.
After lunch, we headed to the Soldiers and Sailors Monument, a huge and very impressive water fountain in downtown Indianapolis, originally designed to honor Indiana's Civil War veterans. It now honors those who served in the American Revolutionary War, the War of 1812, the Mexican War, the American Civil War, the Frontier Wars, and the Spanish-American War. One of the most popular parts of the monument is the observation deck with a 360-degree view of the city skyline from 275 feet up. The observation deck was closed due to Covid, but we were enthralled by the details of the structure and its symbolism. Afterwards, we took a stroll along the Canal Walk, taking in the shops and parks.
Racetracks and Baseball Bats
We then headed to Louisville (pronounced "Loo-uh-vul" by the locals), Kentucky. It was a two-hour drive to our hotel. Louisville doesn't have a kosher restaurant, but it does boast a kosher Krispy Kreme.
For dinner, I brought along my fleishig Betty Crocker and used it to heat up a container of meatballs and spaghetti, which I had prepared in advance and frozen. I kept it in a cooler bag; as the day progressed it slowly defrosted and was perfect by the time we were ready to eat it at dinnertime.
The next morning, we did a sunrise tour of Churchill Downs, the famous racecourse where the Kentucky Derby would be run just four days later. We watched the horses' morning workouts, and we even got to see and pat some of the horses that would be competing in the Derby. There was an incredible museum of the history of the race. There's also a very serious food culture for the Derby weekend. I learned how to make mint juleps; they make over 120,000 of these cocktails at the races over the weekend. By the way, the Kentucky Derby race takes about two minutes from start to finish!
Another great museum is the Louisville Slugger Museum, where they make the iconic baseball bats. My husband loved holding and posing with Willie Mays' bat. Everyone on the tour got their own mini bat to take home.
Bourbon and Kiruv
One of the things Kentucky is most famous for is its bourbon. You can book tours to many of the local distilleries online. We were very honored to have a private tour given by Rabbi Chaim Litvin, who gives the hashgachah to some of the distilleries. Rabbi Litvin took us to Peerless Distillery, founded by Henry Kraver, a Jewish man who arrived in the US from Europe in the late 1800s. Rabbi Litvin has become an expert bourbon maker himself, and has produced some of his own bourbon.
Rabbi Litvin also took us to the Rabbit Hole Distillery, which also produces excellent gin as well as bourbon. Afterwards, he invited us to join him and his family for dinner, and we visited the Chabad house, run by his father, Rabbi Avrohom Litvin.
Our final stop was meeting with Rabbi Simcha Snaid (rabbi of Congregation Anshei Sfard), and Rabbi Zack Blaustein, who concentrate on reaching out to the approximately 8,000 (mostly unaffiliated) Jews in Louisville. Both attended Yeshivas Chofetz Chaim in Queens and were encouraged to come to this city with their families in 2014. Two years later, together with Rabbi Yitzy Mandel, Rabbi Zack started KITE (the Kentucky Institute for Torah Education), organizing classes and shiurim, coordinating events, and forming a movement of Louisville Jews looking to connect to their Judaism.
We loved learning about the subcultures in this part of the country and meeting all of these people who put themselves on the front line of Jewish outreach. It was wonderful to see how even where there's no strong frum presence, there are still pockets of Jews and kiruv organizations making significant impacts on their communities.
(Originally featured in Family Table, Issue 761)
Oops! We could not locate your form.
>