| Man With a Pan |
Winging It
| August 5, 2020
Old favorites, new takes… all in a day's work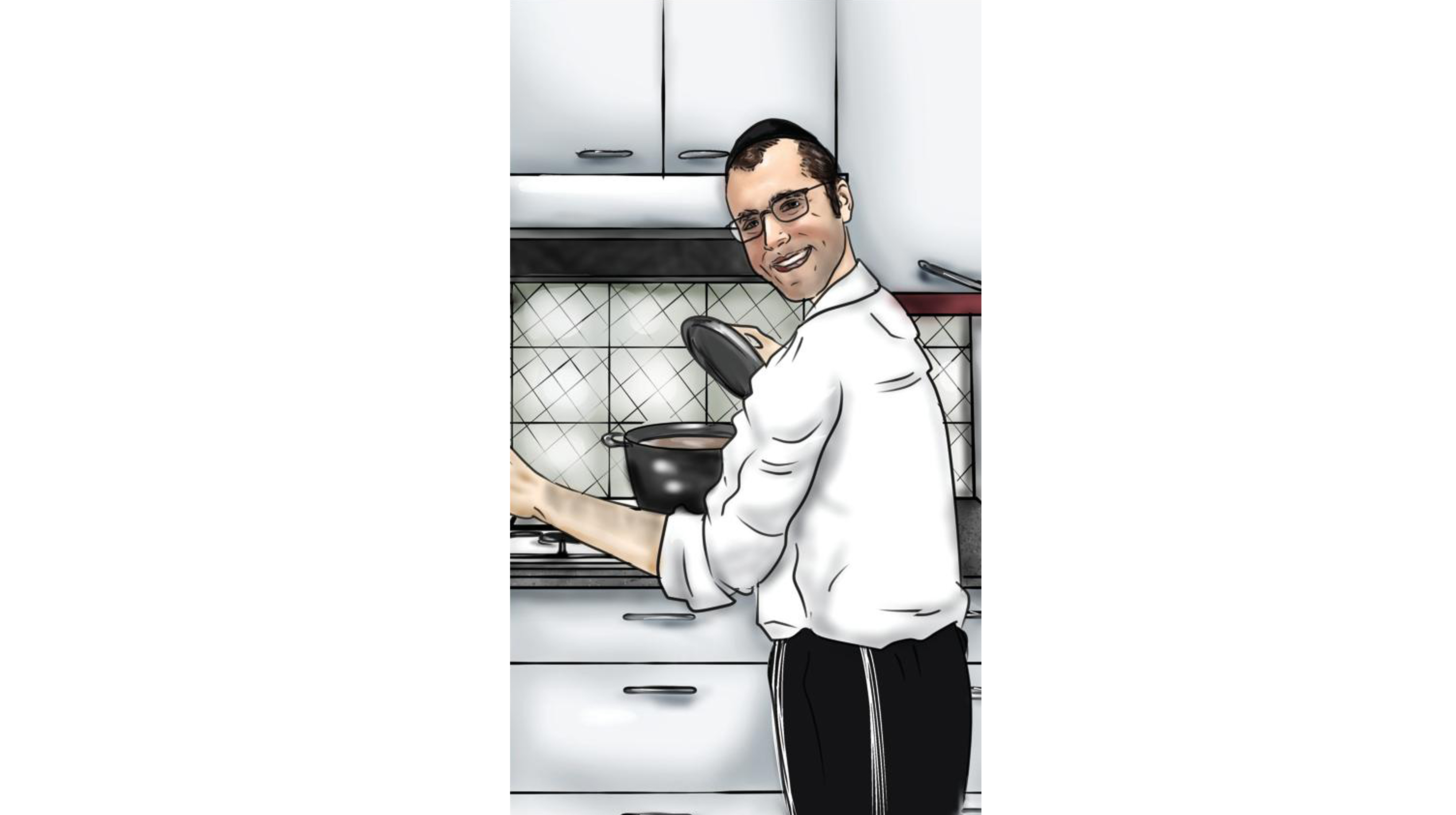 The Man
Shulem Levine, age 28 2 kids, b"H Full-time kollel, Ramat Eshkol, Yerushalayim
The Plan
Friday Night: Store-bought Challah, Gefilte Fish, Hearts of Palm Salad, Garlic Confit, Dill Dip, Avocado Dip, Chicken Soup, Chicken Pastrami Rollups, Rosemary Mustard Potatoes, Broccoli Salad, Mushroom Sauté, Chocolate Cake
Shabbos Day: Store-bought Challah, Gefilte Fish, Dips, Caesar Salad, Cholent, Hasselback Salami, Watermelon
Let's just start by saying my wife pushed me into this. My first reaction was "No way! Not in middle of the zeman," but my wife assured me that I (we?) could do this. The instructions we got from Family First said we could make up whatever rules we wanted. So from the outset, we made up to do this without missing seder, including Friday morning. That was our first — and main — rule.

At the same time, if the whole idea was to treat my wife, she couldn't be babysitting while I cooked, because that would defeat the purpose. So we had to find time that was not yom and not lailah.
I wanted to take the easiest, quickest route possible, so I decided there would be no multistep recipes or complicated equipment that would involve added cleaning. After much discussion, our final list of rules was:
No missing seder.
No depending on my wife for babysitting.
No mixer or food processor (I did use a hand blender for the chocolate cake, and it worked just fine).
No asking for help from my wife, though she was allowed to offer ;).
No multistep recipes like first fry, then sauté.
The Prep
In the beginning of the week, I called my mother and aunts to get their best recipes, like broccoli salad and a schnitzel recipe, which I didn't use. I didn't sit down to plan a formal menu (though my wife kept asking!), but it was on my mind throughout the week and I figured it out piece by piece, a real kiyum of remembering Shabbos all week long.
I did the shopping in shifts, some on Wednesday night and some on Thursday bein hasedarim. I bought the basics that I get every week as well as some special ingredients that I needed, like pastrami and a salami.
On Wednesday night I made my first dish, a nostalgic flashback to my early childhood — my mother's chocolate cake, a yerushah from her mother. That was the most important thing to me. The rest of the menu happened late Thursday night.
Before night seder, I put up the soup (something I've done many times before) and threw a roll of gefilte fish into a pot — easy enough. My wife helped with salting the soup, but otherwise it was all my doing. Then I made chicken pastrami rollups (recipe from my wife's aunt), which looked very impressive but required very little work. I put up the cholent (in a foil pan — my wife's hack), and hasselback salami for Shabbos day.
I left everything to cook and headed out for a vaad. When I came back, I took out the broccoli to defrost and set it aside for Friday. Then I put together the hearts of palm salad, which is a special treat for my wife — can't have Shabbos without it. It's sliced hearts of palm, tomatoes, sea salt, pepper, onion powder, oil, and basil cubes.
Next I made the dips. I peeled a head of garlic, put it on a baking sheet, then added oil and salt and dumped it in the oven. Side note: This made me really appreciate what my wife does every week — all those tiny peels! To make everything as quick and easy as possible, I used frozen dill cubes and parsley cubes for the dill dip, and mixed it with mayo, salt, and lemon juice. For the avocado dip, I used frozen avocados, which we had leftover from a pre-Pesach bulk order.
My original plan was to use a potato kugel from our freezer, but my wife pleaded that I not do that, so that left preparing a side dish and a salad for Friday afternoon. Last-Minute Additions Before I tackled my usual Friday cleaning jobs, I found a recipe on Kosher.com for the potatoes, but I didn't really follow the amounts, and it smelled kind of strong. That was a lesson learned — follow a recipe and you'll be better o­ff.
Then I headed out for some last-minute shopping. A bottle of Caesar dressing caught my eye and I promptly put it into the cart. Once home, I finished up the broccoli salad and cut the veggies for the Caesar salad. For bonus points, I quickly sliced a box of mushrooms, added a parsley cube, garlic, and salt, and made a delicious sauté just like my mother-in-law's! There was still plenty of time to Shabbos… and I was done!
The Outcome
Overall I think it was excellent! The potato recipe was a little o­ff, but that was just because I didn't follow it. Also, if you take avocados out of the freezer, it's a good idea to drain them so the dip shouldn't be watery. My favorite dish was obviously the chocolate cake. My sons felt the same — must be in the genes! My takeaway: My wife really works hard! Making Shabbos is a real e­ffort, and she does it every week. Maybe I can do this again in a year or two…
The Wife's Take
When I saw that Mishpacha was looking for volunteers for Man with a Pan, I knew this was my chance! The truth is, Shulem is a huge help always, and mostly watches the kids and cleans on Fridays while I cook. If there was a chance he'd do it all one week — well, why not try?
I also need to add that Shulem is an awesome cook. He grew up in a house full of brothers, and the first time I came as a kallah he actually made the challah (though he swore his family to secrecy on that one!). I wasn't nervous about how the food would come out, since Shulem will often pitch in with the cooking. He's put up the fish, cholent, and soup many times — though usually not all in the same week!
What can I say, Shulem did not disappoint! Shabbos was five-star, a perfect blend of the familiar (mushroom sauté, hearts of palm salad, and dips) and the new (the potato dish and chicken pastrami rollups!). I loved tasting all the recipes Shulem misses from his parents' house, like the broccoli salad and the chocolate cake. That was a real learning moment for me, and I made a mental note to incorporate more of those foods into our regular menu. After six plus years of marriage, there's always more to learn!
It's funny that Shulem didn't like the potatoes. The blend of mustard and rosemary took getting used to, but I thought it was delicious! The avocado dip could have used some help, but otherwise everything was top notch. Shulem also mixed spicy and regular duck sauce over the chicken pastrami rollups, which gave it an unexpected zing, but it was delicious. We will defi nitely be doing this again soon!
What was most impressive to me was that Shulem pulled this o‑ without a pen or paper. I cook practically the same dishes every week, and yet the first thing I do each week is write out my menu with checkboxes to fill in as I go along. I have spreadsheets of my Yom Tov menus going back for years! So I was truly amazed to see such a robust Shabbos come together without a physical menu. Yet Shulem did it all in his head, with zero stress… One of these days, I'll learn his tricks!
Chicken Pastrami Rollups
chicken breast, thinly sliced
pastrami
puff­ pastry squares
duck sauce
Take a thin slice of chicken breast and wrap a piece of pastrami over it. Lay out a square of puff­ pastry dough in a diamond shape and place the wrapped chicken over it. Pull two corners together over the top of the chicken-pastrami roll to make a pocket. Place upside down in a baking pan and cover with duck sauce (for best results, use a mix of sweet and spicy!).
Bake covered 20 minutes, then flip and bake uncovered for another 15 minutes.
(Originally featured in Family Table, Issue 704)
Oops! We could not locate your form.
>