| Man With a Pan |
The Man with a Pan Has a Plan
| February 8, 2022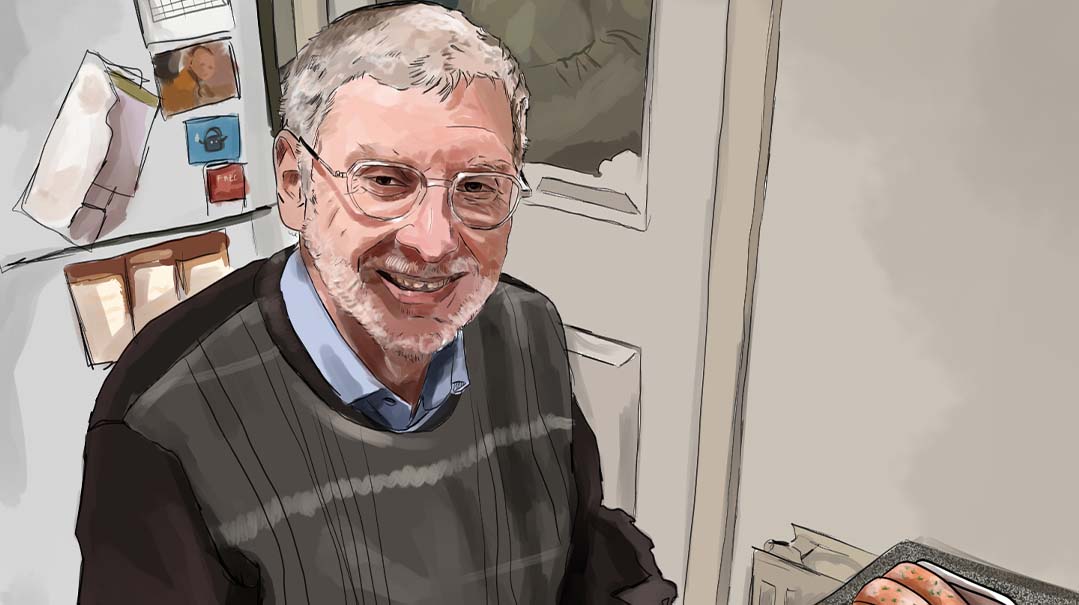 Illustration by Esti Friedman Saposh
The Man
Michael Lowe, age 64
Retired IT Specialist
Cooking for 3
Salford, Greater Manchester, UK
When it comes to kitchen duties, my precious wife Denise of nearly 40 years and I are happy with our clearly defined duties. She does the laundry; I help put it on the drying rack and (mostly) do my own ironing. She does the cooking and I wash up. She peels vegetables and throws away the rubbish, overfilling the various recycling bins, which I then take outside.
So apart from frying an egg, shoving a pizza in the oven, or ordering a takeout, I can safely say that the last and only time I prepared a meal for her was 36 years ago, when she was indisposed. Even then my dear mother-in-law prepared nearly all the vegetables and left me precise instructions. So you can imagine my shock when my younger son informed me that he had volunteered me for Man with a Pan! However, nothing ventured, nothing gained, so here we go!
I decided to do as much as possible in advance, as Shabbos would be coming in around 4:15 on parshas Yisro. I wanted to make a fresh salmon appetizer with pesto and freeze it until needed. "No problem," says Denise.
Tuesday Evening — 17 Days to Go
The salmon is sliced and rinsed and waiting in the pan for the pesto. Open the fridge and... whoops, no pesto. Improvise. We have lime juice and dill, baruch Hashem. Friday night appetizer sorted.
While it's cooking, Denise gives me a tutorial on cutting a cherry tomato. How hard can that be? I wonder. Well, the way Denise does it is very hard. But she is a teacher and has lots of patience. With the point of her knife, she zigzags her way around the tomato very slowly and separates the tomato into two perfectly sculpted halves.
My turn now. After five excruciating minutes spent trying to find the center of the tomato with the point of the knife, I have two asymmetrical pieces of tomato. Surely I could have just cut the thing down the middle? But no, a little artistry is required, apparently.
Now I am getting nervous; what else lies in store for me? Denise reassures me that this is the trickiest challenge, so it will be smooth sailing from now on.
Next Tuesday — 10 Days to Go
I grind slices of bread into crumbs and mix in golden syrup (a British staple) and lemon zest for my treacle tart filling. We bought the tart shells — give me a break! This is my favorite dessert. And the asparagus soup was easy-peasy, so I am on a roll now, feeling a little smug, actually. Friday night's appetizer, soup, and dessert in the freezer with 10 days to go. I deserve a small Scotch.
With a few days to go, I decide to serve the treacle tarts for Shabbos lunch and make zabaglione for Friday night. Denise is almost speechless. "I take back what I said about the tomato," she gasps.
And speaking of Shabbos lunch, the original plan was for cold chicken and all I had to do was throw in a chopped onion and a bit of salt. But then I discovered a chicken roll with mincemeat at the butcher. It's not really cheating because I still have to chop the onion. So with a week to go I wrap the roll in chopped onion, cook it in the oven, and put another item in the freezer. I'm not feeling complacent, though; there's still a lot to do on Thursday night and Friday.
Thursday Morning — A Day and a Half to Go
Thursday morning and the fun begins. My plan is to prepare the cholent, the potatoes for roasting, and the red cabbage, then begin marinating the lamb. I measure out my red wine, basil, and rosemary (not just a woman's name but also a herb, apparently) and pour the mixture over the lamb cutlets. We don't really like a stodgy cholent with beans, so we make a cholent soup. So after frying onions and garlic, I brown thick slices of beef and add root vegetables, a can of tomato sauce, a can of water, and seasoning. I'll cook that tomorrow and transfer it to the hot plate.
With the potatoes boiled, oiled, sprinkled with paprika, and ready for roasting, my final job tonight is the red cabbage with apple.
I must admit Denise encouraged me to cheat, and I bought prechecked, shredded red cabbage. I add a diced cooking apple and use my intuition (gasp!) to add the right amount of sugar. But then I've always had a sweet tooth. Last act before bed is to turn over the lamb cutlets in the marinade; the aroma is delicious!
Erev Shabbos: D-Day
One more turn of the lamb before Shacharis, then davening, breakfast, and down to business. Denise is ready with instructions. For the guacamole, I need to mash the avocado, add lime juice, garlic, and roughly chopped tomatoes. I am advised to leave the pit in until serving to help prevent the avocado from turning brown. One of the deep mysteries of the culinary art.
I mix the eggs with mayonnaise and make a basic Israeli salad with chopped red onion and some Haddar zesty Italian dressing to give it a kick. Our twelve-year-old grandson Dovid will be staying with us, so I make some plain salad as well, just in case.
With the lamb well-marinated, I pour it over onion wedges, mushrooms, and peeled tomatoes. How do you peel a tomato? With a knife? No, you prick them with a fork, immerse them in boiling water and wait for the skin to split before removing it by hand without scalding your fingers. Obvious when you think about it.
With the leftover cabbage, I make a red cabbage salad using the noodles from a Gefen noodle soup and the dressing from its flavor sachet. Délicieux! Next I cook the vegetables in the marinade and pour them over the lamb. Three hours before Shabbos, the lamb goes into the oven, and once cooked it's transferred to the hot plate.
My final task is the zabaglione. I am told to separate the eggs. Strange, they are not touching, sitting side by side in the box. Ah, I need to separate the yolks from the whites. Ever wondered why vanilla is expensive? Having carefully opened a vanilla pod to obtain a few grams of the seeds, I think I know why.
I have great fun releasing my frustration by smashing some biscuits (that's British for cookies, even though I do not store biscuits on my laptop) for the topping with a rolling pin. The recipe calls for amaretti biscuits, but we couldn't find a kosher brand, so I use ginger spice biscuits instead. Then I add golden caster sugar and whisk the mixture for 15 minutes over a pan of simmering water. Finally, slowly, I add the sweet white wine while continuing to whisk, remove from the heat, and whisk until the mixture cools slightly.
I set out the salmon appetizer and carve the cherry tomatoes into perfect zigzag halves (after eating half a dozen failures. Denise got that wrong; the zabaglione was easier!). And I do manage to twist a thin slice of cucumber without breaking it.
One hour to go and everything is done. Food on the hot plate, table set, time to get ready for shul.
There were a couple of cheats for Shabbos lunch: the sliced turkey and Yerushalmi kugel, in case Dovid doesn't like the chicken and mincemeat roll. I'm  glad I wasn't cooking for guests because I was a little nervous, but now I realize cooking for Shabbos is a breeze as long as I have three weeks' notice every 36 years! Seriously, the experience has made me realize just how much effort it takes for Denise to produce a beautiful Shabbos every week.
A final thought before I hand over my efforts to the judges. It is about onions. I had not appreciated just how much Jewish cooking involves these slippery objects. After having peeled, rinsed, sliced, diced, and cried through about 12 of these things, I will be happy not to see another one between now and Pesach!
Dovid's Verdict
The food was delicious, the asparagus soup was really yummy, and the zabaglione was ridiculicious. I give Grandpa a score of 100 percent for his cooking.
Wife's Verdict
Michael was a very diligent student and worked hard. I am now recovering from the trauma! He made delicious meals; the zabaglione in particular was a triumph, but his tomatoes need some work! I enjoyed the opportunity to see him doing my thing, but I don't think I will return the favor and spend a day as an IT specialist.
And he still took out the trash!!
Asparagus Soup
Recipe from Norah Cozens
1 medium onion
3 cups (710 ml) pareve chicken stock
12 oz (340 g) asparagus spears (I used a packet of frozen asparagus)
sea salt
ground black pepper
4 Tbsp plain soy yogurt
Peel and chop onion and simmer in stock until tender.
Add the chopped asparagus to the stock and cook for about 10 minutes. Cool slightly, then blend with an immersion blender.
Reheat. Just before serving, swirl a tablespoon of yogurt to each bowl.
Marinated Lamb
Recipe from from Low, Slow, Delicious by Martha Lomask
4 large lamb cutlets
2 onions, cut into eighths
3½ oz (100 g) mushrooms
4 tomatoes, peeled and chopped
Marinade
¾ cup (150 ml) sunflower oil
½ cup (100 ml) red wine
1 cube frozen garlic
1 tsp rosemary
1 tsp basil
black pepper, to taste
Combine ingredients for marinade and marinate the lamb in a baking dish for 7–8 hours, turning occasionally.
Drain the marinade into a saucepan. Add the onions, mushrooms, and tomatoes to the pan and bring to a boil.
Pour over the lamb. Cover and cook at 350ºF (175ºC) for 2 hours.
The Plan
Friday Night:
Fresh Salmon with Lime and Dill
Asparagus Soup
Marinated Lamb
Roast Potatoes
Red Cabbage with Apple
Peas
Zabaglione
Shabbos Day:
Crackers, Guacamole, Egg and Onion, Chummus
Cholent Soup
Chicken Roll with Mincemeat
Sliced Turkey (Store Bought)
Yerushalmi Kugel (Store Bought)
Israeli Salad
Red Cabbage Salad
Treacle Tart and (Store-Bought)
Ice Cream
(Originally featured in Family Table, Issue 780)
Oops! We could not locate your form.
>