| Minhag Match-up |
"Rice Is Nice" Brunch Salad 
| March 17, 2021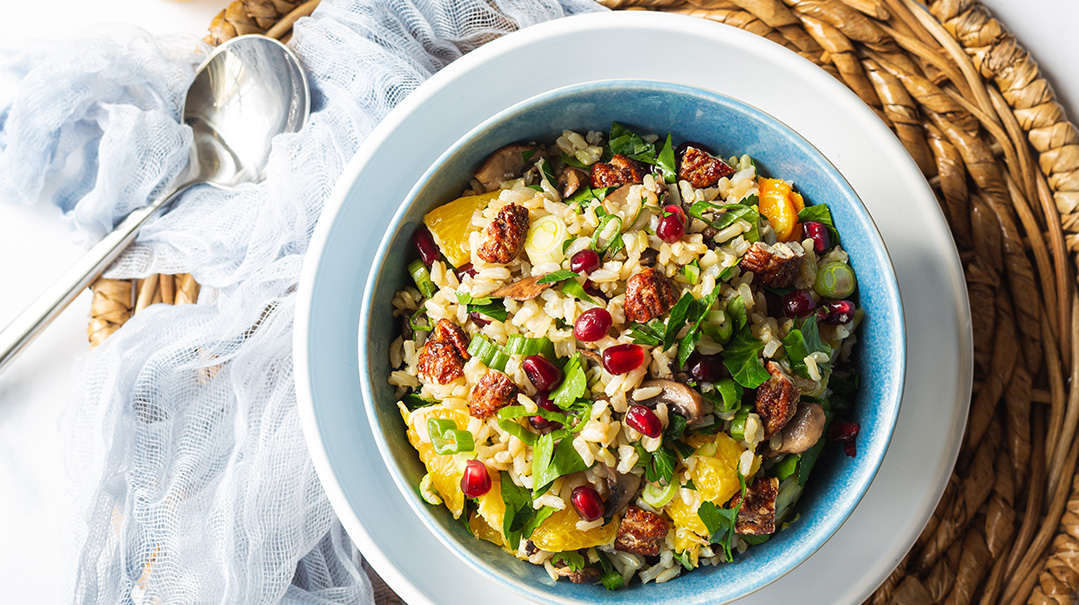 Food and Prop Styling by Goldie Stern
Photography by Moshe Wulliger
When I spent Pesach in Eretz Yisrael several years ago, I found it so amusing to watch Sephardi children munch on popcorn and Doritos on Chol Hamoed, as my family minhag doesn't go as far as eating gebrochts! This year I got to experiment with using rice and even mustard in this delicious addition to a brunch menu.
SERVES 4–6
1¾ cups water
4 Tbsp oil, divided
½ tsp salt
1 cup raw basmati rice
8 oz (225 g) button mushrooms, washed, thinly sliced, and patted dry
1 clove garlic, minced
salt and pepper, to taste
4 scallions, sliced
3–4 Tbsp chopped fresh parsley
⅓ cup pomegranate arils
1 navel orange, peeled and diced
½ Tbsp fresh orange zest
½ cup chopped honey-glazed pecans
DRESSING
3 Tbsp oil
2 Tbsp freshly squeezed orange juice
1 tsp red wine vinegar
1 Tbsp sugar
1 tsp lemon juice
1 tsp kosher l'Pesach imitation Dijon mustard
¼ tsp black pepper
¼ tsp cinnamon
In a medium pot, bring the water, 2 Tbsp oil, salt, and rice to a boil. Cover the pot with a tightly fitting lid. Turn the heat down to a simmer and cook for 15–20 minutes, until all of the water is absorbed and the rice is tender. If the rice is still too firm, add a few more tablespoons of water and continue cooking for a few minutes more. Remove the pan from the heat, and allow it to sit covered for 5 minutes. Fluff the rice with a fork and set aside to cool. While the rice is cooking, place remaining 2 Tbsp oil in a mediumsized frying pan. Heat oil to hot but not smoking, and add sliced mushrooms. Sauté mushrooms over high heat for 5–7 minutes or until they're soft, and the liquid has reduced. Add minced garlic and sauté another minute or two until fragrant. Season with salt and pepper to taste. Add the mushrooms to the rice and refrigerate until cool, at least two hours. Once the rice and mushrooms have cooled, add scallions, pomegranate arils, diced orange, and orange zest. Combine dressing ingredients and whisk well to emulsify. Pour over rice and toss to coat. Add chopped pecans immediately before serving.
See Sina Mizrahi's recipe here.
(Originally featured in Family Table, Issue 735)
Oops! We could not locate your form.
>