| Minhag Match-up |
Fruity Breakfast Pancakes | March 17, 2021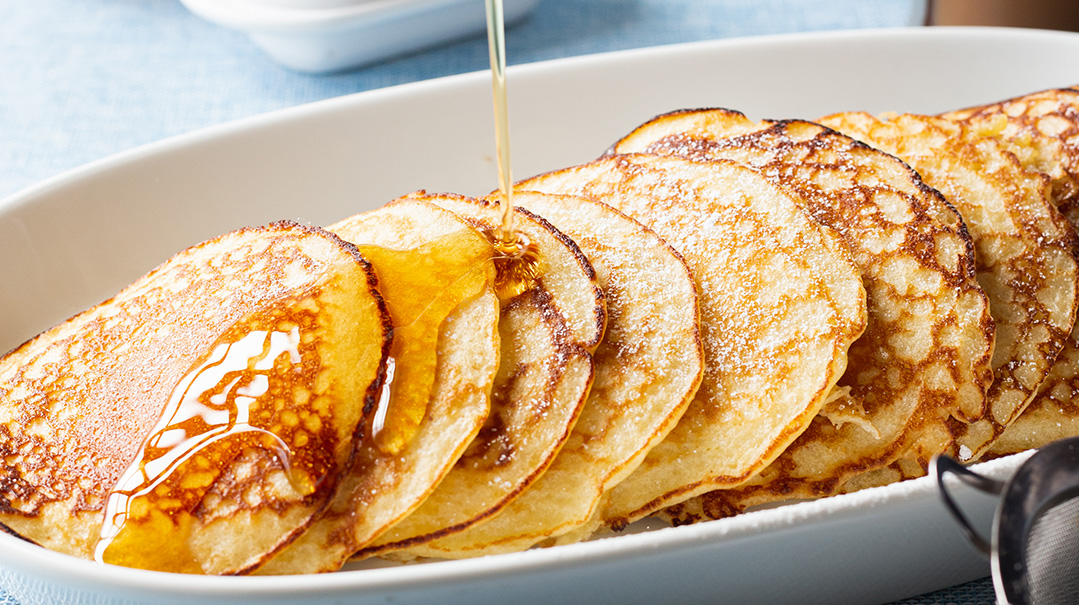 Food and Prop Styling by Goldie Stern
Photography by Moshe Wulliger
These fluffy, sweet pancakes are the perfect thing to serve for your hungry morning crowd. Since I swapped minhagim with Chanie (who uses almost nothing on Pesach!), I had to find a way to make these filling and tasty as well. Using somemashed potatoes and ground almonds inthese pancakes adds some substance, andthe grated apples and cinnamon provideextra flavor. They freeze well and can beeaten hot or at room temperature.
YIELDS APPROXIMATELY 2 DOZEN PANCAKES
4 eggs, separated
3 Tbsp sugar
1 green apple, peeled and coarsely shredded
¾ cup mashed potatoes
¼ cup ground almonds
¼–½ tsp cinnamon, to taste
oil, for frying
Beat egg whites until soft peaks form. Add sugar and continue to beat until stiff. In a separate bowl, combine remaining
ingredients with yolks, stirring until smooth. Gently fold in egg whites until combined. Heat a large frying pan with a bit of oil. Drop large spoonfuls of mixture into the pan to form pancakes. When the pancakes are beginning to set, flip and fry on the other side until golden, adding oil when necessary. Continue with remaining batter until done. Serve hot or at room temperature.
Note: You can try these with other fruit as well, such as blueberries and diced strawberries. If using strawberries, add another tablespoon of sugar to the batter.
See Chanie Nayman's recipe here.
(Originally featured in Family Table, Issue 735)
Oops! We could not locate your form.
>