| Minhag Match-up |
Hash Browns with Fried Egg
| March 17, 2021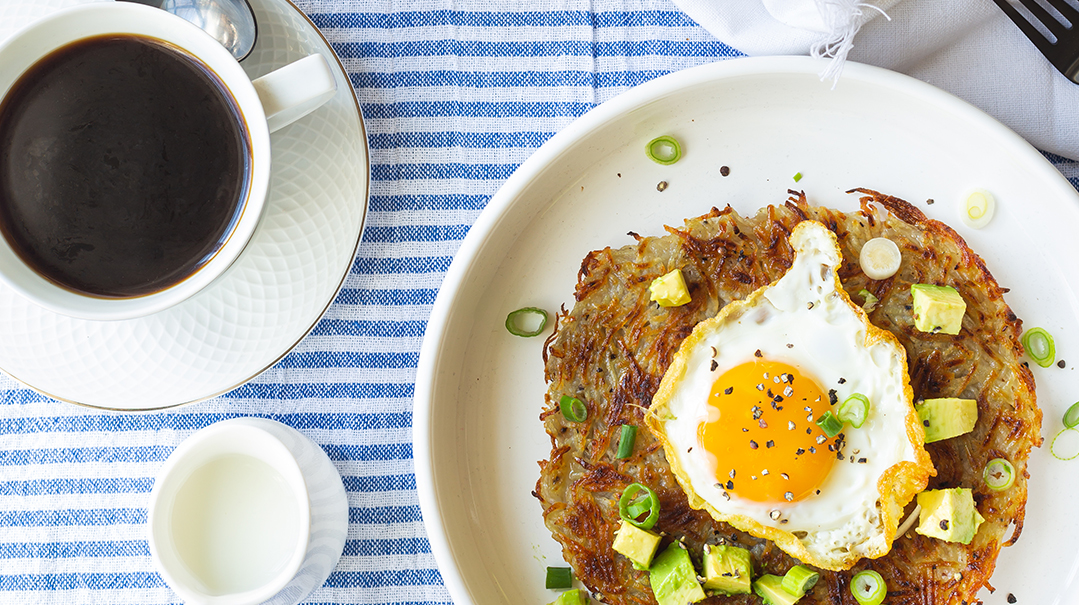 Food and Prop Styling by Goldie Stern
Photography by Moshe Wulliger
As much as we eat many things on Pesach that most people don't, I believe that Pesach is about simplicity. This is a brunch we (actually, husband duty) make every Chol Hamoed: hash brown eggs and all sorts of fresh salads, with avocado being a favorite. I'm happy Chavi Feldman and I both have brunch meals that look the same. I may have wanted to add cilantro (she only uses produce that you can peel), but scallions saved the day.
SERVES 1–2
1 russet potato, grated 

¼ tsp salt, plus more to taste

¼ tsp granulated garlic 

pinch of ground black pepper, plus 

more to taste

1 Tbsp oil, divided

1 Tbsp shredded mozzarella cheese (or 

any cheese you prefer)

1 egg 

¼ avocado, cubed 

1 scallion, peeled and sliced
In a small bowl, toss the potato with ¼ tsp salt, ¼ tsp granulated garlic, and a pinch of black pepper.
Heat a 10-inch (26-cm) nonstick skillet over medium heat until wisps of smoke appear, about 2–3 minutes. Add 2 tsp oil and swirl to coat. Add seasoned potatoes and firmly press down in an even layer. Reduce heat slightly and cook for 7 minutes, until the underside is deeply browned and crispy, pressing down occasionally to get a hard sear. Using a spatula, flip, and sprinkle cheese over the hash brown. Cook another 5 minutes. Transfer to a plate. Reduce heat. Add another 1 tsp oil. Crack egg and fry until the edges crisp and the white sets. Top hash brown with egg. Add avocado cubes and season with salt and pepper. Garnish with scallions. Serve hot.
See Chavi Feldman's recipe here.
(Originally featured in Family Table, Issue 735)
Oops! We could not locate your form.
>