| Bakeaways |
Lemon Rugelach
| February 1, 2022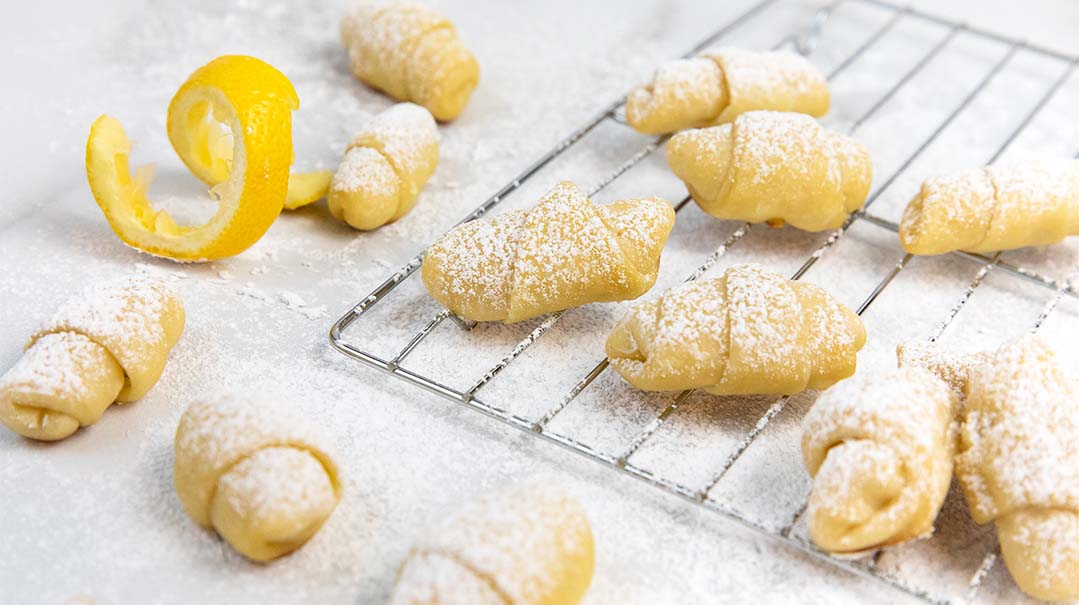 I'm pretty sure my most tried-and-true recipes are the ones I collected when I lived in Eretz Yisrael just after I got married. I'm not sure if it's due to the recipes themselves or to the fond memories I have attached to them!
This is a take on a recipe I got when I lived in Israel. Back then, they were a staple in my freezer. I kept them there because they were inhaled if left out on the counter. Truthfully, they were just as delicious from the freezer, so it didn't help much. What's magical about this recipe is that although it's pareve, it somehow ends up tasting dairy.
(Shelly Strom, it's been more than 20 years, but your name is still on my recipe card!)
Tips
This recipe is easily doubled and freezes very well.
The dough will be sticky when it's first mixed. Allowing it to sit in the refrigerator will help firm it up so it's easier to roll out.
When rolling, place a piece of parchment under the dough and top with a second piece of parchment paper. This will help avoid the need for adding extra flour. You may need to add just a bit, but you don't want to add too much or it will make the dough tougher.
YIELDS 6 DOZEN MINI RUGELACH OR 4 DOZEN MEDIUM SIZED
Dough
1 Tbsp dry yeast
2 Tbsp sugar
6 Tbsp warm water
1 cup (2 sticks) margarine, room temperature
2 eggs
pinch salt
3½ cups flour
Lemon Syrup
¾ cup lemon juice
3 cups water
3 tsp vanilla extract
2 cups sugar
Topping
½ cup confectioners' sugar
In a small bowl, combine yeast, sugar, and water and let sit for 5–10 minutes, until foamy.
In the bowl of a mixer, beat margarine until creamy, scraping down the sides of the bowl as needed. Add eggs one at a time, mixing between each. Add salt and then alternate between flour and yeast mixture. Mix until you have a nice dough. Wrap and refrigerate for 1 hour.
While the dough is resting, prepare the syrup: Combine all ingredients in a small saucepan and bring to a boil. Remove from heat and allow to cool.
Preheat oven to 350°F (175°C).
Divide dough in half. Roll each half into a rectangle, approximately 17x11 inches (43x28 cm). Cut the rectangle into 3 long strips. Cut each rectangle into triangles — 12 triangles for mini rugelach or 8 for medium (I prefer the mini).
Working with one triangle at a time, fold in the bottom two corners of the wide end and roll up towards the narrow point. Place on a lined cookie sheet, leaving 1 inch (2.5 cm) between them. Bake for 10 minutes for mini rugelach, and 1–2 minutes longer for regular size. Don't overbake, or they'll dry out.
Remove rugelach from oven and dunk them in the lemon syrup to fully coat. Remove from syrup and place on a rack to dry. Dust the tops with confectioners' sugar. Enjoy!
Note: If freezing the rugelach, dust them with some fresh confectioners' sugar when defrosted.
(Originally featured in Family Table, Issue 779)
Oops! We could not locate your form.
>