| Bakeaways |
Rocky Road Oatmeal Cookies
| December 14, 2021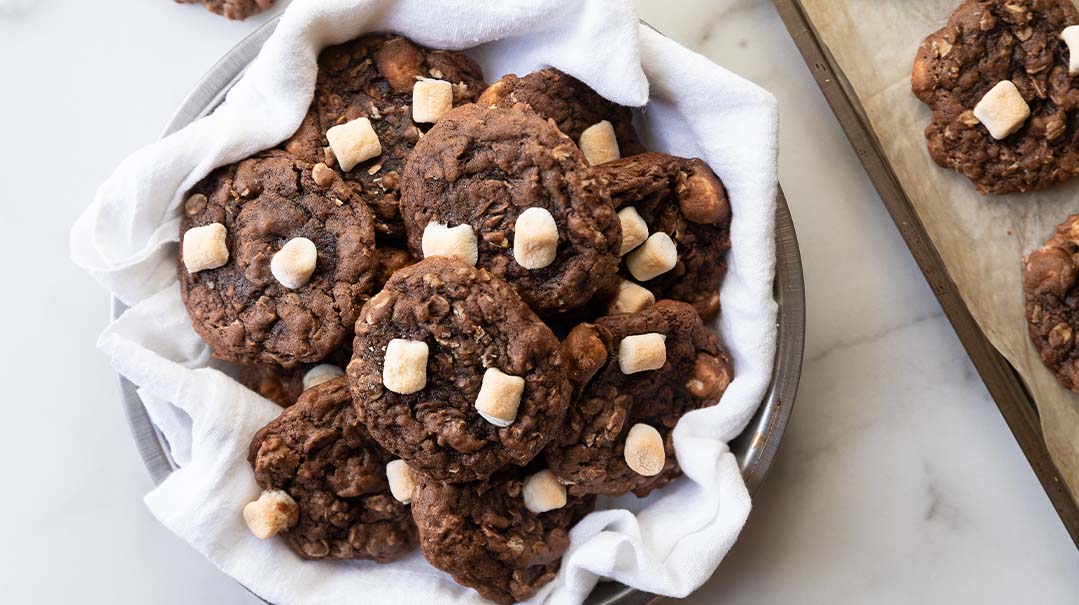 Photo Credit: Saraizel Senderovits
When Chanie asked me to write about oatmeal cookies this month, I was a bit stumped. Soon after starting this column, I came up with an oatmeal cookie that was really well received… So what could I do different this time?
When I mentioned the assignment to my talented photographer Saraizel, her first reaction was "Rocky Road," and I thought that was genius. The chocolate hides the whole wheat flour and oats, and which kid doesn't love marshmallows?
My requirements for this recipe was that it needed to be a one-bowl, no-mixer, no-margarine recipe. I'm happy to report that these are kid (and adult) approved!
Rocky Road Cookies
YIELDS 2 DOZEN
¾ cup oil
½ cup white sugar
½ cup brown sugar
2 eggs
2 tsp vanilla extract
1½ cups whole wheat flour
2 Tbsp cocoa powder
1 tsp baking powder
1 tsp baking soda
½ tsp salt
1½ cups old-fashioned oats
½ cup mini marshmallows, plus extra for topping
In a large bowl, whisk together the oil, sugars, eggs, and vanilla. Add flour, cocoa, baking powder, baking soda, and salt. Mix until well combined. Stir in oats and marshmallows.
Refrigerate for a minimum of 1 hour.
Preheat oven to 350°F (175°C). Line baking sheets with parchment paper.
Scoop dough onto prepared sheets, leaving 2 inches (5 cm) between scoops. Top each scoop with a few extra marshmallows. Bake for 11 minutes.
Tips
>You can skip the refrigeration step and bake the cookies right away, but they will be flatter and spread more.
>I left out nuts, which are traditional in Rocky Road desserts, so that these are school safe for the kids, but feel free to add a handful of chopped nuts if your family enjoys them.
>Chocolate-based recipes are a great place to sub whole wheat flour because your kids won't notice the difference. I personally prefer white whole wheat flour, which is slightly milder.
>For extra chocolate goodness, coarsely chop a bar of good-quality chocolate and stir into the dough with the marshmallows.
(Originally featured in Family Table, Issue 772)
Oops! We could not locate your form.
>