| Bakeaways |
Homemade Marshmallows
| March 1, 2022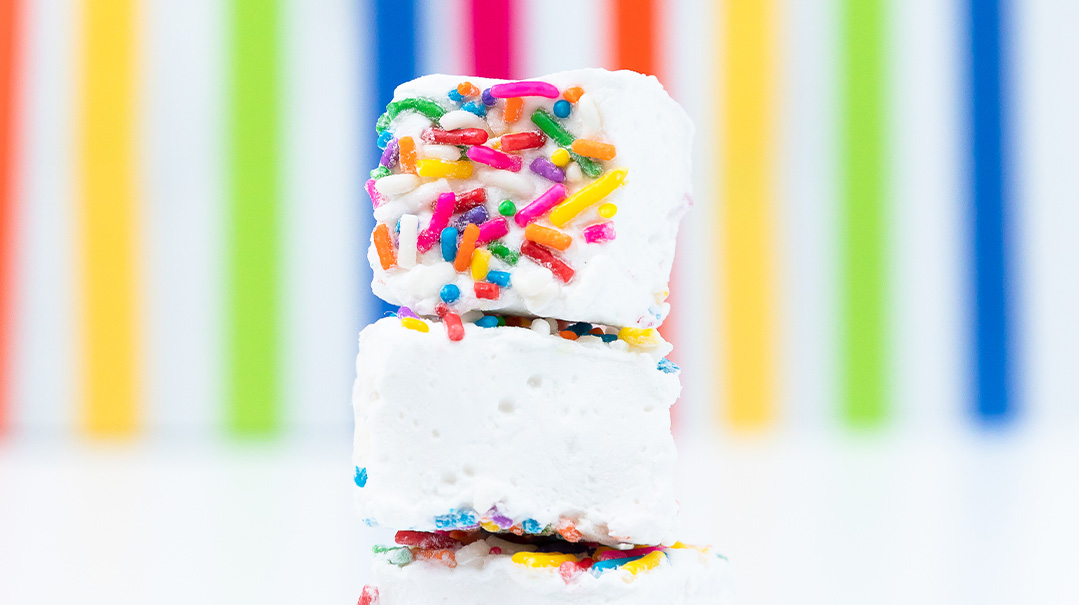 Photo Credit: Saraizel Senderovits
Homemade marshmallows! But why?? Why would I make marshmallows from scratch??
For one, they're tastier than the store-bought versions. And then there are the flavor options — pretty much endless! Start off with the classic vanilla, and once you get the hang of it — I promise it's easier than it sounds — let your imagination go wild!
A few important pointers: Read through the directions before you start. Have your ingredients and tools ready, and it will go smoothly. A candy thermometer is a pretty important tool here, but if you don't have one, read through the tips for how to make the recipe without one.
Tips
Blooming the gelatin is an important step. It dissolves the gelatin so you're not left with lumps in the marshmallow mixture. The gelatin will firm up, but will be dissolved when mixed with the hot sugar syrup.
Marshmallows have an extremely long shelf life. They're the perfect treat to prepare ahead for mishloach manos. Store in an airtight container or in a sealed bag. Do not refrigerate or freeze.
You can make these in either a square pan or a 9x13-inch (23x33-cm) baking pan. They'll be slightly lower in a 9x13, which is why I recommended that size here.
If you don't have a candy thermometer, keep a bowl of cold water near your pot. After 5 minutes of cooking, drop a small amount of syrup into the cold water. If you can form it into a pliable ball that holds its shape, it has reached the right temperature.
Marshmallow Base
YIELDS ABOUT 70 MARSHMALLOWS
14½ oz (410 g) white sugar (about 2 cups)
¼ cup clear corn syrup
1 cup water, divided
7 tsp gelatin
pinch salt
2 tsp pure vanilla extract
Dusting Powder
½ cup confectioners' sugar
¼ cup cornstarch
sprinkles (optional)
Place sugar, corn syrup, and 0.5 cup water in a pot. Stir until sugar and water are mixed together. Heat over medium-high heat until it starts to come to a boil. Cover pot, lower heat to medium, and let cook for 2 minutes.
Attach a candy thermometer to the side of the pot (make sure the tip of the thermometer is submerged in the liquid but not touching the bottom of the pot). Let the mixture come to a temperature of 245°F (118°C). Remove pot from heat and allow to cool just until the bubbles disappear.
While the sugar is cooking, mix gelatin and remaining 0.5 cup water in the bowl of your stand mixer. Stir to combine and then allow to "bloom" for at least 10 minutes.
Turn mixer to medium-low speed. Start to mix while slowly pouring the sugar syrup down the side of the bowl (this prevents the gelatin from being burned by the hot syrup). Add salt and increase the speed to medium-high.
Keep mixing for 6–10 minutes until the mixture is white and fluffy and has tripled in size. Add vanilla (and any flavoring or coloring) and whisk for an extra minute.
Meanwhile, prepare the pan and the spatula you will be using. Spray a 9x13-inch (23x33-cm) baking pan with cooking spray, then line it with parchment paper. Press down on the parchment paper so it sticks to the greased pan and tuck it neatly into the corners. Grease the spatula as well. Combine the confectioners' sugar and cornstarch and sift a light coating of this mixture all over the bottom of the pan. If desired, add sprinkles here and again on top.
Using your greased spatula, scrape the marshmallow mixture into the prepared pan. Sift a light layer of dusting powder over the top of the mixture and allow to set for at least 6 hours.
Using a greased knife or kitchen shears, cut the marshmallows into 1-inch (2.5-cm) squares and toss with more dusting powder. Store in an airtight container.
Note
Flavor possibilities are endless. Here are a few options:
Lemon marshmallows: Add zest of 1/2 lemon to the sugar syrup and substitute lemon juice for 1/2 cup of water in the syrup. Add a drop of yellow food coloring when adding the vanilla.
Chocolate marshmallows: Reduce water in the sugar syrup to 1/4 cup. Dissolve 1/3 cup cocoa powder in 1/4 cup hot water. After adding the sugar syrup to the gelatin, mix for 1 minute and then add cocoa mixture and continue to mix. Replace white dusting powder with a mixture of 1/4 cup confectioners' sugar and ¼ cup cocoa powder.
Strawberry marshmallows: Pulse freeze-dried strawberries in a food processor to a fine powder to measure 1 cup. Add 1/4 cup to the dusting powder and the remaining 3/4 cup when adding vanilla to the marshmallow mixture.
(Originally featured in Family Table, Issue 783)
Oops! We could not locate your form.
>