| Bakeaways |
Rosette Fritters
| November 16, 2021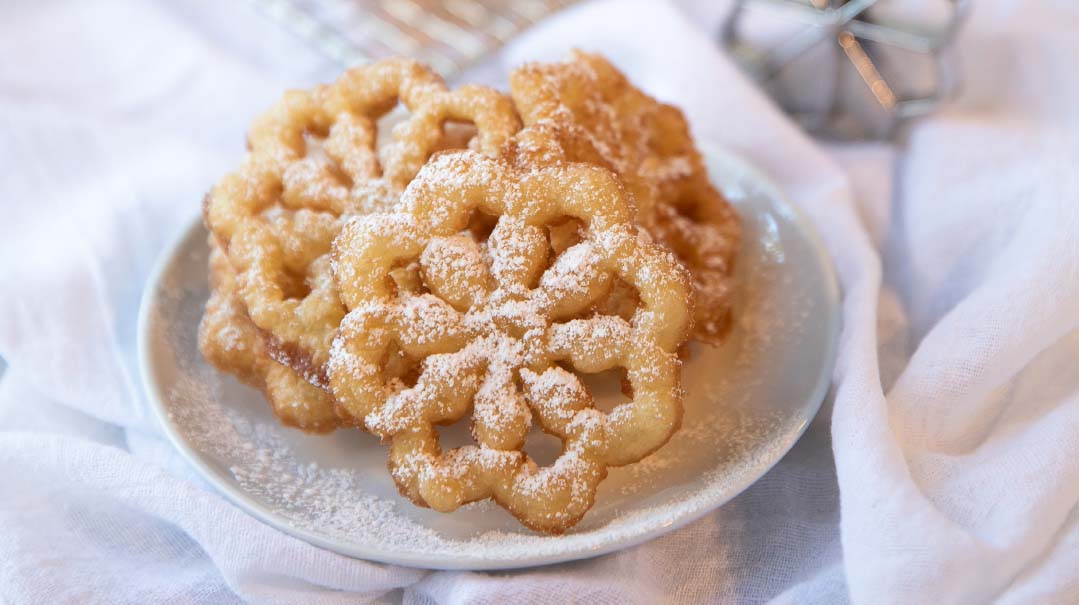 Ahhh, Chanukah, the season of fried everything!
With eight days and nights to sample every flavor of doughnut, at some point you too may be ready for a change. And while I'm not giving up on doughnuts just yet, I was looking for a lighter option. For many years I've been seeing different versions of these rosettes, and I just assumed they were difficult to make. I finally decided to give them a try and was blown away by how simple they actually are. They do take a bit of time, though — you'll need about an hour to fry them all.
You'll need a rosette iron to make this recipe. They can be found on Amazon or at housewares stores and are fairly inexpensive. (The Fox Run brand is under $15 and works perfectly.)
A candy thermometer is also essential. Keeping the oil at a steady temperature will ensure perfect results.
Rosettes
YIELDS APPROXIMATELY 5 DOZEN ROSETTES
2 eggs
1 Tbsp sugar
¼ tsp salt
1 cup sifted flour
1 cup milk
1 tsp vanilla extract
zest of 1 lemon
oil, for frying
confectioners' sugar, for serving
In a medium-sized bowl, mix together eggs, sugar, and salt. Add flour, milk, vanilla, and lemon zest. Mix well. If your batter is lumpy, run it through a sifter.
In a shallow pan, heat oil to 350–365°F (175–185°C). Dip the rosette iron into heated oil for a minute and dab on a paper towel.
Dip the rosette iron into the batter, just enough so that the batter reaches the top of the rosette form but doesn't completely cover it, or your rosette won't come off the iron. Quickly dip the iron into the oil. The batter will quickly crisp up and easily slip off the iron. Fry for about 30 seconds until golden brown and remove to a rack or a paper-towel-lined tray.
Repeat until all the batter is fried. Serve with a dusting of confectioners' sugar and enjoy!
Tips
This is a great time to use the carrot hack. Add a small piece of carrot to your pan while frying. It magically keeps the oil nice and clean.
Although these are most delicious fresh, do not make them while your family is around, or they'll be gone before you're done making them. They can be made ahead and frozen. Defrost, warm for a couple of minutes at 350°F (175°C), and dust with confectioners' sugar.
If the rosettes aren't coming out crispy, they may be cooking too quickly. Lower the temperature of your oil just a bit.
(Originally featured in Family Table, Issue 768)
Oops! We could not locate your form.
>