| Man With a Pan |
It's in the Genes
| June 21, 2022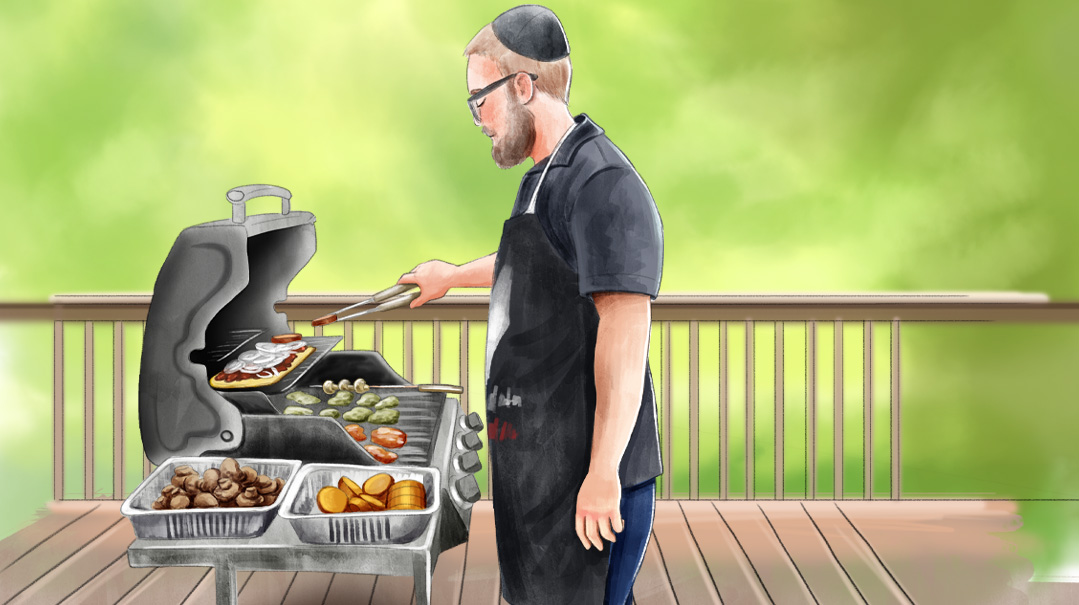 Illustration by Lea Kron
The Man
Shia Goldberger
Age 27
Married with 2 kids
Lives in Airmont, NY
Since I was a young child, I've always loved cooking and experimenting in the kitchen. I've learned this from my mother, with her passion for cooking and all things kitchen-related. I love trying new recipes, as well as making the old tried-and-true traditional foods. That's why I've started my own food blog called krispy_kishka, where I share my recipes and pictures for all to enjoy.
In general, I feel a special connection to Shabbos cooking. My grandfather, a"h, loved Shabbos, and his entire week revolved around Shabbos. He used to start planning and shopping for Shabbos on Sunday; everything he bought all week was with Shabbos already in mind. It's no surprise that every Friday by chatzos, he was fully ready for Shabbos. My entire family takes after him with his love for Shabbos, and we also think about and prepare for that special day all week long.
When Mishpacha reached out and asked if I would take on this Man With a Pan challenge, I happily agreed. I had the honor of inviting my parents and siblings for Shabbos, serving the dual purpose of giving my mother a break while helping my wife with all the cooking. (I often help cook for Shabbos, so it's more my mother who was getting a break than my wife!)
Planning Means Prepared
The first step was to plan a menu, so trying to prepare as much as I could in advance, I started my planning on Tuesday. I wanted to include some traditional heimish recipes and some with a twist, having in mind all the while which foods my parents and siblings enjoy, as well as my own family's favorites.
The menu plan had to include to'ameha, of course, which has been a tradition in my house ever since I can remember. Since one of the perks of living in Monsey is havingthe grill right outside our kitchen door, I decided to make some specialty burgers and steaks for all to enjoy as they arrived before Shabbos.
We decided to do our shopping on Wednesday, so that my wife and I would be able to start our preparations that night and finish a good part of it by Thursday night. With our menu all planned, we headed to Evergreen in Monsey for our shopping trip. My daughter wanted to join in the fun, so she too could be part of getting ready for our special guests.
The Best for Shabbos
We first went through the meat department, ready to pick out the best and nicest meats. Murphy's Law, the oyster steak, which is one of my mother's favorites and what I'd had in mind for to'ameha, was sold out, so we settled on a NY strip steak — which, to my surprise, actually turned out to be quite good! We picked up the salmon and some different flavors of herring, and then went through all the different dips to get the basic staples and had some fun picking out a few new ones. Next on the list was produce, and we spent quite some time making sure we got the freshest and nicest fruits and vegetables. By the time we got to the checkout counter, we had an overstuffed wagon with all the things on our list plus some extra treats l'kavod Shabbos!
Thursday night, as soon as I got home from work, I started my prep, marinating all the meats and peeling the apples for the apple kugel. There may or may have not been some little taste-testers (aka the kiddies) who took a bite or two out of some of the apples, but I was sure my parents wouldn't mind the extra love in the kugel! The liver came out to absolute perfection — well, I kinda did a taste-test there to make sure! Before finishing for the night, I made sure I had the beans prepped for the cholent, the kishka in the freezer, and all meats ready — when I'd come home from work on Friday, I'd be able to finish those few things right away.
The Last-Minutes
Inevitably, as you could have guessed, it rained on Friday...but that didn't stop me and my grill! I stood in the rain and juggled the food and umbrella, and made sure all was done to perfection. Baruch Hashem, it all came out just right.
I set the crockpot on high, and while waiting for the cholent to heat up, I put up my Moroccan salmon. I like this dish cooked fresh and served hot Friday night.
By the time my parents arrived, all the cooking had been done, the table was beautifully set, and the house had the wonderful smell of Shabbos. I enjoyed serving them all the goodies that I'd prepared, and the food was a real success. The best parts of all were that my mother got a break and that we got to spend amazing family time together. There was just one thing I missed — in all my frenzy I'd forgotten to put the kishka into the cholent! Oh well, I guess that'll give them a good excuse to come back another week!
The Plan
Challah
(definitely my wife's!)
Moroccan Salmon
Gefilte Fish
Dips
(store bought)
Chicken Soup and Potato Kugel
(my wife's)
Grilled Skirt Steak
Garlic Green Beans
Baked Rice
Baked Apples with Granola and Store-Bought Ice Cream
Shabbos Lunch:
Herring
Fish
Egg Salad
My Mother's Best Sautéed and Chopped Liver
My Famous Cholent
(without signature kishka)
Homemade Meat Board
My Mother's Apple Kugel
(our family's favorite)
The Mother's Take
I had the most amazing Shabbos — the food and the accommodations were better than any hotel's! The best part is that every bit of it was prepared with such heart. I'm so grateful to Hashem to have such amazing children.
There's nothing like showing up after a long drive and being served such a delicious spread. If you've never tasted a Krispy Kishka Specialty Burger — as my son calls it — you don't know what you're missing. The to'ameha delicacies my son prepared were beyond any expectation. I know he was originally upset when he couldn't find my favorite cut of meat, oyster steak, but the NY strip steak was a very good contender.
The Shabbos meals were also really successful — from the delicious homemade challah my daughter-in-law baked, to every single course that was served. It was really nice seeing some of my favorite recipes being made by the next generation.
It's inevitable that one thing should go wrong, and I know my son was upset about that missing kishka, but I explained to him that life's just like that... I have it all the time, and we just cover up for it by pretending it never happened. Although if he had to forget something, boy, was I glad that it was the kishka in the cholent. Between you and me, cholent isn't my favorite — but I wouldn't tell him that ;).
I left after Shabbos feeling rejuvenated, overstuffed, and with a heart full of joy. It's so beautiful seeing your passions being carried into the next generation: my love of the kitchen and of cooking, especially for Shabbos and Yom Tov.
Fresh Fruit Krispy-Kishka Kishka
This recipe can easily be doubled or even tripled.
1 cup flour
½ cup oil
¼ cup water
½ cup sugar
2 Tbsp paprika
½ tsp salt
dash pepper
Mix all ingredients. Roll into parchment paper and freeze. Put into your cholent pot or crockpot when the cholent is cooked.
My Mother's Apple Kugel
7–10 Cortland apples, sliced
cinnamon, for sprinkling
Batter
2 cups flour
2 cups sugar
6 eggs
1½ cups oil
2 tsp baking powder
4 tsp vanilla sugar
Preheat oven to 350°F (175°C).
Place sliced apples in a baking pan. Sprinkle cinnamon on the apples.
Mix batter until combined. Pour on top of the apples.
Bake for about 45–60 minutes. Do the cake-tester test to make sure it's done — the top will be a bit crispy.
(Originally featured in Family Table, Issue 798)
Oops! We could not locate your form.
>