| Man With a Pan |
How I Met the Shabbos Challenge
| April 7, 2021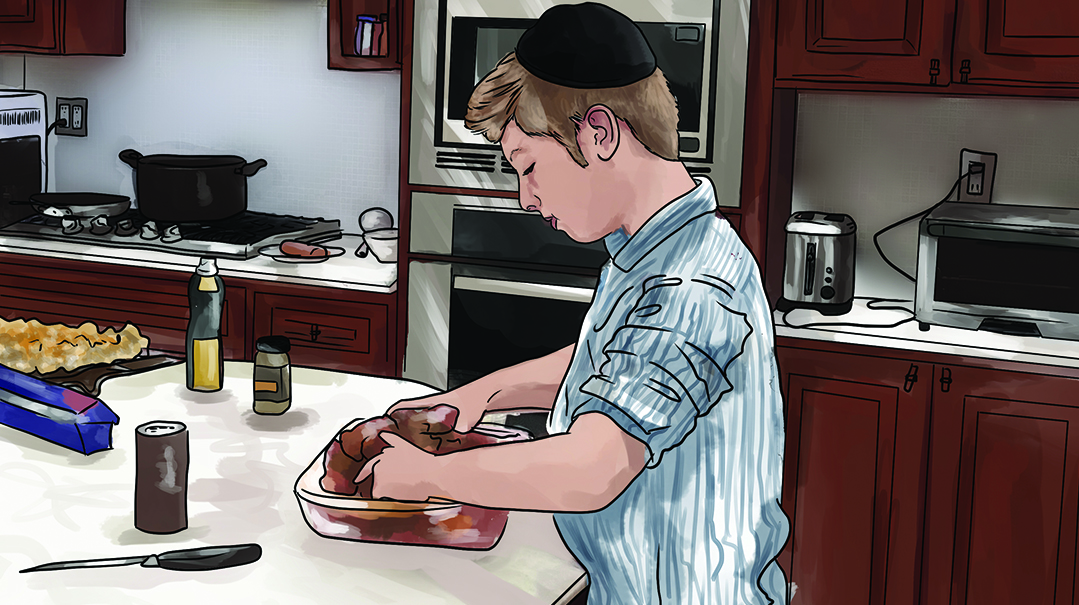 Illustration by Esti Friedman
The Boy
Yechiel Eisenberg
age 11
Manhattan 
6th grade
cooking for two parents, two little brothers, one guest (on Friday night)
I can totally do a Shabbos just like Mom's,with a bit of change-up for fun
It all began in July 2020, when my mother gave me a Man with a Pan article to read. From then on, I read every one... and the rest is history. My mother thought it was a great idea for me to try it myself, as long as I followed the rules (see below). 
My mother loves reading cookbooks but never makes anything out of them(she only uses them "for inspiration"),so I decided to actually make some things from a cookbook. I considered making lime cookies for dessert, but Ibaked them on Chanukah and decid-ed that they are a big patchkeh to do together with so much other stuff, soI would make chocolate ramekins in-stead. Since my mother makes fish, cel-ery root, potato kugel, carrots, cauli-flower, and strip steak every Shabbos,I would do those also. Cholent seemed too complicated to me, so I decided to make flanken, which my mother servesevery once in a while for a change from cholent. I decided to add ramekins and maple chicken to make it more interesting and different.
On Thursday, our neighbor from across the street let us know that her COVID test came back negative, so she could come for Friday night — hooray!
The Rules
I had to get the shopping list ready by Wednesday morning, since we live in Manhattan and if we want the Thursday order from Breadber-ry, it has to be placed by Wednesdayafternoon.
I was allowed to cook starting as soon as I finished my homework onWednesday. After cooking, I had to do some basic cleaning up and put-ting things away, but the housekeep-er could help with the rest.
Only the challos, dips, and herring would be store-bought. My mother would make the (best) chicken soup(in the world), but I would do the rest.
Most importantly, it couldn't interfere with homework, and I had a Chu-mash test coming up, so I needed to review as early as possible to make sure I had time to cook.
The Plan
I'd begin with the chocolate ramekins and the maple sauce for the chicken. On Thursday, I'd buy pre-checked cau-liflower and asparagus on the way back from school and make the carrots and cauliflower before bed. I'd make the ku-gel either on Wednesday or Thursday,and marinate the chicken. On Friday Morning, I'd make the salmon and the flanken. After school, I'd make the stripsteak and grill the chicken.
Step by Step
Tuesday: I prepared the shopping list(which ended up not being as hard as I Thought). The only recipe I needed newtypes of ingredients for was the ma-ple chicken, for which we needed hotsauce, maple syrup, and dried oregano. Then I studied for my Chumashtest and went to bed.
Wednesday:While I was in school, my mother placed the grocery order. Af-ter school, I made the kugel and the sauce for the maple chicken: tomato puree, maple syrup, hot sauce, apple cider vinegar, salt, and oregano. Thesauce seemed to have too much toma-to puree compared to the other ingre-dients, but I decided to trust the recipe.I often help my mother make the kugel, so this one was easy: peel potatoes and onion, drop them into the shredder (I know it's not really called that, but I like that name), add eggs,oil, salt, pepper — done! Then I stud-ied some more for my Chumash test.
Thursday:The grocery order arrived while I was in school. After school, Iwalked with a friend to Kosher Market Place, our local kosher store, andfound they didn't have asparagus.They did have checked cauliflower,so I bought three boxes.When I came home, I realized that my mother forgot to order drumsticks for my maple chicken, so we decided to use chicken steaks instead, since there were a lot of them. I put them in a ziplock bag with the marinade and smushed it around.Later, I made the chocolate rame-kins (my mother's secret recipe from when she was young: underbaked Duncan Hines brownie mix in a ramekin with some good quality choc-olate in the middle after it's finished,and I added a pinch of smoked Maldon Salt for a gourmet touch). I made for ramekins for my family (sorry, baby, none for you), one for our guest, and one extra, which I ate for dessert that night (to make sure it came out good —I let my younger brother lick the batter). Then I cut the flanken (I always feel like a shochet when using the big knife) and smeared Trader Joe's co eerub all over it.Next I made the cauliflower and car-rots. It wasn't very hard, just cover an oven tray with aluminum foil, spray with olive oil, spread the vegetables on top, add some more olive oil and spices(garlic salt for both, and turmeric for the cauliflower), and then put it in the oven — just like my mother makes it.I marinated the chicken and went to bed. Good night, chicken.
Friday: Before school (half a day, no English,yay!), I put the salmon in the oven (I just sprinkled Trader Joe's Chili-Lime Spice On it) and took it out 20 minutes later,which ended up being 25 minutes later,because it didn't look baked enough to me. Afterwards, I put the flanken in the oven. It needs to be in there for a longtime, so my mother took it out while Iwas in school.When I came back from school, I checked how the flanken looked (it looked good!) and made the celery root,which is glazed with oil and sprinkled with salt and roasted in the oven (you need to stab it many times with a knife for the oil to go in, which is always fun to do). Then I put a chocolate squares inside each ramekin.(If you were wondering if a celery root is actually the root of a celery and,if so, do we eat it, then the answer is:Yes, it is, and yes, we do eat it, and it is pretty good, if I may say so myself. Mymother once made it almost as a joke because she saw it in a cookbook and it seemed funny and easy — and we end-ed up loving it.)Since I took over the cooking, my mother had some time to go to TraderJoe's (there's a very, very long line to get in because of COVID, so it's been a while since she had time to go). Shecame home with three tubs of pareve vanilla ice cream and also got some baby zucchini to bake instead of the asparagus. I decided to grill it in the grill pan instead of baking it. After-wards, I grilled the chicken in the same pan. I was worried about the spicy flavor, but once it got grilled it turned out to be fine. Last I made the strip steak,searing it in the pan and using a meat thermometer to make sure it was ready(we like it medium rare, so it's important to be precise). Then it was time for a shower.
How It Went Over
Everything came out fine. The carrots dried out a little because they were in the oven with the cauliflower, which I Wanted really toasted. We decided that it was "carrot licorice." The chicken was hard to get right, and all the chicken steaks didn't fit in the pan together, so I had to do it in batches. I thought the strip steak came out the best, and the ramekins were a close second — chocolate never fails! Third were the flanken and baby zucchini (yes, it was that good). The soup was amazing (why am I not surprised?).I was so excited to do Man with a Pan,and I enjoyed it a lot too.I'd probably make Shabbos once in awhile for fun, but not on a weekly basis(don't even try to convince me).Last but not least, thanks to my mother for finding time to edit this article.
P.S.: I got a great grade on myChumash test!
A Note from Mom
When Yechiel suggested taking on a Man with a Pan challenge, I was all for it — as long as he waited for our quarantine to end so I'd have cleaning help! I basically make the same food every week, butYechiel wanted to switch things up,so I dusted o my "special" chocolate ramekins recipe instead of my usual apple crumble dessert, and he picked anew chicken recipe to cook. I was so proud of how he pulled everything together! The food was delicious, especially the zucchini. I usually bake it, but Yechiel had the idea of grilling it in the grill pan, and I'm definitely making it his way next time.The biggest challenge was helping him with the planning — remembering what needs to be done every day and keeping track of what's in the oven and when. I Was more than happy to help with the advice, especially since I didn't have to do any of the cooking.I can't say I was surprised that Yechiel Did such an amazing job — he's a great cook — but it was still impressive that he took on a whole Shabbos with such success.
The Plan
Friday Night:
Challah with Store-bought Dips
(Chummus and Matbucha)
Roasted Celery Root
Salmon
Chicken Soup
(Made by Mommy)
Maple Chicken Steak 
Strip Steak
Potato Kugel
Roasted Carrots
Grilled Baby Zucchini
Chocolate Ramekins and Pareve IceCream
Fruit andBerries
Shabbos Lunch:
Challah with Store-bought Dips


(Chummus,Matbucha, and Pesto)

Store-boughtHerring


(2 types)

Maple Chicken Steak 
Flanken 
Potato Kugel 
Roasted Cauliflower 
Pareve IceCream 
Fruit and Berries
Easy-Peasy Grilled Zucchini
(No, that's not a typo. I just had to make it rhyme.)
baby zucchini (available atTrader Joe's)

olive oil spray

garlic salt
Spray with olive oil and sprinkle with garlic salt. Grill for 2–3 minutes on each side.(Easy, isn't it?)
(Originally featured in Family Table, Issue 737)
Oops! We could not locate your form.
>