| Hostable |
Friday Night Seudah for Company
| January 20, 2021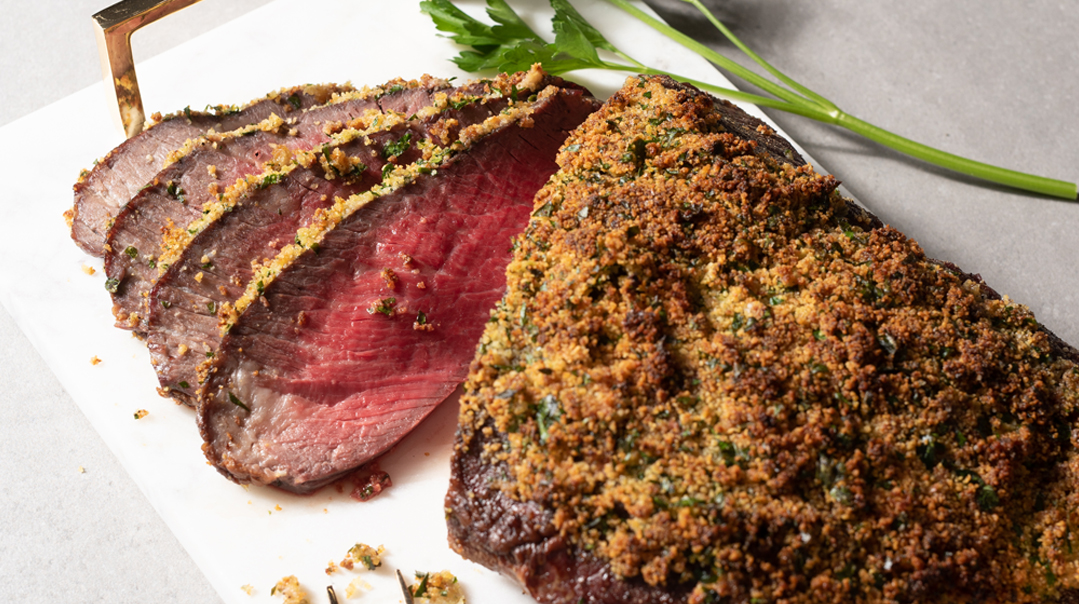 I like to have company Friday night, which will be a nicer meal, rather than Shabbos day. Here's how I do it:
I bake fresh challah every Friday. My kids love my recipe because it's a very crispy, airy challah. Along with the challah, I'll usually serve a side of salmon, either a teriyaki or a lemon dill recipe. Some weeks I do gefilte fish. I make roasted eggplant served with techinah and some herbs, a multicolor tomato salad, chickpeas and chummus, garlic dip, jalapeño dip, tomato dip, matbucha, and pickle dip. (If I'm not having company, I'll skip the salads and the salmon, and just do challah, gefilte fish, and dips.)
The next course is chicken soup. My kids need their lukshen and matzah balls, and I always make kreplach. I put turkey necks in the soup also because each kid likes their own turkey neck.
For the main, my go-to roast recipe is my crumb roast. I got it from a friend years ago, and it's delicious. I'll usually serve it with a parsnip puree underneath. I often make either a spatchcocked or a whole roasted Fabio chicken with roasted lemon, sage, rosemary, and garlic in the cavity, which is always a big hit. Then I do a roasted vegetable board, which looks beautiful, using baby tomatoes on the vine, white asparagus, broccoli, sliced beets, roasted colorful mini carrots, and portobello mushroom caps. For the sides, I'll make Indonesian rice, which is rice with ground beef in it, or roasted honey onion fingerling potatoes with a strawberry apple crisp.
Tip:
If you're cooking something that's supposed to be served rare, cook it right before Shabbos, take it out of the oven right before you light candles, and keep it either on the corner of the blech or on the counter. If you leave it on a heat source, it will keep cooking.
Crumb Roast
1 French roast
4 4 frozen cubes garlic
¼ cup oil
½ cup plain bread crumbs
salt and pepper, to taste
1 handful freshly chopped parsley
Preheat oven to 400°F (200°C).
Heat the oil in a frying pan and add the garlic. Heat until the garlic is sizzling and melted. Remove from heat and add bread crumbs, salt, pepper, and parsley.
Season the French roast on both sides with salt and pepper, then spread the crumbs all over the roast. Bake uncovered for 50 minutes to 1 hour, depending on how rare you want it. Serve immediately, or keep on blech but away from heat source until ready to serve.
Fabio Chicken
1 whole chicken
1 whole lemon, cut in half
1 handful garlic cloves
a few sprigs of rosemary
a few sprigs fresh sage
kosher salt and black pepper, to taste
Clean out the cavity of the chicken. I take a whole lemon, cut in half, and grill it on a grill pan until it has nice brown grill marks. Put the lemon, garlic, and herb inside the cavity of the chicken. Spray the chicken with cooking spray and sprinkle with kosher salt and black pepper. Roast it uncovered on 475°F (240°C)  for 25 minutes. Lower oven heat to 375°F (190°C) and cook for another 25 minutes.
When you reheat the chicken, reheat it uncovered or only covered halfway. You want to have steam coming out so that it stays crispy.
(Originally featured in Family Table, Issue 727)
Oops! We could not locate your form.
>