| Hostable |
Chocolate Marshmallow Brownies with Nanette Stoll
| May 31, 2022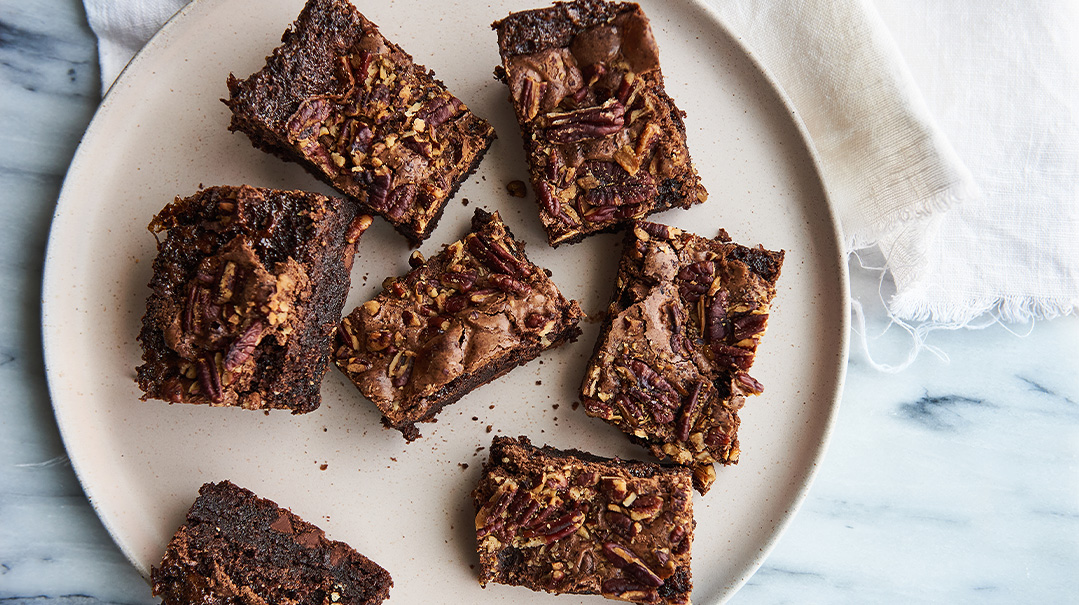 Photography by Sina Mizrahi
Nanette
Thornhill, Ontario
My Cooking Style
My general approach to cooking is healthy. We prefer roasted vegetables over kugels, and grilled chicken above all. I try to make sure that the food is well-seasoned and colorful so that it's inviting. I like when there's a good balance of savory and sweet flavors and that there are eye-catching colors on the menu as a whole.
Chicken soup is non-negotiable in our house, and I like to serve it with noodles, sometimes kneidlach, and freshly cooked vegetables such as carrots and zucchini. Occasionally I'll stick in poached chicken necks too.
I'm a huge fan of barbecued chicken and can be found standing in front of the Weber, rain or shine, unless the snow and ice is too formidable for me to uncover the barbecue. I like using a homemade dry rub for the chicken, then glazing it with prepared barbecue sauce in the last five minutes of cooking.
Side dishes are almost exclusively roasted vegetables. I prepare two or three vegetable sides, including Miriam
(Pascal) Cohen's recipe for roasted snow peas and mushrooms, mock breaded cauliflower, roasted kabocha squash, sweet and spicy baby carrots, and/or peppers and sausage. I also serve some type of rice, such as coconut rice, a rice and noodle pilaf, or basmati rice with dried cranberries and almonds.
When it comes to dessert, we like to have some homemade cookies, biscotti, or cake.
During the day, our meal consists of: grilled  boneless chicken breasts or thighs; a marinated salad such as cucumber salad, tomato and hearts of palm salad, or
Miriam (Pascal) Cohen's roasted vegetable chickpea salad; potato kugel (adapted from a recipe in Susie
Fishbein's Kosher by Design); and a pasta such as sesame noodles or roasted tomatoes and penne. I also try to serve a lettuce salad — either one that includes spinach or spring mix along with grilled vegetables, or a sweeter salad with blood oranges, beets, pomegranate arils, and sugared almonds.
How Do You Challah?
I make a delicious multigrain challah which freezes well. The challah recipe is from my friend Esther and includes 7- or 8-grain cereal, and seeds such as poppy, flax, sunflower, sesame, and a little bit of caraway. It's delicious and we rarely have a crumb left over.
Things I Love to Serve to Guests
I serve some type of salmon such as Cajun salmon with guacamole from the Bais Yaakov Cookbook, fried fillet of sole with homemade tartar sauce, or smoked whitefish salad on bagel chips with sliced cherry tomatoes and pickles.
I like to serve dips. I buy some and make some, including homemade matbucha and baba ghanoush. I like using jarred grilled eggplant for the baba ghanoush — it's a great hack.
Depending on who our guests are, I try to also serve meat such as Miami ribs or a tomahawk steak.
PSA:
If I have a hosting motto, it's to have as much as possible prepared in advance. I like to appear relaxed (it's an illusion), so I prep salad components on Thursday, and then putting the salads together at the last minute is effortless. Side dishes and rice are also made on Thursday morning. I bake cookies and cake early in the week and freeze them. Friday is reserved for grilling chicken, challah, and a fresh fruit galette or fruit pie if I make one.
Set My Table
I've been married 44 years and I still use my wedding bone china and silver cutlery every week. When we have guests, I like to use a variety of serving pieces including oven-to-tableware and an assortment of boards from the dollar store. It's very eclectic but I think it's eye-catching.
Fresh flowers are always a beautiful addition to the table and I have favorites that I like to buy from the local supermarket. I have a collection of small, unusual vases that I like to use.
Chocolate Marshmallow Brownies
Use the best quality semisweet or bittersweet chocolate that you can for this recipe. You'll be amply rewarded!
1 cup whole pecans
4 oz (110 g) unsweetened chocolate (see note)
6 oz (170 g) bittersweet or semisweet chocolate
1 cup butter or 2 sticks margarine
4 eggs
2 cups sugar
2 tsp vanilla
1 cup flour
½ tsp salt
1 tsp baking powder
2 cups miniature white marshmallows
½ cup chocolate chips
Preheat oven to 350°F (175°C). Spray a 9x13-inch (23x33-cm) baking pan with cooking spray and line with parchment paper; set aside.
Spread out pecans on a rimmed baking sheet. Bake for 8 minutes on the middle rack of the oven until the pecans are brown and aromatic. Remove from the oven and let cool. Chop pecans coarsely; set aside.
Chop chocolate with a knife. In a microwavable bowl, combine chocolate with butter or margarine and microwave for 90 seconds. Check the chocolate to see if it has started to melt. Give it a stir.
Continue to microwave on medium power in 20–30-second intervals until chocolate starts to melt. Stir until it's completely melted. (This can also be done in a double boiler if desired.) Cool slightly.
In a large bowl, beat the eggs with the sugar until light-colored (I used a whisk). Beat in the vanilla and melted chocolate mixture. In a separate bowl, mix flour, salt, and baking powder. Stir the dry ingredients into the batter until just combined.
Stir in mini marshmallows and chocolate chips. Scrape the batter into prepared pan and sprinkle with the chopped pecans.
Bake for 35–40 minutes. Allow brownies to cool completely. Refrigerate or freeze until ready to serve.
Note: The unsweetened chocolate can be substituted with 6 ounces (170 g) bittersweet or semisweet chocolate, chopped. When I do that, I reduce the sugar to 13⁄4 cups.
ENJOY!!
(Originally featured in Family Table, Issue 795)
Oops! We could not locate your form.
>