| Hostable |
Lox Tartare with Michal Belen
| December 27, 2022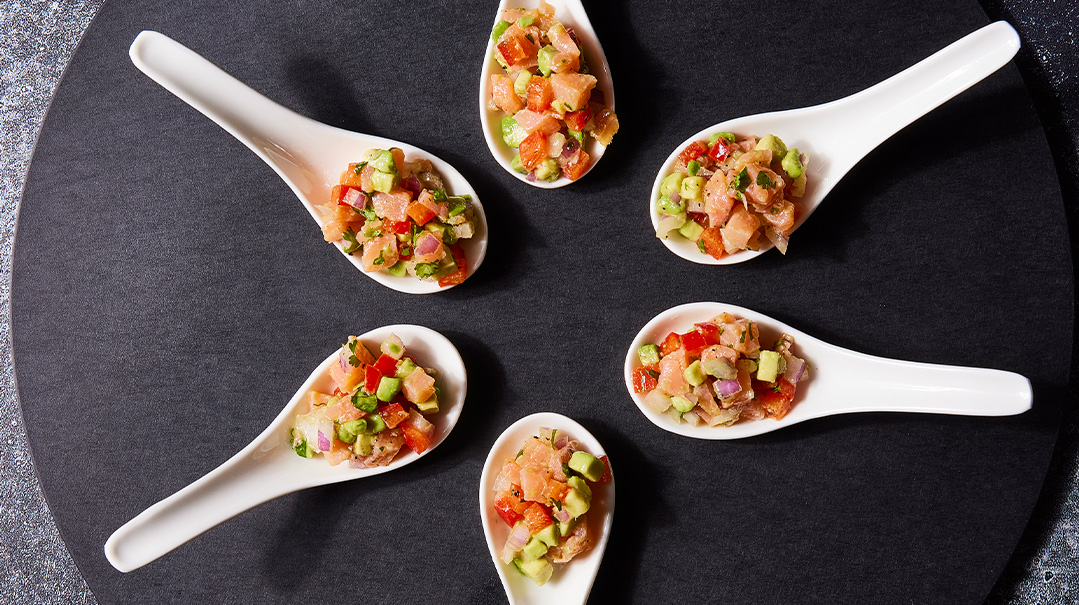 Props and Styling by Shiri Feldman
Photography by Felicia Perretti
Michal Belen
Detroit, Michigan
"Just Us" Shabbos Menu
I grew up in a large family, so having guests wasn't a regular occurrence. My mother did open our home to those who could really use the company, though, and they became our regulars. While I love having company, my schedule as a part-time teacher and part-time home organizer doesn't always allow it. Some weeks it's just us, and I really enjoy those weeks too.
Our "just us" Shabbos menu is very basic and generally on the healthy side. My go-to's are what we call "green chicken" (the herb-marinated grilled chicken from The Bais Yaakov Cookbook) or lemon-garlic chicken on the bone. I always make two or three vegetable sides. Roasted asparagus is a fave, but I also love making roasted baby zucchini. I don't like to mess too much with my veggies. They're delicious with just some herbs and garlic. My kids love them too.
My Chicken Soup
My family is obsessed with chicken soup! Apparently it's a crime worthy of jail time if I serve any other soup on a Friday night. I make it about once every six weeks. It's a whole process, but it comes out amazing!
I cook the soup in a very large pot with lots of chicken (I use bones in mesh bags). Once it's skimmed, I add lots of veggies, especially a sweet potato, which gives it its rich color. Then I add dill, parsley, and peppercorns in a mesh bag, along with a lot of kosher salt, and cook it all day. I've even cooked it overnight on a light simmer. The longer it cooks, the better! The color and flavor is unbelievable. I freeze it all in soup containers, except for what I'm using that week.
I generally don't like to freeze the veggies because they get mushy, so I'll just boil up a few veggies each Friday to add to the soup. It's so much easier than making a fresh soup every week.
How do you challah?
Shout-out to my mother-in-law, who makes us challah almost every Shabbos! When I make challah myself (usually just for Yom Tov), I use Rebbetzin Kanievsky's recipe. It's just the best!
What I Serve to Guests
I generally make up a menu comprised of mostly simple, easy things and add one or two showstoppers. The real chef in our house is my husband, so when we're having company, I make the basics and he does the gourmet dishes. Sharing the burden makes it so much less daunting to have company!
At one point this past Succos, I looked at my menu and thought, How much meat and potatoes in different forms can a person eat? I really try not to leave any cooking to do on Yom Tov, but it does limit you on what you can serve. So I decided to do something that was way out of my comfort zone, and it became my best meal over Yom Tov! I made a bunch of Israeli salatim that can be prepped ahead of time — homemade techinah, Israeli pickles, red cabbage slaw, fennel salad, s'chug, babaganoush, etc. I served them with arayes (Chanie Apfelbaum's recipe), which I made fresh that morning. It made the meal a whole experience, and so much fun!
PSA: 
I like to make my potato kugel on Thursday night and then lower the oven temp to about 225°F (105°C), cover the kugel, and leave it in the oven overnight. This way I don't need to wait for it to cool before I go to sleep (always the worst part about cooking on a Thursday night!). My kids love it, and they eat most of it on Friday! I also like to serve it to guests on Erev Shabbos, if they come hungry.
Set My Table
Whether or not I'm having company, my favorite part of Erev Shabbos prep is setting my table. I try to change it up each week, using different tablecloths and glassware. For Yom Tov, I'll choose flowers based on colors and what's in season. Then I choose my tablecloth and either chargers or placemats. To keep the costs down, I'll pick one thing that will be the showstopper and everything else can be basic. I usually have a color scheme or a style in mind and go from there.
Lox Tartare
This recipe is relatively easy to make and a great appetizer for Shabbos lunch. It looks pretty and tastes delicious, and is definitely a crowd-pleaser.
SERVES 6
1 small pkg lox, chopped
1 red pepper, diced small
1 avocado, diced small
½ red onion, diced small
lemon/lime juice, to taste
olive oil, to taste
salt and pepper, to taste
frozen cilantro cubes or chopped fresh cilantro
½ bag tortilla chips (optional)
Sauce
3 Tbsp mayonnaise
1 Tbsp lime juice
1 tsp ground cardamom
Combine lox with red pepper, avocado, and red onion. Drizzle with lemon or lime juice and olive oil and add seasonings.
To serve, arrange chips on a platter with tartare in a bowl in the middle. Serve with sauce on the side. You can also serve on individual plates, spooning the tartare over the chips and drizzling sauce over it.
(Originally featured in Family Table, Issue 824)
Oops! We could not locate your form.
>