| Hostable |
Minute Roast with Leah Hamaoui
| November 1, 2022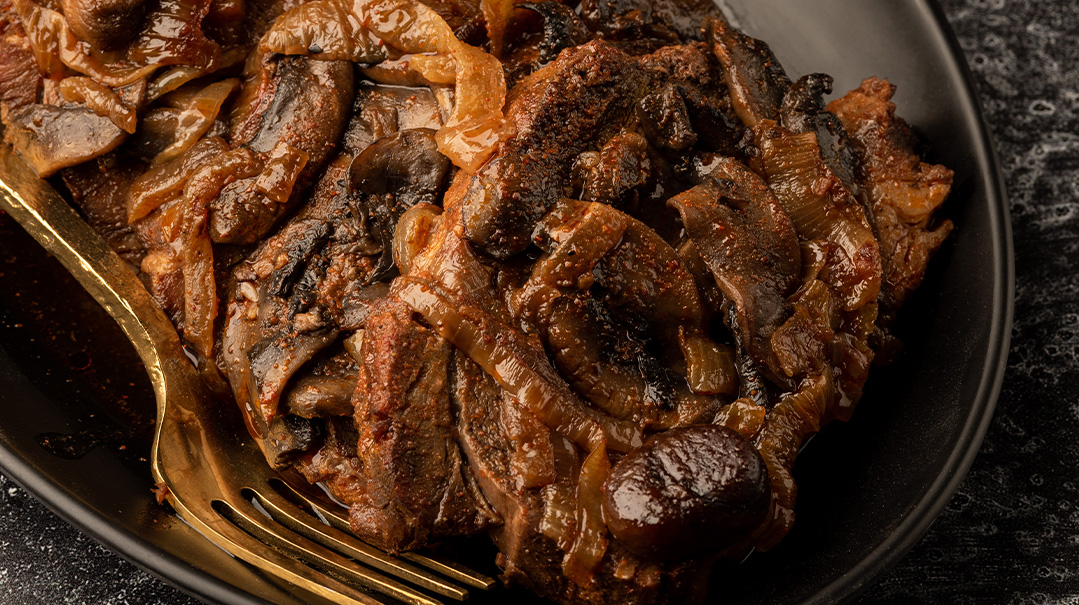 Styling by Chana Rivky Klein
Photography by Reuven Schwartz of Ruby Studios
Leah Hamaoui
Lakewood, NJ
A "Just Us" Shabbos Menu
I'm a Moroccan cook, so there is no real traditional meal. Each week is a little different. I usually start off with an assortment of fresh salads and dips to go with the challah. Most of the time I make salmon for the fish course, whether it's the whole side of salmon, fillet, or my family's favorite — Moroccan fish balls. During the winter, I love making a cozy and hearty soup.
For the main course I'll usually make either chicken, meat, or lamb with two veggie sides and a carb such as potatoes, rice, kugel, or couscous. For dessert, I always serve a colorful fresh fruit platter, Moroccan mint tea, and homemade cookies or cake (we love a good coffee chocolate cake!).
My Approach to Cooking
I view cooking like an artist views a blank canvas. My spices are my colors that I enjoy experimenting with. I focus on bringing out the authentic flavor of the food through herbs and spices, rather than using ready-made sauces. There's nothing more comforting and therapeutic for me than starting with a bunch of ingredients and, with a little bit of time and a whole lot of love, seeing the results of my efforts on my table and experiencing that joy of feeding my family.
How Do You Challah?
I'm not going to lie to you — we are huge bakery supporters! During the week we love sliced sourdough, but for Shabbat we roll with the rolls! I get large challos for the meals, but I do ask the bakery to slice some of them. That way there are fewer crumbs.
2 Things I Love to Serve to Guests
A platter of rainbow roasted veggies. It's so simple, healthy, and beautiful! I use red and orange peppers, yellow squash, broccoli, zucchini, red onion, and mushrooms. I drizzle with olive oil and sprinkle with some salt, and then put in a preheated oven at 350°F (175°C) for about 45 minutes, depending on the vegetable. I roast each vegetable separately.
When guests arrive, I like to have a tray of hot potato bourekas ready. I use Mazor puff pastry squares and fill each square with a mixture of mashed potatoes and fried onions, seasoned with salt and black pepper. Then I brush with egg and sprinkle with some sesame seeds. Bake at 350°F (175°C) for about 45 minutes until golden brown.
PSA:
We often don't give ourselves enough credit for the effort we put into bringing the magic of Shabbat into our homes! Each week we stop the routine of life and create memories for our families. I bless us all with endless happiness and inner peace and the strength to keep doing it all in honor of Shabbat!
Some Awesome HACKS
When it comes to setting the Shabbat table, I always try to have the table set in advance. I usually do it Thursday night, and then I leave Friday just for cooking.
Currently loving little vases, they fill your table effortlessly with color and a fresh feel!
I'm a huge fan of napkin rings — they're such a simple add-on, yet they make a big difference.
Minute Roast with Chestnuts, Saut'éeed Mushrooms, and Onions
I have such happiness in my heart when I make this roast! It's a fool-proof recipe that is so delicious and comforting, while creating a carnival for your taste buds. Wonderful for Shabbat or Yom Tov, and for your in-laws in case they need a reminder of how lucky their son is... Just saying.
SERVES 8–10
1 3-lb (1.36-kg) minute roast
1 tsp ground black pepper
1 tsp salt
1 tsp granulated garlic
1 Tbsp onion soup mix
4 Tbsp sweet paprika
¼ cup extra-virgin olive oil, plus more for sautéing and drizzling
1 cup red wine, divided
2 onions, diced and sautéed until golden brown
1 14-oz (400-g) pkg white mushrooms, sliced and sautéed in a bit of olive oil
1 5.2-oz (150-g) bag roasted chestnuts (I use Gefen's)
Preheat oven to 350°F (175°C).
Wash roast and pat it dry. Place into a 9x13-inch (23x33-cm) baking pan.
Combine spices and olive oil and rub the mixture into the meat on both sides. Pour 1⁄2 cup red wine into the pan. Cover tightly with foil. Place in oven and cook for 3 hours.
Remove from oven and allow to cool. Remove roast from the gravy and store it in a ziplock bag overnight in the fridge. Transfer the gravy to a container and store overnight in the fridge.
Preheat oven to 265°F (130°C).
Slice roast into 3⁄8-inch (1-cm) slices — not too thin and not too thick. Place in a 9x13-inch (23x33-cm) baking pan. Top with sautéed mushrooms and onions, along with the chestnuts. (Make sure your meat slices are fanned out in the pan so they can really soak up the flavors.) Add a drizzle of olive oil over everything. Pour in the gravy from the roast and the remaining 1⁄2 cup wine. Cover tightly and place in oven for 2 hours.
Raise oven temperature to 350°F (175°C) and cook for an additional hour to an hour and a half. When you poke the meat with a fork, it should be buttery soft.
Tip: I like to sauté the onions and mushrooms the night before and store them in containers in the fridge. That way I can assemble it all quickly the next day.
ENJOY!!
(Originally featured in Family Table, Issue 816)
Oops! We could not locate your form.
>