| Family Room |
Fix-It Furniture
| August 12, 2020
An expert's takeaway on common purchasing mishaps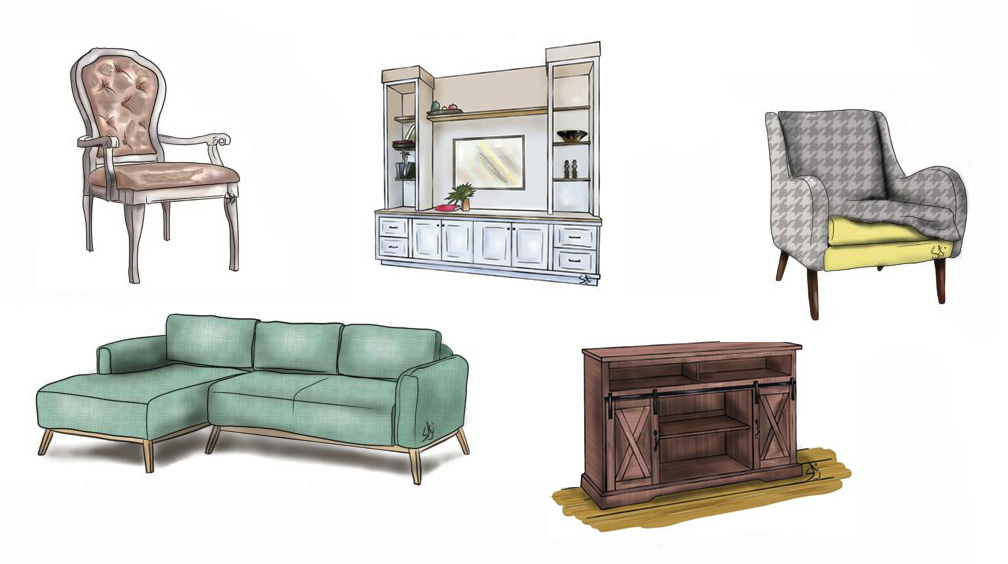 M
istakes happen to the best of us. In the interior design industry, you need to expect the unexpected: delays and defective products can happen, even if you've done everything perfectly. Asking for references for top-notch vendors is integral prior to ordering, and getting creative in the way we resolve deficiencies is a fundamental, too. Here are five reader-submitted mishaps, and practical insights on how to fix them.
I ordered a comfy, practical couch after years of relaxing on our lumpy sofa, and we were thrilled! Upon delivery, though, there was absolutely no way to fit it through our tight, European elevator — and we live on a high floor! —Chavie R
This is a mistake that even the most experienced designers make. When ordering large furniture, check that it will fit every doorway it passes through to get it to its designated spot. This problem can sometimes be resolved in the following ways:
> Removing the legs to fit through tight spaces.
> Having the piece arrive disassembled so that final assembly happens on site.
> When all else fails, lift the piece by crane through a window. (No joke! Although this is decidedly the least practical or economical of these solutions.)
I ordered a huge built-in unit for my family room, going over measurements and style. When it arrived, the depth was off — but the builder refused to issue a refund or fix it! —Batsheva A
Batsheva, this must have been so frustrating. Not only because the time and money you spent didn't produce as designed, but also because the vendor didn't deliver the customer service one would hope for.
How to fix this issue depends on what the problem is. If the shelves are too deep, try to work something out with the builder to add new backs, installed a few inches forward. If they're too narrow, you may have to consider finding slimmer items to store there.
I ordered fabric to make an armchair exactly the yardage suggested. But when it came to making the chair, it seems to be we were under by quite a bit. Small problem? Our budget was tapped out, and the fabric is discontinued! —Shira M.
Before you start, always give the vendor the details of your fabric, for example, whether it is a pattern or solid, so they can suggest if you're going to need more. Possibly because of the pattern, the order you placed didn't fit what you got. In this scenario, where it's too late to do that, I would suggest finding something that coordinates with your fabric, and then upholstering the seat or back of the chair in the coordinating fabric. The upside? This may actually give your chair more depth and interest.
For my 40th birthday, I splurged on a delicate chair for my family room. Except within one week, the lacquer wore off and the leather ripped! —Esti D.
This is disappointing, and I would reach out to the manufacturer to inquire about quality control. Is this a common issue and is there a fix for it, or is it a defect that warrants a replacement?
If this was a splurge, I would like to assume this chair should have been real leather. Make sure of that prior to purchasing, if budget allows. Real leather should be durable and is not easily ripped. As for the wood — is it solid wood or veneer? Wood stands up longer than veneer, with a price point to match. Before ordering, check that the finish applied is smooth, with no bubbles or cracks.
We purchased a barnyard-style console, but it arrived and totally clashed with our floor. Instead of returning it, we decided to paint it — and it ended up looking like a bad art project, and not furniture! —Ariella T
Although I love your industrious spirit, DIY is a lot harder than it looks. When repainting any wooden piece, extensive prep is required to make the paint go on smoothly — we're talking sanding, priming, and more. Unless you have the time and motivation to figure it all out, I would suggest sending it to a carpenter for finishing and optimal results.
Above all, the important thing is to love and feel good about your space. Sometimes getting there means hiring a professional; sometimes that'll mean doing extensive research and asking a lot of questions; sometimes it means restructuring your budget, doing with less elsewhere to make sure you're getting the best quality. Truthfully, we've found that some of our greatest designs come from having to get creative with resolving an issue.
We may be called designers, but our actual job description is problem solvers — so don't be too hard on yourself when things don't go right.
Daniella Feldman received her master's degree in Interior Design from the New York School of Interior Design. In 2015, she started Daniella Feldman Designs, which currently has projects in New York City, Long Island, Connecticut, New Jersey, and Florida. To contact Daniella Feldman Design, email daniella@daniellafeldman.com, follow DaniellaFeldmanDesign, or visit www.daniellafeldman.com.
Nina Melohn is currently completing her BA at the New York School of Interior Design and interning at Daniella Feldman Design, gaining experience and education in tandem.
(Originally featured in Family Room, Issue 007)
Oops! We could not locate your form.
>